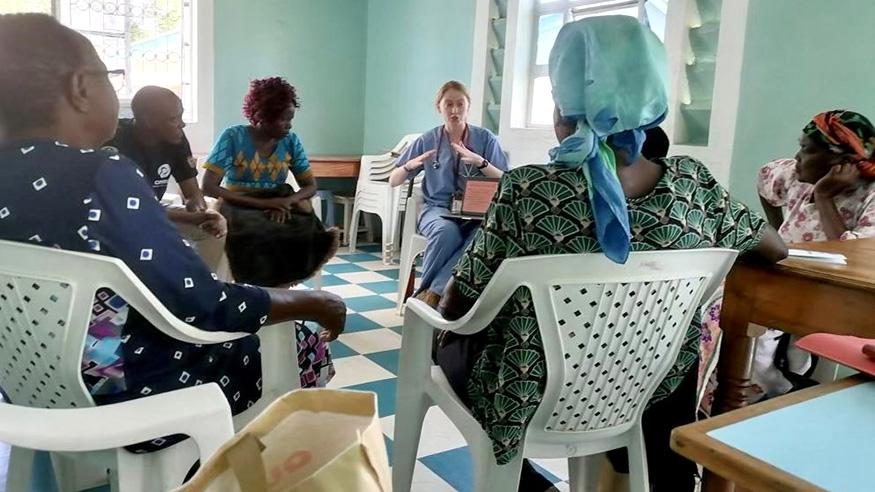 News
'16 grad combats newborn mortality in rural Kenya
Editor's note: USAF Captain Jackie Jastrzebski '16 Lockett is so proud of her Augustana classmate Dr. Alyssa Nelson '16 Motzel that she wanted to share her story. "She's a hero — she's my hero," Lockett said. "She's the ultimate example of what can be achieved with hard work and an Augie education."
Alyssa Nelson arrived on campus in 2012 with aspirations to one day save young lives. She never imagined her Augustana education and unwavering determination would lead her to rural Kenya to combat endemic newborn mortality.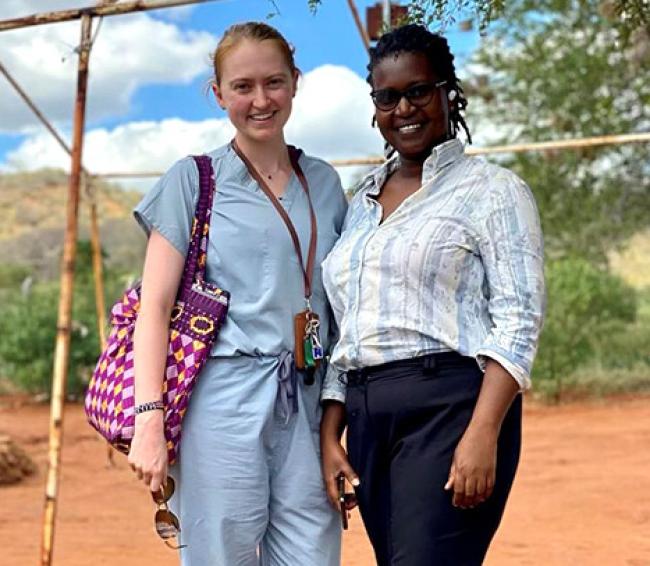 Earlier this spring, Dr. Alyssa Nelson Motzel, who had just completed her second year of pediatrics residency through Authority Health at Children's Hospital of Michigan in Detroit, left for Mutomo, Kenya.
Located roughly 140 miles southeast of Nairobi, Mutomo is one of the poorest districts in the country with most homes lacking electricity and plumbing. Residents endure long, severe droughts coupled with sudden flash flooding.
The number of maternal deaths in the sub-county where Mutomo is located is exceedingly high, and one in eight children do not live to see their fifth birthday. Birth asphyxia, one of the leading causes of newborn mortality in Kenya, occurs when a newborn's brain does not receive enough oxygen before, during or right after birth.
Dr. Motzel expressed interest in a variety of medical disciplines before her time at Augustana, but a college-sponsored medical mission trip to Nicaragua during her junior year helped solidify her passion for pediatrics. 
Fast-forward eight years — after earning a doctorate in osteopathic medicine and practicing thousands of hours in medicine — she jumped at the opportunity to impart her experience in saving young lives to others in Kenya.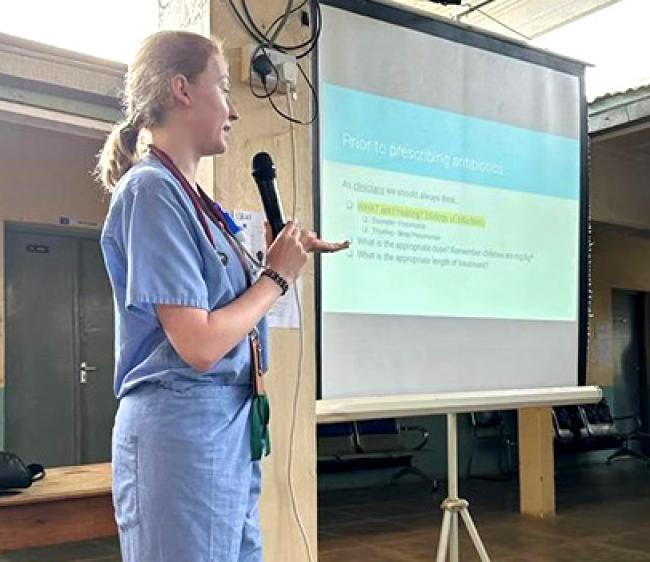 By developing curriculum to teach neonatal resuscitation protocol (NRP) to medical practitioners at the Our Lady of Lourdes Mutomo Hospital, Dr. Motzel was determined to not only provide continuing medical education for her peers, but also help them continue to train others. 
Dr. Motzel's curriculum taught physicians and nurses alike to spring into action upon the birth of a newborn having difficulty breathing and suffering from birth asphyxia. 
Through lecture and hands-on training, dozens of staff learned NRP. In one session, Dr. Motzel's team received real-world training when she used the protocol to save a newborn's life. 
While she may never know the full effect of her efforts, the American Academy of Pediatrics estimates that adequate NRP skills can reduce early newborn mortality by up to 47%. 
In addition to her goal of reducing newborn mortality, Dr. Motzel was challenged with performing a variety of medical procedures outside the realm of pediatrics while in Mutomo. From a gallbladder removal to multiple Cesarean sections, and snake bites to meningitis, she approached each patient with the confidence she began building at Augustana more than a decade ago.
Dr. Motzel internalized the power of teamwork early on as a biology and pre-medicine major at Augustana. She credits the college's collaborative approach to learning for her ability to problem-solve as a member of a team today.
As the practitioners she taught in Mutomo continue to teach others, this alumna's impact will last long after her time in Kenya.