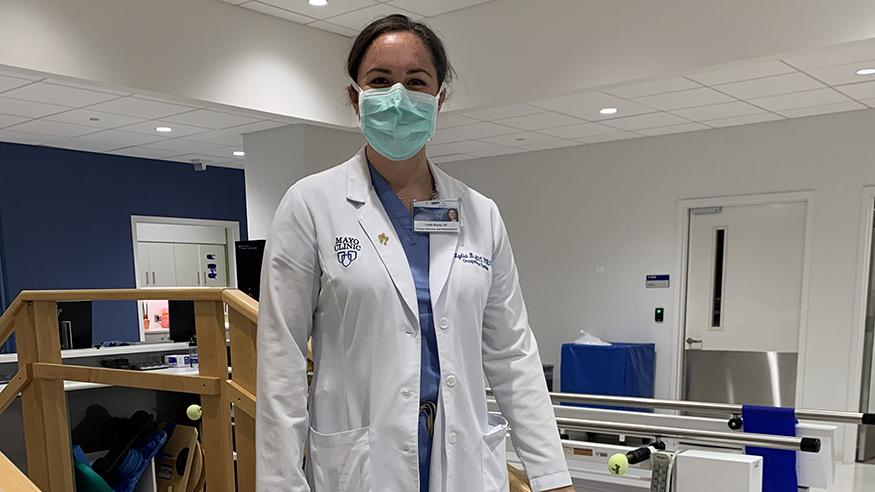 News
Alumni make a difference in tough times
Thousands of Augustana alumni are making a difference in their communities during the coronavirus crisis. Below, occupational therapist Lydia Boyle '14 tells her story; law student Katie Hayes '19 battles the courts; businessowner Jake O'Rouke '13 gives back; and teacher Garrin Jost '18 navigates distance learning.
Lydia Boyle '14, occupational therapist and co-leader of the COVID-19 rehabilitation task force for Mayo Clinic, Critical Care, Jacksonville, Fla.
"While treating patients with COVID-19 in the critical care unit, our role includes cardiopulmonary and respiratory intervention (positioning for optimal oxygenation and functional mobility on ventilators when appropriate); addressing ICU-acquired weakness, delirium prevention and isolation psychosis; and a return to the activities of daily living.
"We are advocating for these patients daily in interdisciplinary rounds for our services to optimize their chances of functional recovery. Our work helps bring all types of patients, including those with COVID-19, hope to return to life outside these isolated, quarantined walls.
"I could not be a part of this role through uncharted territory without the diverse background, leadership qualities and liberal arts education that Augustana brought me."
"It had been a stressful few weeks, including working overtime, physical and emotional fatigue, readjusting our job description and stepping back from seeing our traditional caseload, learning and research, as well as self-distancing even more due to exposure to patients with COVID-19.
"However, all of this has been worthwhile. Our impact is making differences in the scariest time of these patients' lives. We are here to support them and heal them every step of the way.
"I could not be a part of this role through uncharted territory without the diverse background, leadership qualities and liberal arts education that Augustana brought me."  
Katie Hayes '19, law student
Communication studies professor Dr. Sharon Varallo describes her former student's actions as "potentially lifesaving legal work."
Katie Hayes '19, a student at DePaul University College of Law, is clerking for Cierra Norris, an attorney in Chicago. Norris and Hayes have successfully filed motions for the release of 11 detainees from Cook County Jail to protect them from COVID-19.
Norris and Hayes began working to release detainees after the first positive COVID-19 test in the jail on March 22. They developed an emergency bond motion based on their own research and templates currently being used in other states, including New York and Massachusetts.
In an ABC7 Chicago interview, Norris said, "We never stopped going to court even when they shut court down. And we had to go before at least 20 different judges in over 20 different hearings for people."
Hayes reports that "we've just sent in our second round of bond motions that are a little more intense, and Cierra will be going to court for those soon."
All the detainees released so far through the efforts of C.N. Norris Law, LLC, were waiting for trial, unable to make bond. They are wearing electronic monitors and will face judges for their crimes when court resumes.
Jake O'Rourke '13, businessowner
O'Rourke Sales Company, a national distribution and fulfillment company for electronics and appliances owned by Jake O'Rourke '13, donated 120+ gallons of hand sanitizer and 5,000 masks to first responders in the Quad-Cities area.
"It was the least we could do to help those who truly need it," O'Rourke told WHBF-TV. "We just wanted to make sure that everyone has a chance to be safe."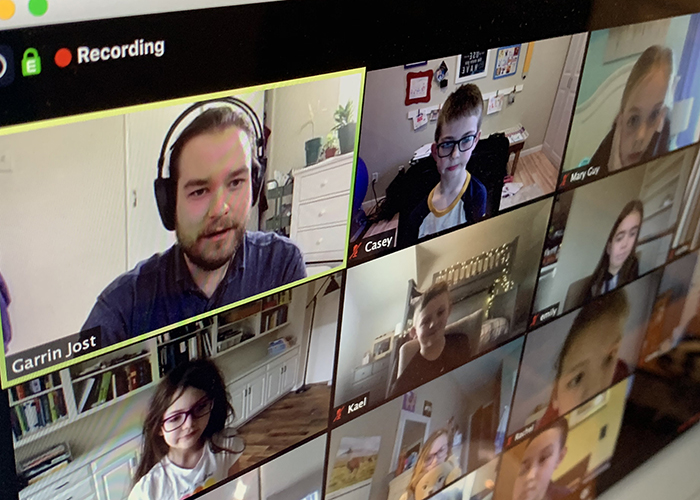 Garrin Jost '18, third-grade teacher
Q: What is the toughest part about distance learning with third graders? 
Jost: I'd say the toughest part is not having the feedback that you get in person. I can adjust a lot quicker to meet a student's needs when we are face to face. Third graders need a lot of encouragement, and that's hard to give when you're not right there.
Q: Any positives with distance learning? 
Jost: The students' parents know their children better than I ever will, so I'm sure there are some lessons being taught in ways that are much more adaptive than what I could have envisioned. Also, I think that some students are getting to spend more time with their families than ever before and perhaps more than ever after. 
Q: What have you done that seemed to work well?
Jost: So far, my students' favorite assignment has been to pick a poem and record themselves reading it. I think the combination of performance, technology and fun really appealed to them. They also love Zoom meetings!
Q: Augustana's education department is well known for successfully preparing future teachers, but did any of your classes prepare you for what you're doing now?
Jost: Augie's education program focuses a lot on lesson design, so that has helped in creating flexible lessons. Dr. Scarlett taught education technology well, so that has helped, too.
Also, taking ED450 with Dr. Schroeder helped me prepare for dealing with a massive, society-wide crisis like this. We talked a lot about the big-picture issues in education—funding, inequality, unions, social changes, etc. I think that kind of landscape view of education as a part of society has helped me to contextualize the situation we're in. Knowing that big changes have occurred and will continue to occur has been a big help—not so much in a practical sense, but in knowing that "this too shall pass."