Augustana offers programs that lead to licensure in the following areas:
• Elementary education (1-6) with the option to add a Reading Teacher endorsement.
• Middle grades education (5-8) for English, mathematics and science. Most students can complete both secondary and middle grades programs in their respective areas.
• Secondary education (9-12) in English language arts, mathematics, science (biology, chemistry, physics), and social science (history).
• K-12 art, foreign language (French, German, Spanish), and music education.
Careers and internships
The Quad Cities offers student teaching positions ranging from public to parochial and from inner-city to rural. Prior to student teaching, education majors complete at least three clinical experiences within local school districts. There also are a great number of tutoring opportunities in the Quad Cities, many of which are available through the education department.
The education department offers two immersion opportunities — in Jamaica and Florida — that provide students intensive, hands-on experience.
Through its collaborative partnership with nearby Longfellow Elementary School, the department provides education majors with "real-world" experience in the classroom in advance of student teaching.
Recent graduates
Here's a sampling of what education graduates have done:
Shelby Grandt '18 is a first grade teacher at Woodglen Elementary School in Denver, Colo.
Marjie Gerke '17 is an 11th grade English teacher at EPIC Academy in Chicago.
Janna Jensen '16 is a high school algebra teacher in Somonauk, Ill.
Keith Sands '16 is teaching math in Tanzania through a Peace Corps program.
Kyle Cluver '16 is a math teacher at Carmel High School in Indiana.
Rebecca Potenberg '15 is a high school science teacher at Geneseo High School in Geneseo, Ill.
Alannah Golden '13 did field research at the Florida School for the Deaf and the Blind in St. Augustine, Fla., as a sophomore and presented at a national conference in Denver the following year.
Sarah Ebener '13 studied in Greece as a junior, discovered a knack for creative writing and relished her student-teaching experience.
Distinctions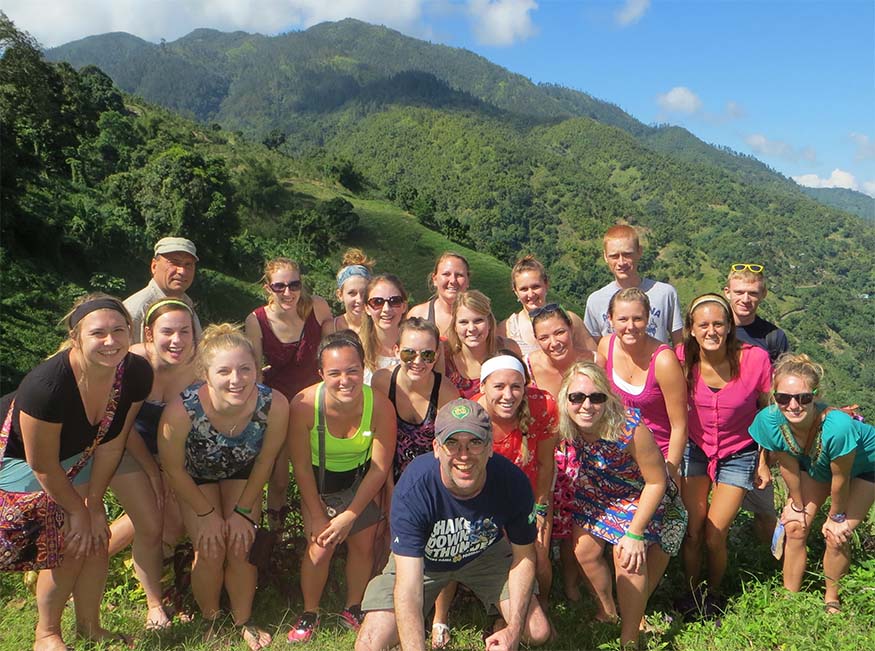 Student teaching placements options include rural, urban, suburban, public and parochial institutions. All student teaching placements take place in the Quad-Cities area and are closely supervised by faculty members.
Faculty members share a wide range of professional experiences with students: teaching in public and private schools in- and out-of-state, teaching abroad, moving from teaching to administration, field experience and advanced study.
More than 90 percent of Augustana students enrolled in education programs complete their degree in four years, often including a term abroad.
Club Ed members take part in workshops, presentations, social events, visit schools during field trips to Chicago, volunteer at local schools, and participate in child-oriented service projects.
Education students have two opportunities to take their learning off-campus. Over winter break, they may travel Jamaica to and serve as teachers in one of three Kingston schools. In May,  students may travel to St. Augustine, Fla., for placement in a classroom at the Florida School for the Deaf and Blind.
What the students say
Mary O'Malley '11, mathematics and secondary education majors
"Because Augustana is a small liberal arts school, I was fortunate enough to work with the same faculty throughout my four years here, so not only was I able to form relationships with them, but they were able to see me grow and help steer me on the path that I needed to be on."
Lauryn Dick '11 Marie, music education major
"When I was finished student teaching, I looked back and saw what I was capable of doing. The experience reassured my passion for the career path I chose and gave me the confidence I needed to step out into the real world."
Meredith Skala '13, elementary education major
"Augustana's education department has played a vital role in my development as an individual and as an educator. They have truly set the example for what it means to be influential."