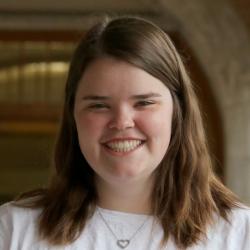 More Than I Imagined
Seniors reflect on accomplishments and look ahead
Megan McLaughlin
Graduation year: 2022
High school: Prospect High School
Hometown: Arlington Heights, Ill.
Major: Elementary education
Minor: Theatre arts
Activities: Best Buddies; Augustana Choir; Sigma Pi Delta sorority; Camp Kesem; Student Government Association: education senator; Augustana theatre
Internship: Student teaching in a third-grade class at Paul Norton Elementary School in Bettendorf, Iowa
Post-grad plans: I will be teaching 5th grade at John Muir Literacy Academy in Schaumburg, Ill.
Why Augustana?
There were many reasons why I knew Augustana was the right place for me. When I was visiting, there was a feeling I had that made it clear that Augustana was where I was meant to be.
Augustana was the perfect distance away from home and had every academic opportunity I was looking for, while also having clubs and organizations that piqued my interest. There were so many opportunities to excel as a student, person and leader.
Are you where you thought you'd be when you first came to campus?
I knew coming in that I wanted to be an elementary education major, but I could have never imagined I would feel as confident or comfortable in a classroom setting. I also have had the opportunity to serve in various leadership positions.
I also never would have expected the amount of personal growth that I have had. I am not the same person who chose Augustana four years ago, but I absolutely would make the same decision again. 
Who helped you get to where you are now?
The education department is so unique and truly builds such strong connections between professors and students. I would not be where I am today without the guidance and support of my advisor, Randy Hengst, as well as Michael Scarlett and Deborah Bracke. They saw potential in me when I did not always see it in myself.
The music and theatre faculty have created ample opportunities for students to grow into strong performers and even better people. The connections that I have built with so many of them, especially Juan Mendoza, Jon Hurty, Michelle Crouch, Jennifer Popple, Shelley Cooper and Sangeetha Rayapati are something I am so grateful for.
Lastly, I could not do any of this without my support system. The members of my sorority, my fellow education majors, and family and friends are the people who have gotten me through. 
Kate, Olivia and my mom are truly the ones to thank for getting me where I am today. I never could have done it without them.
Peak experience?
Academically, student teaching in the fall of my senior year. I learned so much from my cooperating teacher, Kris Cahalan, and spending the entire semester at Paul Norton absolutely reaffirmed my decision to become an educator.
For extra-curricular, traveling to Montreal, Canada, in the spring of 2019 with the Jenny Lind Vocal Ensemble was incredible. Singing in beautiful settings and working with the composer of one of the pieces we were singing were amazing opportunities.
What surprised you?
What surprised me most is how connected everyone is. The Augustana community is strong, and although things are different today than how they were four years ago, Augustana continues to prioritize relationships and understand someone as a person, not just as a student, which I truly believe is the key to success.
How did you use your Augie Choice?
I used my Augie Choice for my student teaching experience in the fall of 2021.
What will you miss the most?
I am going to miss daily Augie Choir rehearsals, living with my best friends, sitting in the Brew, and being in a place that has accepted me for who I was and who I have become. I could always count on seeing a friendly face walking across the Quad or meeting someone who became an automatic friend.
It is weird to think of life post-Augie because I have truly had the best experiences and met the best people that I will miss so much.
Advice for the Class of 2026?
Allow for change and trust your gut. You know yourself better than anyone, and if you are open to change but trust your instincts, it will take you far. Do not let fear hold you back. Take advantage of every single opportunity you are given.
"I have truly enjoyed working with Meg over these past three years — from her first foray into the EDUC courses as a sophomore through a very successful student-teaching experience, which I was lucky enough to supervise. I found her interactions with the students to be compassionate and inclusive. Meg is dedicated to becoming an excellent teacher and, in fact, has already worked as a substitute teacher. Meg, I look forward to hearing how you incorporate the theatre arts minor into your classroom. Thank you for coming to Augie!"