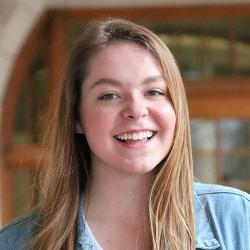 More Than I Imagined
Seniors reflect on accomplishments and look ahead
Anna Triska
Graduation year: 2022
High school: York Community High School
Hometown: Elmhurst, Ill.
Major: Elementary education
Minor: Spanish
Activities: Augustana Choir, Best Buddies, Sigma Pi Delta sorority (honorary)
Internship: Student teaching in third grade at Paul Norton Elementary School in Bettendorf, Iowa
Post-grad plans: I will be teaching 6th grade at Lords Park School in Elgin, Ill.!
Why Augustana?
I initially chose Augustana for the wonderful Education Department, however I knew it was the right fit for me the minute I stepped on campus. Augustana has a beautiful sense of community in which students can fit into a variety of spaces on its campus.
Also, the faculty at Augustana go above and beyond to get to know their students and truly care about them. I believe that Augustana is the place I was meant to go because of the people and the experiences. I wouldn't change a single thing.
Are you where you thought you'd be when you first came to campus?
Yes and no. I knew I wanted to do elementary ed, but I didn't realize the experiences I was going to endure as an ed major. I was also incredibly passionate about Spanish, but I had no idea I would be able to complete a minor.
Aside from academics, I had no idea I would be as prepared for the next steps in my career as I am today. In these four years, I have been challenged by faculty and peers to reach my full potential as a student, future teacher and as a person, and I am better because of it.
Who helped you get to where you are now?
I would not be where I am today without the incredible support systems I have at Augustana and more. The education department is one of the most supportive and caring group of professors I could ever ask for.
I cannot thank my advisor, Randy Hengst, enough for the endless encouragement and for shaping me into the teacher I am. Thank you for continuously challenging me as a student, a future teacher and as a person. You are incredible in all you do.
I also found a special home in the Augustana Choir these last three years. Thank you Jon Hurty for challenging me musically and providing a safe space for students outside of the music department.
Lastly, I want to thank my family and friends. To my family, thank you for constantly supporting me and for your continued love. I would not be where I am today without you. To my friends, thank you for the endless memories and for becoming my second family throughout these four years.
Peak experience?
My peak experience would have to be student teaching. After years of studying with the guidance of my professors, it was so rewarding to be able to apply this knowledge and see the effects of my teaching on my own. My cooperating teacher was so supportive of my learning and teaching every step of the way.
Being in the classroom every day and building relationships with my students was so confirming of everything I want to do in the future — it has to be my favorite experience!
What surprised you?
I am surprised by how much I have grown as a person these last four years. Through every course, professor and person I met at Augustana, I was challenged in some way and have become a more confident person and leader than I ever thought I could be. I am more prepared for the world than I was because of the experiences I had at Augustana.
How did you use your Augie Choice?
I used my Augie Choice for my student teaching experience.
What will you miss the most?
I will miss the community the most. The Augustana community is so close-knit that everyone knows each other, and those moments where you run into someone on a whim are my favorite. Some of my favorite moments were when I was doing homework in the Brew and ran into friends.
It's so nice to walk around campus and always see a friendly face. Also, I will miss walking the Slough during the fall! Seeing all the trees on campus turn golden during the fall is so magical.
Advice for the Class of 2026?
Build relationships with your advisor and professors! Every professor at Augustana wants you to succeed, and they truly care about you. They are the best resource for you to have and will be a constant in your life these next four years. Take advantage of every opportunity and enjoy every moment!
"How fortunate I have been to have worked with Anna over the course of three academic years — through a very successful student teaching experience. During student teaching, I witnessed and appreciated her enthusiastic, thoughtful and compassionate interactions with her third-grade students. Anna then extended her professional preparation for teaching by completing our optional Reading Teacher Endorsement. She is a strong ambassador for Augie, which she demonstrated while meeting with each of our faculty position applicants this year. Anna, I look forward to hearing all about your teaching career. Thank you for coming to Augie!"