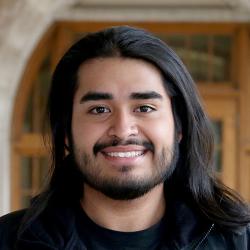 More Than I Imagined
Seniors reflect on accomplishments and look ahead
Fernando Bravo Garcia
Graduation year: 2022
High school: Vernon Hills High School
Hometown: Vernon Hills, Ill.
Major: Mathematics for secondary education
Minor: Computer science
Activities: Ultimate Frisbee
Internship: Student teaching
Post-grad plans: I will be teaching math at United Township High School in East Moline, Ill.
Why Augustana?
I chose Augustana because I knew that I needed a small school to be able to build personal relationships with my professors and peers. I had heard a lot about the education program here, and I wanted to be as prepared as possible for my career as an educator. Plus, it's really pretty.
Are you where you thought you'd be when you first came to campus?
Not. At. All. I came to campus knowing only one person and ended up with a completely different friend group almost immediately. I knew that I wanted to pursue math education as my major but ended up adding a computer science minor as well. 
If my college experience wasn't cliché enough, I also became an Ultimate Frisbee player. 
In all seriousness, I never planned to stay in the Quad Cities after graduation. Now I plan to begin my career here and couldn't be happier.
Who helped you get to where you are now?
The most important person in my journey to getting where I am now, on the verge of graduation and beginning my career as a teacher, is my mother. I often brag about my mother; she is a single mother of two boys, which is a challenge in itself, but during my time at Augustana she has supported me financially and motivated me and given me advice as I transitioned into adulthood.
Along with her, I am thankful for my professors in the education program who helped me by providing me with the wisdom they picked up in their own classrooms. If I can name a specific professor, I would give a shoutout to Mike Egan, who along with being my professor was my counselor. 
He is the prime example of going above and beyond as an educator. Dr. Egan has always been a source of advice for me and constantly looked out for me, such as seeking me out for scholarship opportunities. I hope to one day "geek" out over math the same way he does when teaching his math methods course.
One of the most important people who helped me in my journey to graduating was Dr. Rodman. She was one of my first professors and my counselor through my four years. Her guidance ensured that I selected all the necessary courses, and she truly helped me navigate through the craziness that is freshman year.
Along with that, her math classes taught me that education isn't about lecturing to a bunch of students sitting in desks. Instead, learning should be interactive and mobile and requires group work. 
Peak experience?
My student-teaching placement at United Township High School. Like many of my peers, I was nervous to begin student teaching, but very quickly realized that I had nothing to fear. 
My education had prepared me to effectively manage my classroom and concisely provide content to my students. I remember thinking, "Wow, these strategies we learned ... actually work!" It seemed like the culminating event to confirm that I chose the right school and the right profession.
What surprised you?
When my mom drove off after move-in, I thought, "Well, I am now officially alone." What surprised me is that this is far from the truth. As soon as you move in, you're placed with a group of other freshmen who may be thinking the same thing, and I immediately found my best friend in that group. 
Professors are so easy to reach out to, and it's much more personal than at a bigger state school. With all of services Augie provides, whether it be counseling or student events, you truly never are alone.
What will you miss the most?
I will miss the walk through the Quad. It was always a dream of mine to walk through a college campus to go to class. I will miss walking through Evald Hall where I was always met with warm greetings, whether it be Julie at her desk or a wandering professor.
I'll miss how accessible my professors were for a talk about whatever topic was on my mind. I'll miss seeing Dr. Schroeder walking into our classroom with a jukebox to play the song of the day.
Advice for the Class of 2026?
One of my biggest regrets is not attending enough events sponsored by OSL or club meetings. It's easy to get overwhelmed with school and work (if that applies to you) and then feel too drained for anything fun, but find the time. It'll reduce your stress and help with making friends.
"Fernando chose to become a math teacher for all of the right reasons. He views math as a language to solve problems that involves understanding and not just a list of rules or algorithms to be memorized. Even better, he wants to share that understanding with students. He is caring and hardworking and wants all of his students to be successful. He will send well-educated young people out into the world. I hope to get some of them as math majors here at Augustana."