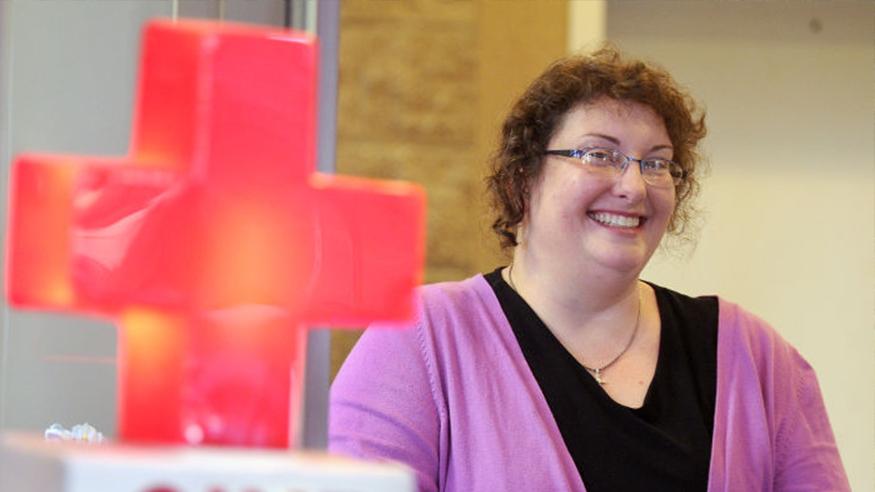 News
Augustana epidemiologist spreads facts, not fear
Augustana's Dr. Rebecca Heick is an epidemiologist and assistant professor of public health. She never imagined she would become a regularly scheduled media spokesperson during a major public health issue.
Dr. Heick has been a prominent source of advice throughout a series of COVID-19 Q&A sessions on KWQC Channel 6 in the Quad Cities this month. She has given perspective on the importance of social distancing, how to break the chain of transmission, and differences between COVID-19 and the flu. 
At times, she feels the weight of responsibility in sharing sound information. But even with so many looking to her for guidance, Dr. Heick is glad to provide a "measure of calm and comfort in the midst of what can feel chaotic and even a bit scary at times." 
'My mission has become my motto – #spreadfactsnotfear!'

 
This semester, Dr. Heick is teaching an epidemiology course at Augustana—now virtually, until the end of the school year. She said the COVID-19 outbreak, while serious, also provides a valuable teaching opportunity to give public health students an inside look at a real pandemic.
The current crisis provides her students "a window into the organizations involved, the research as it is occurring, and the challenges of handling media of all types to ensure clear, confident communication with the public."
Some of her public address has been for her own colleagues. Dr. Heick has led numerous discussions with faculty at Augustana on everything from "how to figure out if information is factual, to how to best share information and the factors around panic (like those that led to the frantic overbuying of toilet paper, paper towels, masks, and hand sanitizer)."
As for guiding public perception in the Quad Cities, Dr. Heick is taking it in stride. "I am honored to serve our community in a role like this during such a challenging time," she said. 
How an epidemiologist becomes a detective
Dr. Heick is a 1996 graduate of Augustana, with a degree in biology. She began a career in EMS medicine and eventually went on to earn a Ph.D. in public health.
She recalls her fascination with the first epidemiology class she took in her graduate community health education program. Something clicked for her then, and she realized she "could be part of a system that works to save lives before illnesses and injuries occur."
Epidemiology is the science of public health, according to Dr. Heick, and it "essentially requires you to work as a detective—there are always patterns to the phenomena of health and illness in human populations, even if it doesn't look like it at first. 
"It is my job to find those patterns and piece together the puzzle to find the answers, providing the evidence to support interventions that will improve public health and ultimately save lives."
By Jack Harris '20, Augustana Writers Bureau