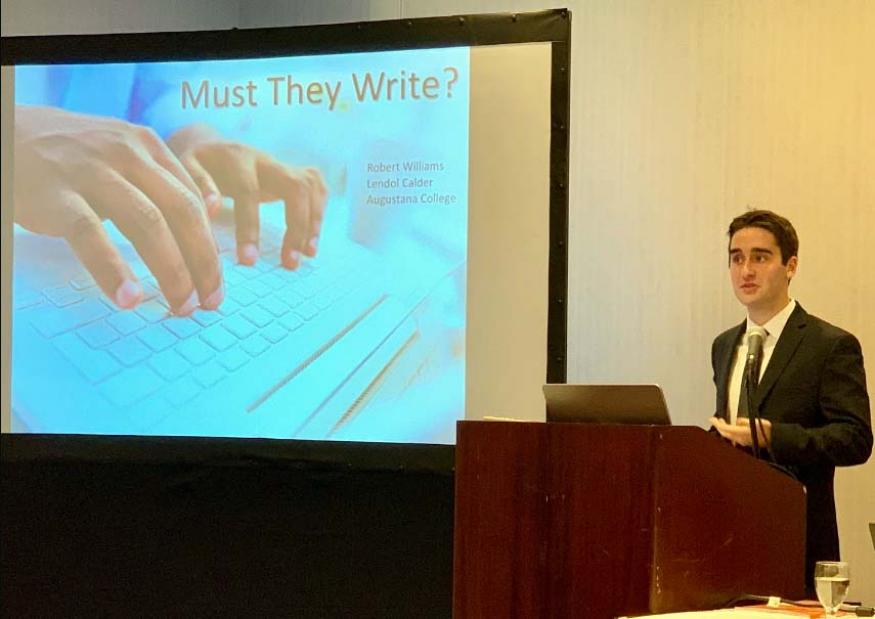 News
Augustana's Williams is lone undergrad presenter at American Historical Association
Senior Rob Williams had the distinction of being the only undergraduate accepted by the program committee to present his research at the annual meeting of the American Historical Association.
Williams, who is majoring in history education, presented a paper titled "Must They Write?" at the meeting in Chicago on Jan. 6.
The paper reported results from research conducted with Dr. Lendol Calder during summer 2018 with the support of an Augustana Student/Faculty Research Grant.
Williams and Calder studied whether long-form essay writing, which is generally considered to be the gold standard for assessment in history courses, helps or hinders students to develop historical thinking.
In a meeting  with more than 280 sessions, Williams was the only undergraduate on the program.  
Dr. Calder said when they tested the common belief of historians that there is something about writing essays that helps students learn to think critically like historians, they found little evidence to confirm this belief.
"On two of the three cognitive heuristics we tested for — contextualization and corroboration — students who wrote no essays scored higher on tests of historical thinking than did students in writing-intensive courses. Only when it came to a third heuristic — sourcing — did we find that students who wrote essays in their coursework performed better than the students who wrote no essays.
"What does this mean? Two things. Historians can feel better about experimenting with assessments that do not involve long-form essay writing. Second, if a history teacher continues to assess through writing (and there are considerable justifications for why one should want to do this), then the teacher has an obligation to teach writing in the course. Writing is a complex skill set that has little to do with thinking historically. Hence, both competencies must be taught."
In another session, Dr. Calder presented a paper based on the history department's assessment of sourcing, a key skill in historical thinking, titled "Sourcing is Damn Hard to Learn." This paper — and the Augustana history department's focus on on historical thinking skills — as featured in Inside Higher Education.