News
Class of 2021 finishes Augie Strong at commencement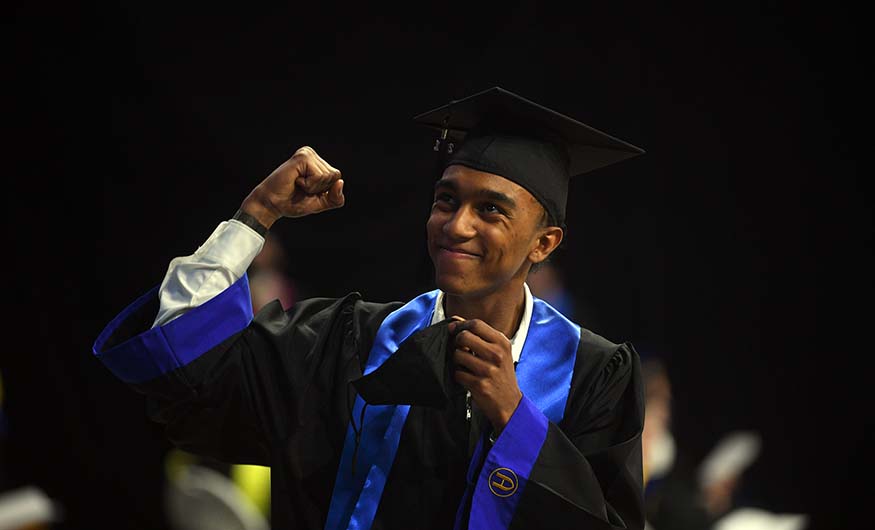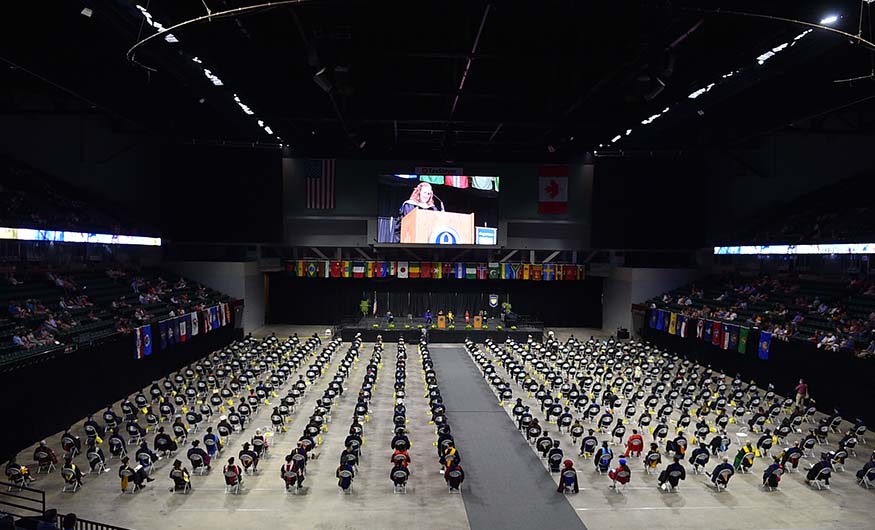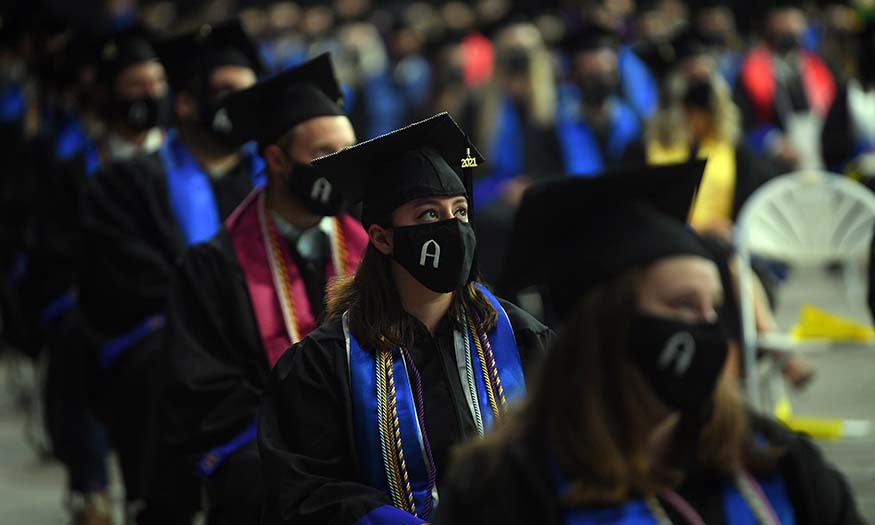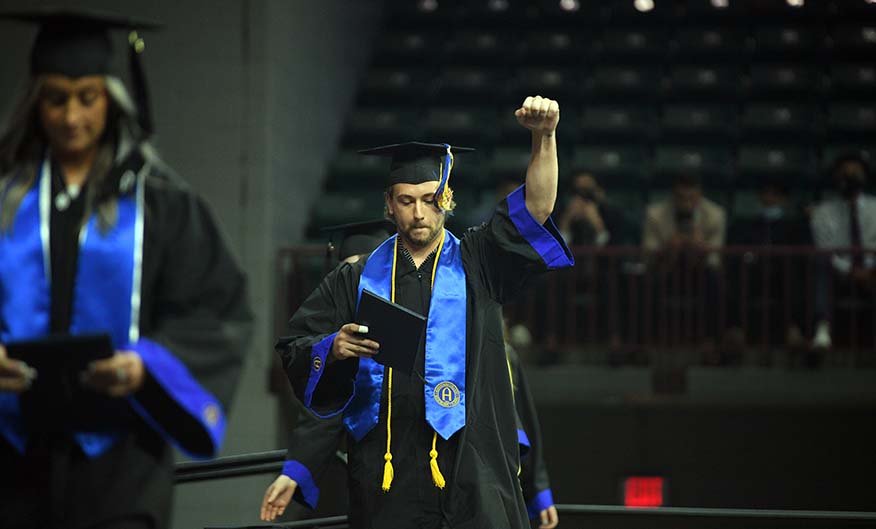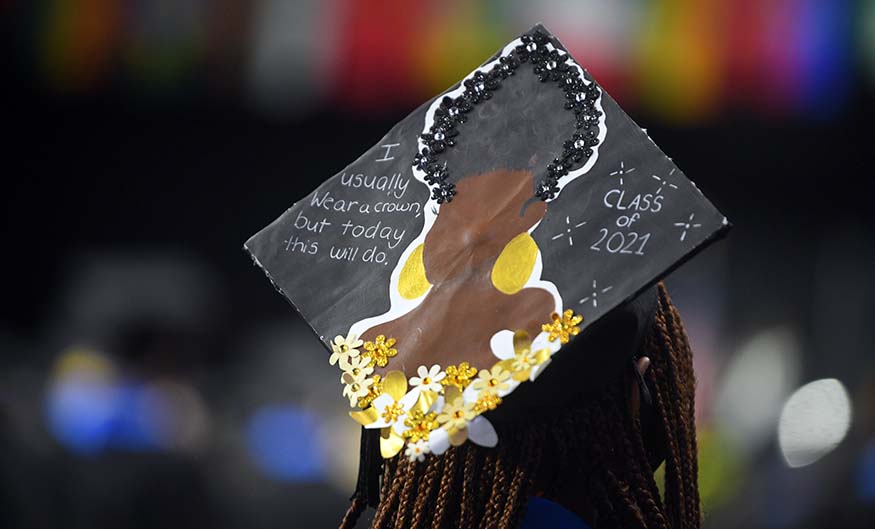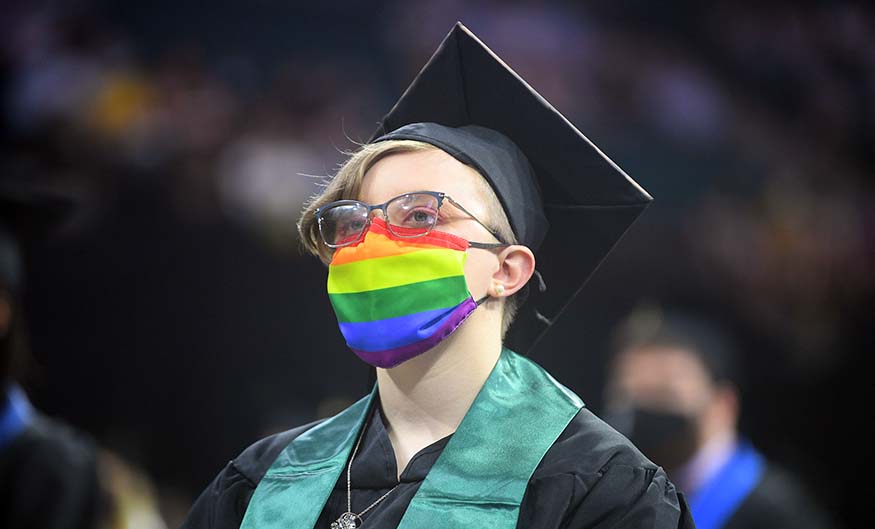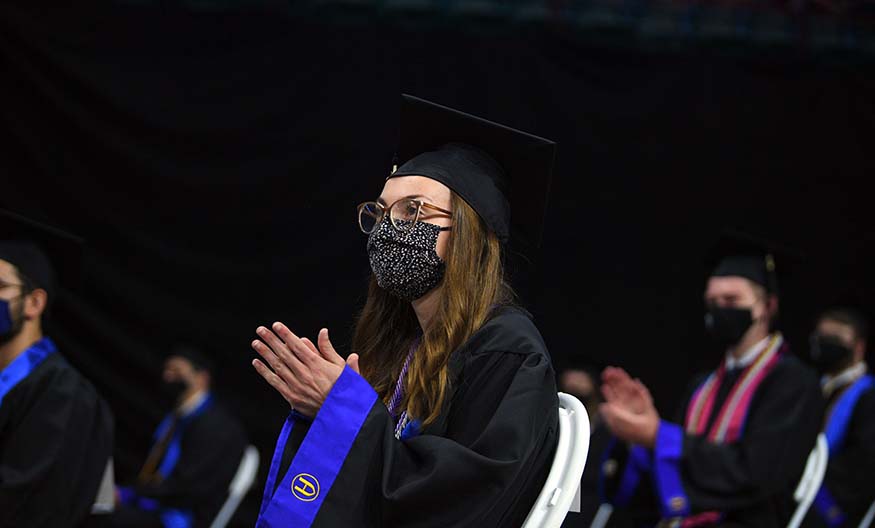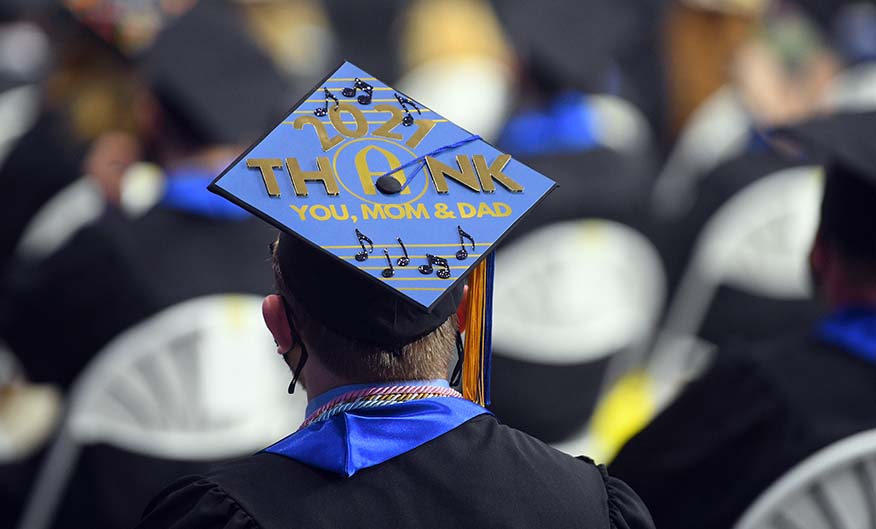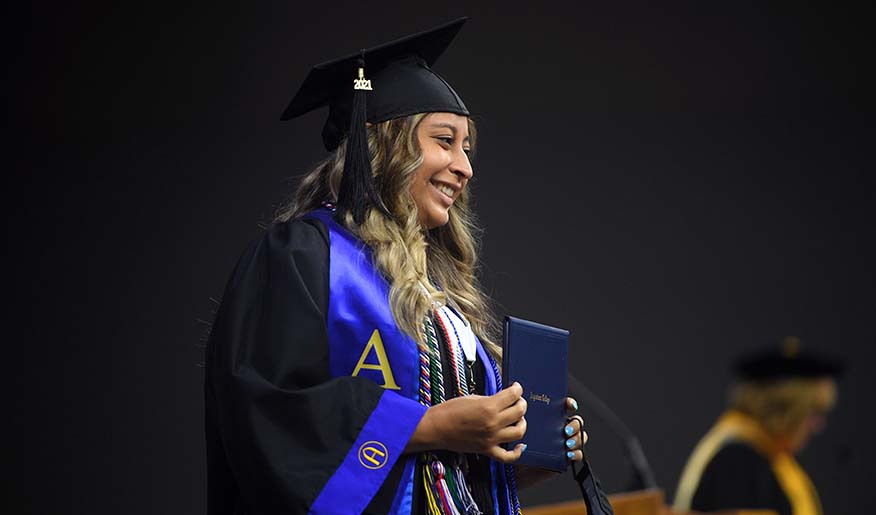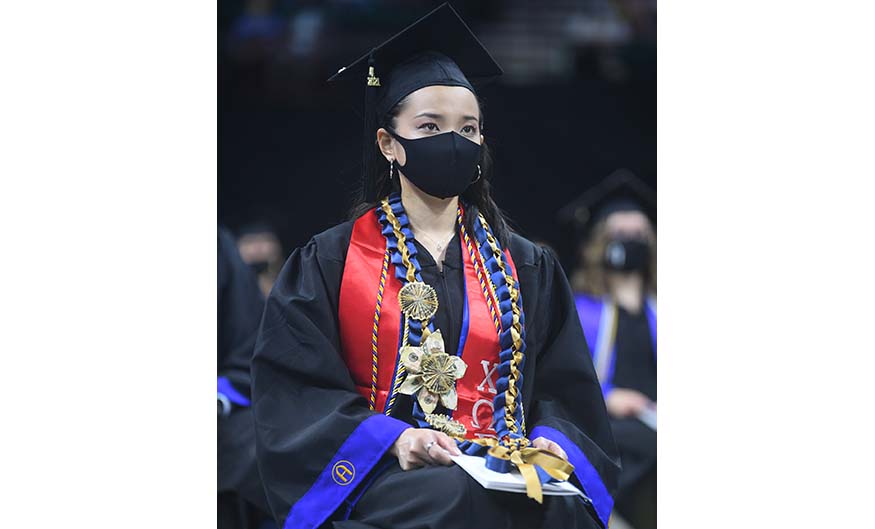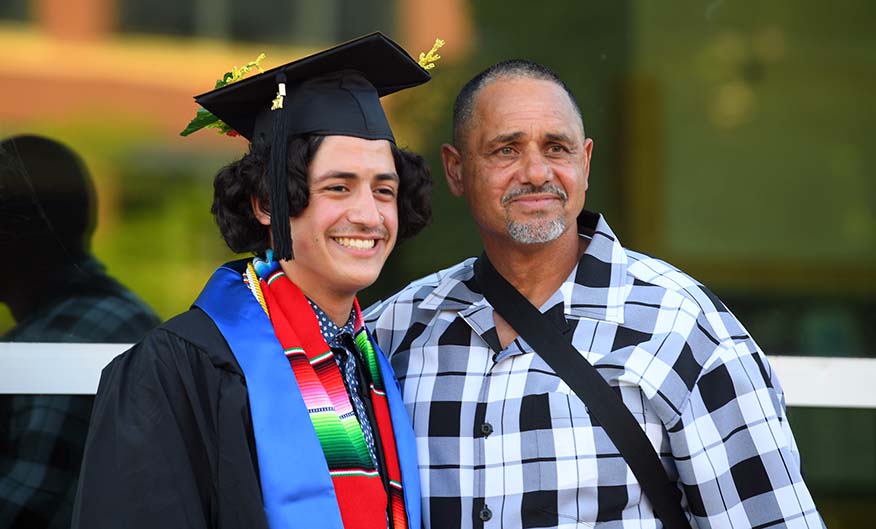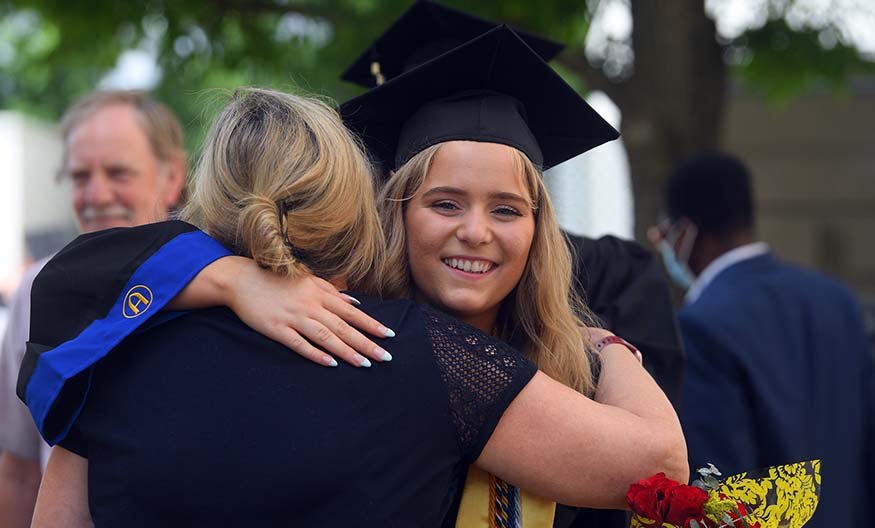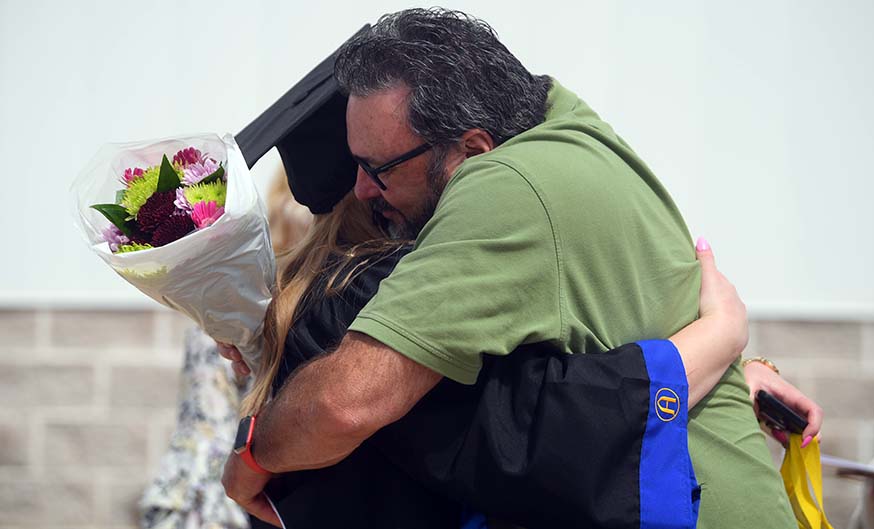 The Augustana College Class of 2021 persevered to the end, receiving congratulations and diplomas in person despite having to do so in separate ceremonies today due to COVID precautions at the Taxslayer Center. 
"We're at 25% of capacity, but let us congratulate them as if we were at 100 percent capacity!" said President Steve Bahls, applauding the graduates at the 161st Commencement Convocation. 
Thanks to the students' willingness to follow masking, social distancing and other pandemic guidelines, he said the college was able to continue in-person classes for their senior year.
He said that while teaching a J-term class, attending many events by Zoom, and talking to students during virtual open open office hours, he saw how strong they are.
"Four years ago we never would have imagined the last 15 months, probably the most difficult for generations," he said. "It warms my heart to see that while you might be bit apprehensive about your future, you have the skills, knowledge and confidence to build rewarding lives of service."
President Bahls specifically acknowledged international students, who were stranded on campus when the pandemic hit due to travel restrictions. Those restrictions kept many of their parents from attending commencement. 
He called the international students "heroic," and pointed out that the Class of 2021 is graduating the largest number of international students in the history of the college,
"You have shown your resilience during the worst crisis in generations. May your Augustana experience,  punctuated by the COVID-19 crisis, help push you through so you gain strength in your daily life."
Student speakers
Lupita Toscano '21, was one of two student speakers. A first-generation college student from East Moline, Ill., she has accepted an offer from the Governmental Accounting Standards Board to complete an internship next year.
"Our time here at Augie was measured in moments. We may not remember every single day since we began, but we do remember the moments that challenged us, the moments that supported us, the moments we overcame and the moments we kept on going," she said. "Over the past four years we have been collecting and capturing moments that have led to this day. 
"We are here to celebrate not just you getting your bachelor's degree ,but who you became while doing it. It was because of the perseverance of the faculty, staff and students that we were able to have in-person classes and an in-person graduation".
Aleksander James Jacobs '21 of Rock Island, this year's Lincoln Student Laureate, thanked the college "for creating an environment that fosters lifelong relationships."
Jacobs, who said he has always been a competitive person, said one way to look at life is as a game. 
"There are wins and losses, freedoms and barriers, strategies and purpose. One's point of view constitutes what determines winning and losing. In life there is no universal win. Neither is there a perfect strategy that can conquer all the obstacles that life presents. 
He said everyone's game is distinct and challenging in its own right, and a true winner at life cannot be determined by others because winning means something different to each person.
"This class more than any other has learned how to adapt in the face of adversity," he said. "This year was a battle but it was ours to fight. 
"It takes grit, integrity and empanty to become successful in any environment. Our Augustana experience has set us up to succeed at the game of life. And we are ready to play."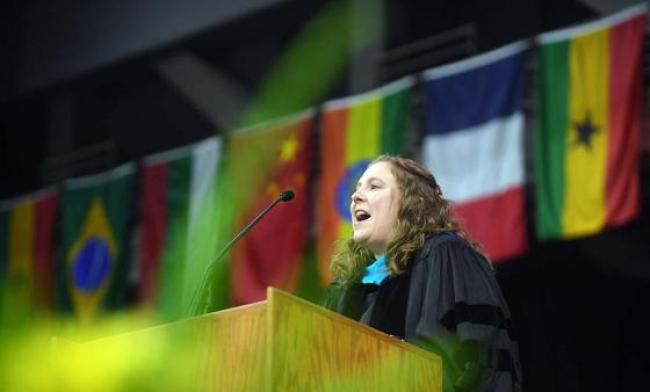 Memories that cannot be taken away
Commencement speaker Dr. Emily Landon '99 served as an advisor to Illinois Gov. J.B. Pritzker and was a primary architect of the state's response to the COVID-19 pandemic. She is the chief infectious disease epidemiologist at University of Chicago Medicine. 
She is the fifth generation of her family to have gone to Augustana
"This is a special place, and leaving it is bittersweet," she told the class. "You did so too early. And unexpectedly. But you won't ever leave it completely."
Dr. Landon spoke of her memories of classes, friends, and trying to study at the library instead of staring out at the beautiful snow falling on the Quad.
"Those memories are inside you right now, and no one and no disease can take them away," she said. "They're waiting to be discovered again when you need them most."
She acknowledged that the Class of 2020 has had to make many life-changing decisions, with more to come.
"My best advice to you is to let your goals and your ambitions narrow the choices, but always make the final decision with your heart and with your gut. Then you'll own the choices you've made."
Dr. Landon urged the graduates to cal upon their roots and their memories of Augustana when faced with setbacks.
"My time at Augustana planted in me the understanding that sacrifice and hardship are part of life, but just part of it. But not all of it. Some days are meant for celebrating. And today is one of those days!"
Dr. Landon was conferred an honorary doctorate of human letters at the ceremony.