News
Examination of land use and heritage wins national award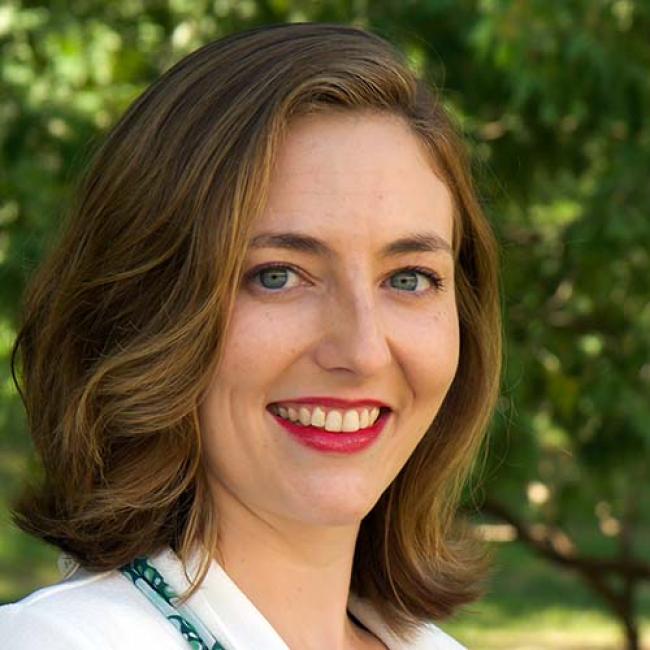 Dr. Lucy Burgchardt, an assistant professor of communication studies at Augustana College, has received a national award for her examination of how lands and their histories in the Southwest are considered and preserved.
She will receive the Gerald R. Miller Outstanding Doctoral Dissertation Award, given annually by the National Communication Association (NCA) to recognize new scholars who have completed outstanding dissertations.
"It has given me a lot of encouragement to revisit my research and make sure that other people get to read it," Dr. Burgchardt said. "I thought it was a long shot, but people gave me encouragement. I want to thank my very supportive colleagues here at Augustana."
Her dissertation, "Attitudes Toward Antiquities: Rhetorical Enchantments, Preservation Advocacy, and The American Southwest," was completed at the University of North Carolina-Chapel Hill.
Dr. Burgchardt studied "heritage preservation" and public memory of indigenous places in the United States, specifically in the  Southwest. She looked at the rhetoric of science and white preservation advocates as they tried to turn ancestral landscapes like Mesa Verde in southwestern Colorado and Chaco Canyon in northern New Mexico, into national parks and monuments. 
"Weaving interviews with a rich trove of printed materials, the dissertation urges us to rethink the American Southwest, encourages Anglo Americans to imagine going to the Southwest as people visiting non-U.S. lands," wrote one of her dissertation advisors, Carole Blair.
While completing her undergraduate work in archaeology and French at Ripon College in Wisconsin, Dr. Burgchardt was invited to attend an archaeological project, Proyecto Cerro Mejía, in southern Peru for two summers in a row. She enjoyed the community-building aspects of the field and how it was significant for people in the present.
"When you tell people you're an archaeologist, they get excited because we have a lot of really good stories about archaeology and the past," Dr. Burgchardt said.
By studying communication, she felt she would be able to tell those stories, while also incorporating the cultural excitement around them.  
"NCA's annual awards honor communication scholars' teaching, scholarship, and service," NCA Executive Director Trevor Parry-Giles said. "Dr. Burgchardt's contributions to the communication discipline are noteworthy, and NCA is proud to recognize her with this award."
Dr. Burgchardt's award will be presented on Nov. 16 at the NCA 105th annual convention in Baltimore. 
The NCA "advances communication as the discipline that studies all forms, modes, media, and consequences of communication through humanistic, social scientific, and aesthetic inquiry. NCA serves the scholars, teachers, and practitioners who are its members by enabling and supporting their professional interests in research and teaching."