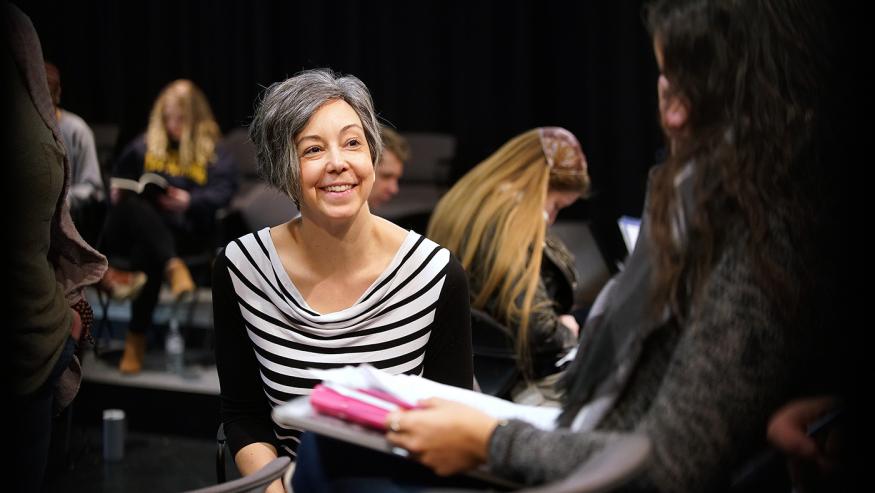 News
Five Questions: Dr. Jennifer Popple
Five Questions is a series of profiles of people at Augustana College. Contact sharenews@augustana.edu if you know someone you'd like to respond to five questions.
You are on the women's and gender studies department board. How do you merge your interests in feminism and theatre when teaching or directing?
I consider myself to be a feminist theatre director. I also consider myself a feminist in general, and that forms the foundation for who I am. So, I always choose plays by thinking about that, first and foremost. In the directing process, I try to be mindful of power dynamics and break them down. I try as much as I can to say, 'This isn't a space where I tell you what I think you should be doing,' this is a community where we can learn together.
What is your favorite topic or skill to teach?
I'm teaching a modern and contemporary theatre class right now where I'll bring in a gendered way of looking at dramatic literature. We'll be learning some terms for masculinity and femininity and applying those to the plays we read. I think it's fun for students to look at how popular culture, whether it's theatre, film, television or music, sends us messages about gender, race, sexuality and other forms of identity. This is not always obvious, so it takes some time to pull that out.
Please describe your most memorable on-stage or directing experience.
Two years ago, I did a production of Sophie Treadwell's Machinal, an expressionist play written in 1928. The play is presented through the protagonist's eye, so it's very non-realistic. Machinal is based on the true story of a woman who was arrested in New York for murdering her husband. It was this scandalous court case, and Sophie Treadwell, the reporter, wrote a play about it in nine scenes, mimicking nine months of pregnancy. She explores the horrific circumstances of a woman who married someone for financial reasons. I love this play, not only because it is a true story, but because Treadwell wanted to paint a full picture of what might lead someone to do something so terrible, and she told it through the woman's perspective. I feel like everyone came in and did their best work for that production. It was so rewarding.
You recently published a book, Spectacular Bodies. How did your academic and professional experiences shape that process?
When selecting my dissertation topic, which later became this book, I chose to look at Restoration actresses. Dramatic literature changed a lot during this period, the first time women were legally allowed to perform in England. I analyzed how these allegorical figures reflected their country at the time, which was very interesting. Now, since I do a study away program with women's and gender studies, my next publication will focus on preparing for international travel through a feminist lens and how that perspective can change the experience.
What is your vision for future theatre at Augie?
I want to move more strongly in the direction of social justice. I do theatre because it's the art that I love most. But I also think there's something unique about having the bodies of the artists and the audience in the same space at the same time. That can be really transformative. We're looking at our season for next year and have two student-led productions, along with a musical directed by Shelley Cooper, that fit a common LGBTQ+ theme. Art encourages people to be more open-minded, because theatre requires empathy. Building that space is so important right now.
By Rachel Reiter '18, Writers Bureau