Augustana offers a major and a minor in women, gender, and sexuality studies.
Careers and internships
Women, gender, and sexuality studies prepares students for the complexities of living in the world — at home and in public — by introducing students to the many ways that gender and sexuality structures our lives, our relationships and the institutions in which we conduct our lives. Through WGSS, students learn to think critically about how gender and sexuality works in tandem with race, ethnicity, religion and social class; to use feminist models to analyze historical and contemporary social issues in the U.S. and globally; and to work with others to initiate change.
Augustana WGSS students sometimes conduct research with faculty and many undertake internships, particularly with non-profits in the Quad Cities. Internship and graduate school information is available from the WGSS coordinator. Graduates' careers include: attorney, school psychologist, senior production editor, clinical therapist, pastor, journalist, community organizer, business information project manager, AmeriCorps and Peace Corps volunteers, foster care worker, museum program manager, senior litigator and many more.
What graduates do
Madison Wynes '14 is a counselor and financial literacy instructor for survivors of domestic violence; she will enter the University of Wisconsin-Madison school of law in 2018.
Amelia Garza '13 received a master's degree in women's studies at Texas Woman's University in 2015.
Lauren Banda '13 is a graduate student in clinical mental health at Roosevelt University, Chicago.
Danae de Vries '12 is a student at Purdue University College of Veterinary.
Distinctions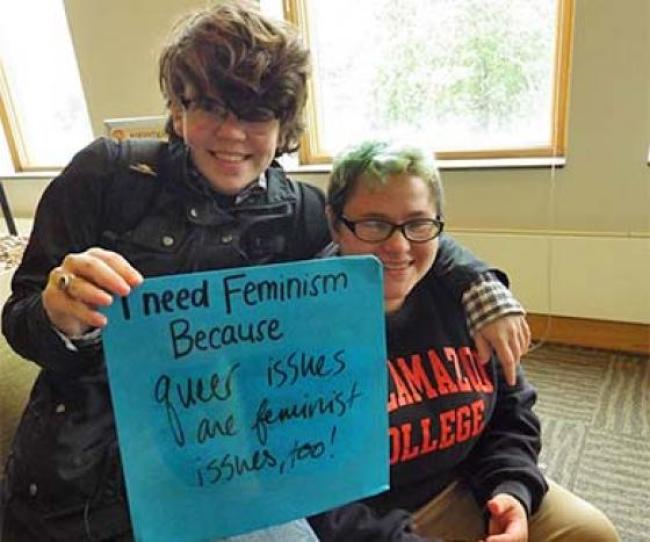 Augustana offers a 28-credit major in women, gender, and sexuality studies and an 16-credit minor in women, gender, and sexuality studies. Course topics range from global issues in women's studies and masculinities, to feminist and queer theories. The department curriculum includes concentrations that explore the historical, scientific, cultural, and political aspects of gender and sexuality. The interdisciplinary course of study strengthens students' understanding of gender and sexuality as social and cultural systems that inform science, media, history, and global economic relationships.
WGSS is coordinated by faculty members who also teach Spanish and Theatre Arts; other professors in the department represent more than a dozen fields, from anthropology to world literature. WGSS coursework and programming offer significant opportunities to engage in activism on campus and in the community on issues such as health education, LGBTQ+ awareness, violence prevention and global equality.
On campus, WGSS groups often collaborate on events with other groups such as Augustana's Gender and Sexuality Alliance, Office of Student Inclusion and Diversity, and Sigma Alpha Iota (women's music fraternity). Examples of events include the Tea Talks series on faculty research and annual fundraisers to raise awareness of domestic violence, plus opportunities to connect with visiting scholars, local leaders and community activists.
Other opportunities:
• Audre Lorde Prize for student writing and Vazquez-Valarezo Poetry Award (awarded each spring)
• Women's Leadership Symposium (biannual)
• Research projects with faculty
Women, Gender, and Sexuality Studies has a long and distinguished history at Augustana. The college hosted Betty Friedan, author of "The Feminine Mystique" in 1973, and the first course was offered in 1975. 
What students say
Simone Roby '14, WGS and psychology, minor in anthropology; in Ph.D. program in counseling psychology at Southern Illinois University-Carbondale
I chose Augustana because I felt like it would meet my academic, financial and extra-curricular needs. I knew this school would allow me to learn from different disciplines and get involved in a number of groups surrounding my interests. I was also drawn to the small class sizes and individual attention from professors. I didn't realize I would have the academic, professional and personal experiences that allowed me to lead others (in multiple student groups) and develop/explore my interests. I also didn't expect the growth in social awareness I experienced, or my aspirations to become a lifelong learner.
Kendra Mulcahy '11, WGS and psychology; community residential case manager for the Handicapped Development Center, Davenport, Iowa; helped establish Dress for Success Quad Cities:
(At Augustana), I was given many more opportunities than I ever expected, including access to community involvement, several internships, assistance in maintaining a part-time job and aid in connecting to individuals who helped me build my future career. My peak experience was realizing what I want to do after graduation. After a very inspiring internship at Edgerton Women's Health Center in Davenport and being the student coordinator for the Women in Leadership Symposium at Augustana, I realized I wanted to be a leader in an organization that assists underprivileged women find their true potential. As a result, I have been active in several organizations that do just that, and I hope to stay active in the Quad-Cities community.
Lindsey Dixon '10, sociology, with WGS minor; completed master's in social work program at George Williams College of Aurora (Ill.) University; currently an outpatient therapy intern at McHenry County Youth Service Bureau
"What I learned from my WGS classes has impacted me immensely in my master's program as well as my various internships.... Being knowledgeable about gender and sexuality issues and being more understanding and empathetic towards others has enabled me to gain my clients' trust and better connect with them on a personal level. On a daily basis, we each encounter others who are different than ourselves, which makes it so significant to learn as much as possible about others and the ways they identify themselves, their sexuality, gender, race, etc. Getting a better understanding of another person's worldview and educating yourself as much as possible will help eliminate injustice and create a more peaceful world."
Courtney James '08, WGS, English and sociology; assistant director of campus activities at the University of Central Oklahoma:
"My courses in WGS allowed me to gain a critical lens in the way I view the world and interact with different types of people. Prior to my classes in WGS, I essentially lived in a bubble, thinking that my way of life was shared with the majority of people around the country. Through my courses at Augustana, I learned about the different challenges that people face because of their differences in gender, sex, religion, sexual orientation, physical ability, socioeconomic status and other factors. Because of this, I am comfortable and confident when I have conversations with the college students I work with to challenge their ways of thinking. My major in WGS benefits me every day in the work that I do and allows me to challenge and support the students I work with."