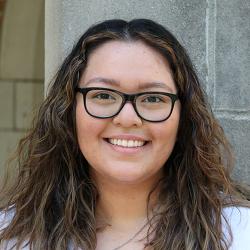 More Than I Imagined
Seniors reflect on accomplishments and look ahead
Nadia Castillo
Graduation year: 2021
High school: Palatine High School
Hometown: Palatine, Ill.
Major: Communication studies
Minors: Sociology; women, gender and sexuality studies
Activities: Latinx Unidos, Chi Alpha Pi sorority, Greek Council, Camp Kesem
Internship: Legal and medical advocate intern with Family Resources
Post-grad plans: I will be serving with AmeriCorps for a year as a full-time fellow with the Illinois JusticeCorps before pursuing law school.
Why Augustana?
I chose Augustana because it provided all the resources I wanted as a first-generation student.
When I was a freshman in high school, I visited Augustana for the first time after attending a summer program with the National Hispanic Institute, which was hosted on campus.
This was my first time on any college campus and its beauty and nature captivated me. When senior year of high school came around, no other college compared to Augie.
Are you where you thought you'd be when you first came to campus?
Not at all. I am so much further than where I thought I would be! I have grown immensely throughout these past four years, on a personal and professional level.
Coming into college, I was extremely nervous as everything was so new to me as a first-generation student. As the years have gone by, there have definitely been great moments and some harder than others.
It's been an amazing journey, and along the way, I have made so many precious memories and lifelong friendships.
Who helped you get to where you are now?
There aren't enough words to thank everyone who has helped me get to where I am now.
First and foremost, my family. Without all of the hard work and sacrifice of my parents, I would never be the person I am today. They, along with my younger sister, have given me nothing but unconditional love and support. Regardless of what's going on, they've always been my cheerleaders, and I appreciate them so incredibly much.
Next, the professors here at Augie have made such an impact in my life. I consider myself lucky to be surrounded by so many amazing scholars. Specifically, I wouldn't be the person I am now if it weren't for Dr. Jessica Nodulman, Dr. Fredy Rodriguez and Dr. Mariano Magalhães. They've all been key people in pushing me to be the best version of myself.
Finally, my friends. They have given me the courage to be the person I want to be. We've gone through everything together, from laughter to tears, and college would not have been the same without them.
Thank you.
Peak experience?
One of my peak experiences would be the Multicultural Leadership retreat I attended my freshman year.
On this trip, we visited Pilsen, a vibrant neighborhood in the city of Chicago. We met professionals working at a non-profit organization for the community in order to help with legal issues. At the time, DACA had recently been revoked. The work this organization put into helping the community was inspirational. At that moment, I knew I wanted to pursue law.
What surprised you?
My own resilience. In the face of adversity, I overcame and I picked myself back up. At moments where that imposter syndrome kicked in, I talked myself out of it. At one point, I welcomed challenges with open arms because I knew it would only make me stronger, both personally and academically. As a first-generation Chicana and student, I am so proud of myself.
How did you use your Augie Choice?
I used my Augie Choice for my internship with Family Resources. In this experience, I was able to be an intern with the Legal and Medical Advocacy team. We offered support for survivors of sexual assault, domestic violence and sex trafficking.
What will you miss the most?
I'll miss all of my friends and peers. The bond that is created between college friends on the same campus is unlike any other. I'm going to miss campus so much. But I'll especially miss how I could go to a friend's room, Casa Latina, the Brew or literally anywhere on campus and just talk to people for hours on end.
Anywhere I went, I knew I could count on a friendly face being there. It goes without saying that the campus community has a special place in my heart.
Advice for the Class of 2025?
To my first-generation and BIPOC students, you belong here. I know it can be hard at times, but you can do this! Remember you have a village of people here for you to lean on; don't be afraid to ask for help. Finally, cherish every moment.
"What impresses and inspires me the most about Nadia is her determination to help make her community and the world a more just and stronger place. When confronting adversity or the challenges of our world, some people may be too daunted and turn away. Not Nadia. Nadia runs toward the challenges. She brings her values, strong work ethic, and commitment to community to lead the way forward."