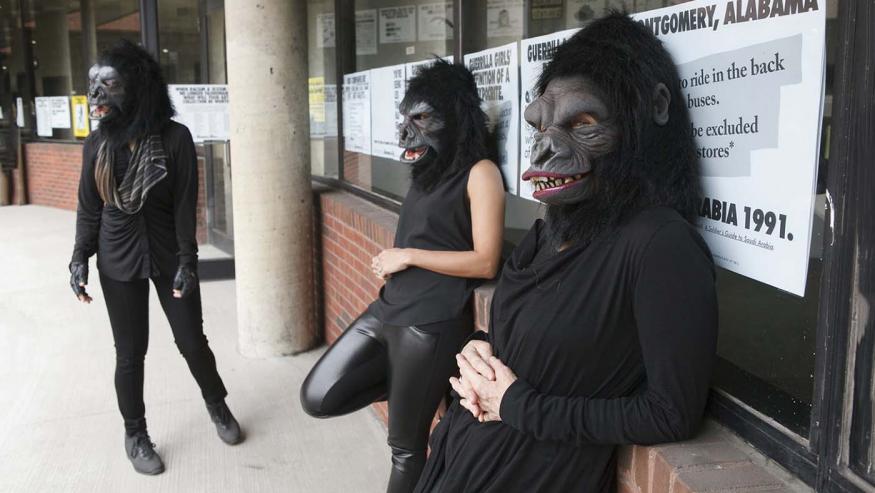 News
Guerrilla Girls will stir up audiences Jan. 18
The Guerrilla Girls will share their methods of challenging sexism and racism in the arts, politics and culture in a free, public presentation at 7 p.m. Jan. 18 in Centennial Hall. 
Doors will open at 6:30 p.m. for those wishing to view the current museum exhibit on polar art, "Art above 66° 33'."
The Guerrilla Girls formed in 1985, and immediately began exposing structural inequities through activist art tactics and an anonymous collective voice. Their reaction to what they perceived as ineffective modes of feminist activism through the arts led them to employ guerrilla tactics and a raucous sense of humor.
Members of the ensemble wear gorilla masks and call themselves "avengers in the tradition of anonymous do-gooders like Robin Hood, Wonder Woman and Batman."
Their appearance on campus extends from the Augustana Teaching Museum of Art's Fall 2016 exhibition, "A Woman's Place is in the Gallery: Guerrilla Girls, 1985-2015," a retrospective exhibit of posters, banners, videos, correspondence and ephemera from the group's beginnings in 1985.
As part of Augustana College's January 18 Symposium Day on the theme of Privilege, the Guerrilla Girls also will conduct workshops exclusively for students. Participants will propose their own activist project on an issue important to them; the Guerrilla Girls will take participants through the process of crafting an active campaign, leaving them with an idea of how they might impact their chosen issue.
Funding for this Augustana Teaching Museum of Art event is provided by Quad City Arts, as well as Institute for Leadership and Service Endowment, Violet M. Jaeke Family Life Fund, Humanities Endowment and Academic Initiatives Fund at Augustana College. The media sponsor is WVIK Quad Cities NPR.
Contact:
Connor Kealey, manager of performance tours and arts promotion, 309-794-7323