Augustana offers a major and minor in art history with a curriculum that moves from Paleolithic cave paintings to contemporary art on multiple continents.
Students progress from a general survey of Western art and advance to more specialized study.
Careers and internships
All art history majors who have worked with an advisor through the application process have been successfully admitted to competitive graduate programs in art history. Majors have also utilized their rich background in art history toward law and medical school.
Careers include teaching on the college level; directing or curating at a museum or gallery; working in museum education, art conservation, arts advocacy, visual resources centers, auction houses, historic preservation and/or art book and catalogue publishing.
The Augustana Teaching Museum of Art and the Visual Resources Center provide work-study opportunities for students to gain first-hand experience in museum operations and collections management.
Through Augustana's internship program, students may apply for summer, term- or year-long internships at major museums and art organizations, most recently at the Figge Art Museum in Davenport, the Art Institute of Chicago and the Smithsonian Institution in Washington, DC.
Recent grads:
Carli Hogan '17, an art history minor at Augustana, is a student at Marquette University School of Dentistry, Milwaukee.
Clair Wright '16 is a JD candidate at University of Denver Sturm College of Law, and an M.A. candidate in art history at University of Denver.
Samantha Lundeen '15 is the director of marketing and events for the DANK Haus German American Cultural Center, Chicago. She earned an M.A. in museum studies from Western Illinois University.
Sarah Berndt '15 is the Collections and Education coordinator for the Porter County Museum in Valparaiso, Ind. She received an M.A. from the Winterthur Program in American Material Culture, University of Delaware.
Maggie Cooper '15 is a freelance graphic designer. She received an M.A. in museum and exhibition studies from the University of Illinois at Chicago.
Audrey Moore '15 is a program manager with Artists Working in Education, Milwaukee.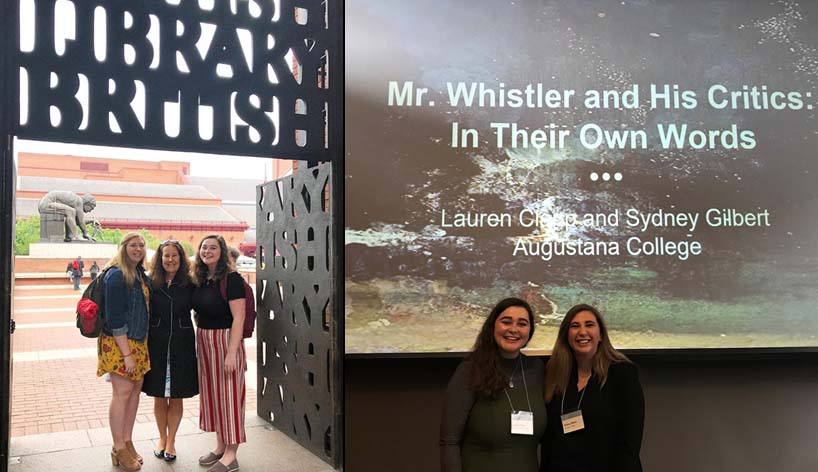 Distinctions
Courses challenge students to evaluate and interpret works of art as historical documents. To foster close contact with faculty and peers, classes are kept small, ranging from a maximum of 25 students for the art history survey to around five for the senior seminar.
The Augustana College Teaching Museum of Art is a teaching collection covering all major art historical periods. Students study directly from these original works.
Augustana students pursue Senior Inquiry and work with a faculty advisor to research a topic or do a community service-related academic project. For art history majors, this culminates in a capstone paper and public presentation.
Art history students also may present papers at the annual Celebration of Learning research symposium and participate in research associated with the Paul A. Anderson Chair in the Arts.
Special scholarships are offered to students who plan to major in art history.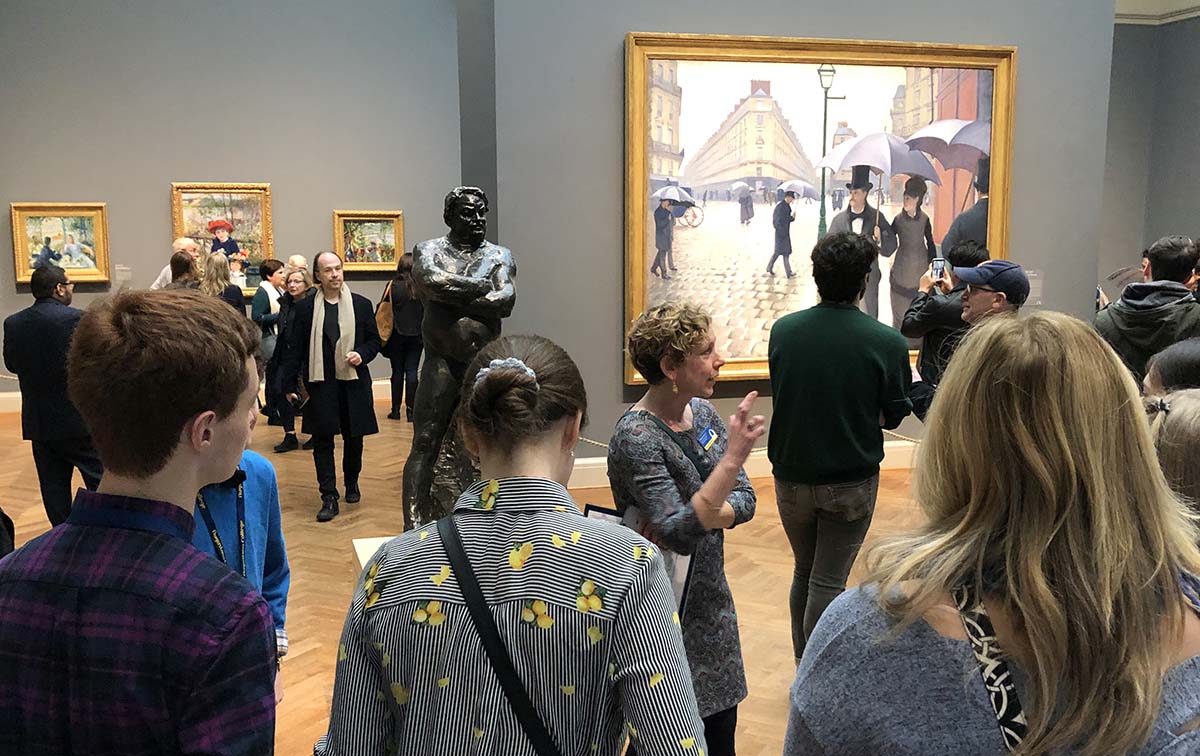 What students say
Vernon Meidlinger-Chin '13, geology major, art history minor; master's in teaching, Museum of Natural History, New York
Webcomic artist and earth science teacher at Emma Lazarus High School, Manhattan (N.Y.)
"I found that art history helped me foster two very different ways of thinking. The first is the fast, on-your-feet kind of thinking. The second is the slow, deeply analytical kind of thinking… These two ways of thinking are so useful in myriad circumstances. The first one allows for very improvisational problem solving and critical-thinking abilities. The second allows for very creative and constructive work."
Julianne Medel '09, art history and studio art double major; master's in art education, Art Institute, Chicago
Education coordinator, Wauconda Area Library, Gurnee, Ill.
"The art history program at Augustana taught me several things I have carried into my position, even though its not directly related… I learned to write a strong argument in my papers at Augustana and take those same ideals to my grant writing. I also don't mind all the research! I look at it just like I did my art history papers, research only strengthens your argument."
Vero Rose Smith '12, art history, studio art, and environmental studies triple major
M.A. Art History, University of Iowa; M.A., design studies, Harvard University
Associate curator, University of Iowa Museum of Art, adjunct instructor, Kirkwood Community College, Iowa City
"I have been able to craft an academic niche at the intersection of science and visual culture… My recent work focuses on the visualization of the effects of climate change, broader issues of environmental literacy, and on participatory artistic practice as a vehicle of social change. Without the support of Augustana art history faculty, and their commitment to interdisciplinary study, I would not have the confidence to pursue such unorthodox interests and I would not have been able to gain experience in independent research."
Stephanie Loria '11, art history and psychology double major
Coordinator at Sotheby's, Chicago
"Having the basis that I do from my art history degree, I can go into any foreign city and immediately recognize and understand elements of their culture and history from the art they display. From iconography, to materials used, to intent behind creating the artworks, there is always something I can relate to and understand. I don't believe there is any other degree that can put an alum in this type of position. Art history as a subject is an amalgamation of other areas of study; it allows for development of a different kind of knowledge."
Julie Napientek '13, art history and anthropology double major
M.A., art history, Richmond University in London
Gallery administrator and manager, Martin Lawrence Galleries, Schaumberg, Ill.
"A degree in art history offers a person more than just a knowledge of art, it also comes with many marketable skills that are applicable to a variety of professions. One of the biggest skills that is developed by an art historian is research (including first hand research!). Each work of art has its own unique story to tell, and there are a variety of different angles of approach to learn what exactly that story is. Going hand in hand with research is the development of the ability to express one's ideas, both through writing and orally..."