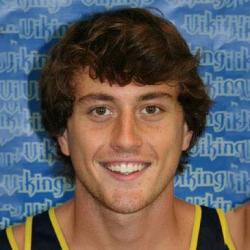 More Than I Imagined
Seniors reflect on accomplishments and look ahead
Matt Bowman
Graduation year: 2011
Major: Art history
Minors: Spanish and religion
Activities: Mortar Board, APO National Service Fraternity, track and field captain
Post-grad plans: Pursue museum internships around the U.S. for a year and prepare for graduate school to study art history
Are you where you thought you'd be four years ago?
Haha, no way! I had no idea what art history was when I came to Augie. I came in pre-med, but art history made me realize that medicine was not my passion. Thank God for liberal arts!
Your peak experience?
Getting All-American in cross country this past fall — it was a hard road, but I ended my career on top.
What did you learn about yourself in these past four years that surprised you?
I never thought I would join a fraternity, but I joined APO (national service fraternity), and it was the right fit for me.
Besides your family, who helped you get to where you are now?
My cross-country/track coach Paul Olsen: He gave me confidence and the tools to deal with everyday problems with a great attitude. Dr. Morse and Dr. Goebel: They have given me not only great letters of recommendation, but also provided me with their seemingly unlimited time and patience, and their kind and confidence-instilling words and advice.
Advice for this fall's incoming class?
Be flexible; don't be afraid to branch away from the major you were so 'dead-set' on when you entered Augie because you just might find that your true passion lies elsewhere. Follow your heart! Get involved in the school/community. I don't mean bog yourself down with 10 clubs. Be limited. Pick two or three things to dive into during college (ex. sports, fraternity, etc.). But be realistic. You will probably be able to handle more as school goes on; plan on adding things as you go. Bang on professors' doors and talk to them. At Augie, they are your friends!
Anything you'd like to add? 
I will pursue my Ph.D. in art history after Augie (emphasis most likely on 19th- and 20th-century art and architecture of the U.S. and Europe). I am going to have to pare this down in the future, haha. Before that though, I am taking a year off and pursuing museum internships around the U.S.
I met Matt when he was a first-year student in my LS 102 class. It was exciting to witness his initial discovery and budding passion for art history. He will undoubtedly apply his talent and leadership, with the same drive that has already distinguished him in academics and athletics, toward successfully achieving his goal of earning a Ph.D. in art history!