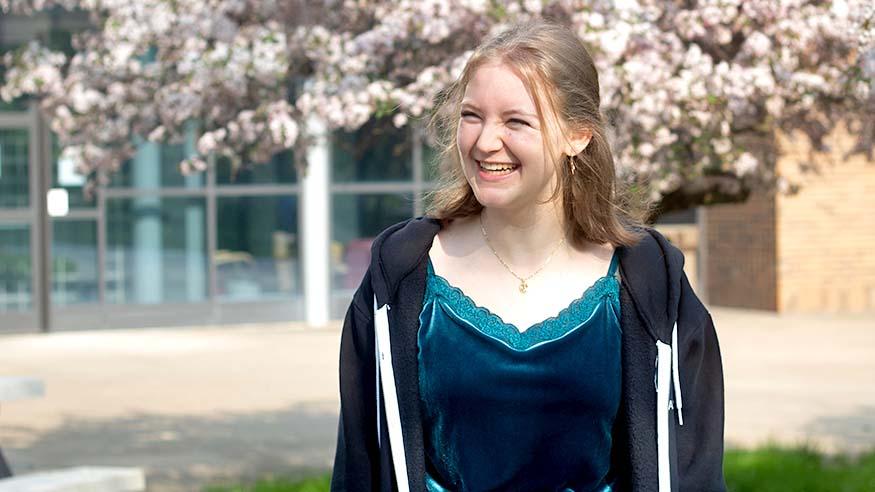 News
Physics scholarship winner loves figuring out how things work
Junior Amanda Gravelle of Bloomington, Ill., has been awarded a $5,000 Rossing Physics Scholarship for 2022-23. She is one of only 14 exemplary physics students nationwide to receive the award.
"Whatever I end up doing, I'd love to go on to graduate school, and so receiving this scholarship has really given me the opportunity to continue my education—especially when I only have one parent and a younger brother who wants to go to college, as well," Gravelle said. 
Like many Augustana students, she pursues multiple interests. Faculty advisors in her three majors — engineering physics, environmental studies and art history—help her balance everything. She also is a member of the Augustana Physics Society's Idea Mentoring Program on campus, and plays cello with the Augustana Symphony Orchestra. 
"I help out in my cello professor's garden pretty regularly, one of my physics professors made us pies for Pi Day, and I've spent who knows how long talking with my engineering advisor about what to do with my life," she said.
Thankfully, she said, her engineering advisor is a planner just like she is. 
Her advisor, Dr. Joshua Dyer, calls Gravelle "a real engineering talent," and he is very curious to see how her future plays out. "She continues to refine her plans for the future, but she puts all of herself into what she's exploring." 
Gravelle started with an environmental studies major at Augustana. Environmental engineering caught her eye, and she went from there. 
"I've always loved building and designing and figuring out how things work, so I thought I'd give it a shot, and ended up loving my physics classes and the different faculty like Dr. Frank and Dr. Dyer."
She added art history when she was missing the humanities, and for "a desperately needed artistic outlet."
Summer internship
Initially she'd planned to pursue sustainability engineering. "But more recently, I've been looking into using my science background to maybe work in art conservation, which requires pretty extensive experience in chemistry, material science, and structural work. 
"I'm still not sure which direction I want to go, but this summer, I've accepted an internship with Bergstrom Inc. to work in the Design Engineering department! I'll get to work with an incredible group of people who are actively working as engineers."
When first looking at colleges, Gravelle knew she wanted the flexibility of a liberal arts education, so she could take different classes and figure out what she wanted to do. While Augustana offers a new B.S. in engineering as of fall of 2022, the B.A. with an engineering physics major continues to be a good option for students like Gravelle who want a career that calls for making innovative connections between multiple fields.
About the scholarship
Dr. Thomas D. Rossing, a Luther College alumnus and professor emeritus of physics at Northern Illinois University, established the Rossing Physics Scholarship in 2005. Awards go to exemplary physics students attending one of the 26 colleges and universities related to the Evangelical Lutheran Church in America.
Contact: