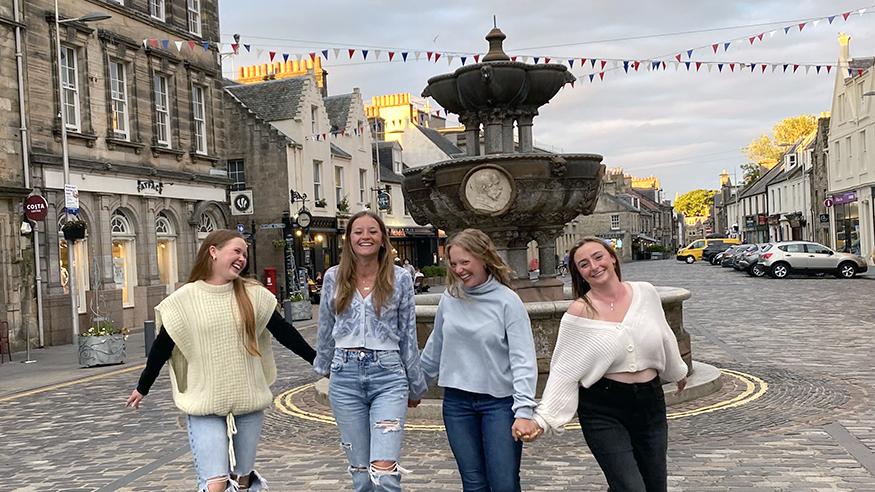 News
Students discover new perspectives, friends and adventures on travels abroad
When Kylie Radz '23 heard about a sandwich shop in Florence, Italy, that displays college pennants from around the world, she packed an Augustana pennant for her study abroad semester in Italy. Thanks to Radz, Augustana's Blue and Gold now flies at Salumeria Verdi in Florence for all to see (see below).
Radz was one of dozens of Augustana students who experienced a new culture during the 2022 spring semester and earlier this summer. By connecting with other students, immersing themselves in a new country and taking a leap of faith, these Vikings broadened their perspectives and made lifelong memories.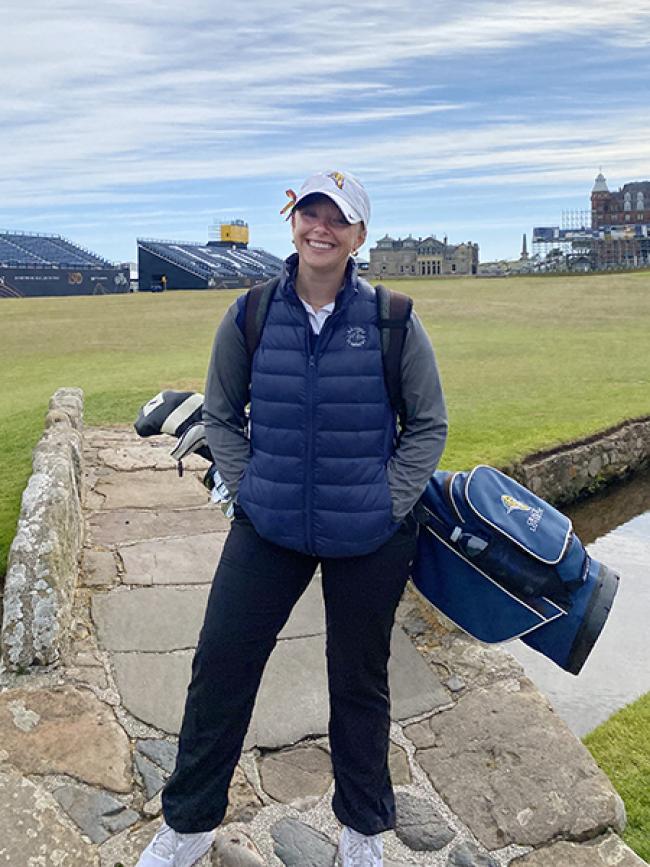 Grace Loverde – Golfing in Scotland 
Longtime golfer Grace Loverde '23 not only visited historical landmarks and explored the country where golf originated, she also played some of Scotland's beautiful courses this past June with her Viking teammates. 
"Anyone who is an avid fan of golf knows about the Swilcan Bridge at the Old Course in St. Andrews," said Loverde, of Hawthorn Woods, Ill. "We were fortunate enough to not only stand on the bridge, but also get to walk the entire course. That was definitely one of my favorite memories."
Loverde, a psychology and communication studies major, says experiencing a new country with her teammates is something she will never forget and recommends that everyone study abroad if they have the chance.
"It is truly a once-in-a-lifetime opportunity to get to be with your fellow students experiencing another culture, and you will 100% learn so much about yourself and wherever you are," she said.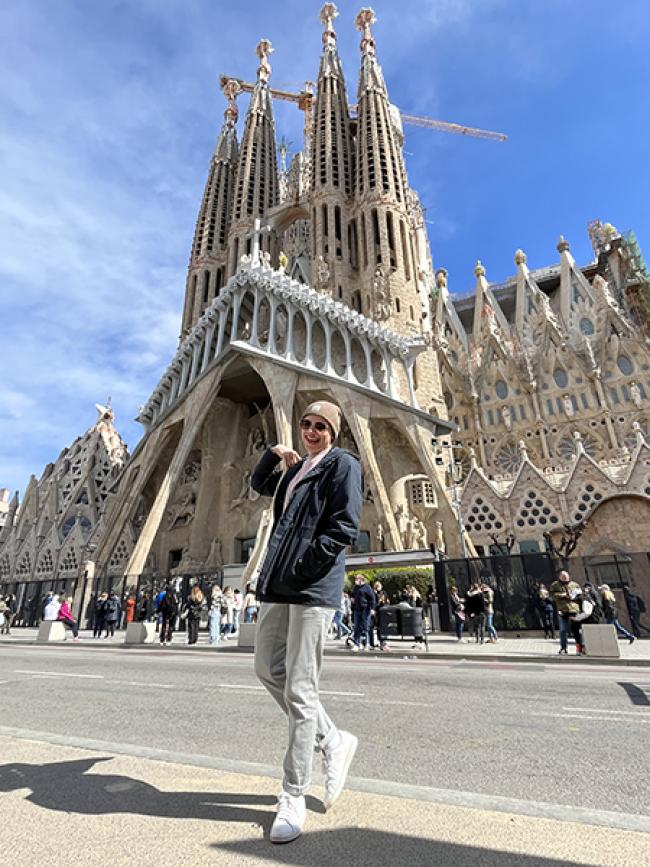 Zach Bohrer – Testing his language skills in Spain
By traveling from his hometown of Elgin, Ill., to Seville, Spain, Zach Bohrer '23 put his Spanish skills to the test. After studying the language for almost a decade, he never imagined he would be able to practice in a real-life setting. 
Bohrer says studying and living in Spain for four months has been the highlight of his Augustana experience so far. "I have nothing but love for the school that allowed me to go after my interests and explore my passions with such a foundational experience," he said. 
After months of immersing himself in a new, diverse culture, Bohrer gained a new perspective of life that he will forever appreciate and one that he shares with those thinking about studying abroad.
"Just do it," said Bohrer, a communication studies and Spanish major. "When you study abroad at Augie, there are people who are going to be your points of contact and support. The ability to explore the world while studying is a must. The positives will always outweigh the cons when it comes to study abroad."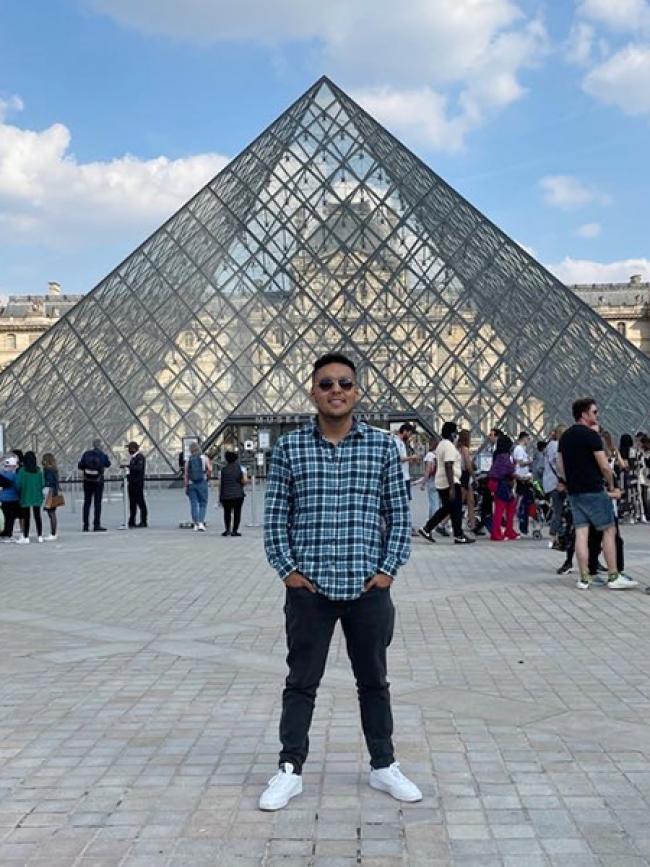 Evan Juarez – Living independently in France
Evan Juarez '23 from Moline, Ill., traveled 4,350 miles to Pau, France, where he enrolled in engaging, creative and fun French classes through a non-profit, study abroad provider called University Studies Abroad Consortium (USAC). 
A French and international business major, Juarez says his fluency in French greatly improved since the beginning of his trip, and his college life routine changed.
"Living independently in a foreign country really opened my eyes to opportunities abroad," he said. "This trip allowed me to change my normal routine of college life and to experience something completely different and out of my comfort zone." 
In addition to academic opportunities, Juarez's program included a cultural field trip to Basque Country in France. Traveling to the small villages and seeing historic architecture in Basque was one of his favorite memories, an experience he says he will never forget.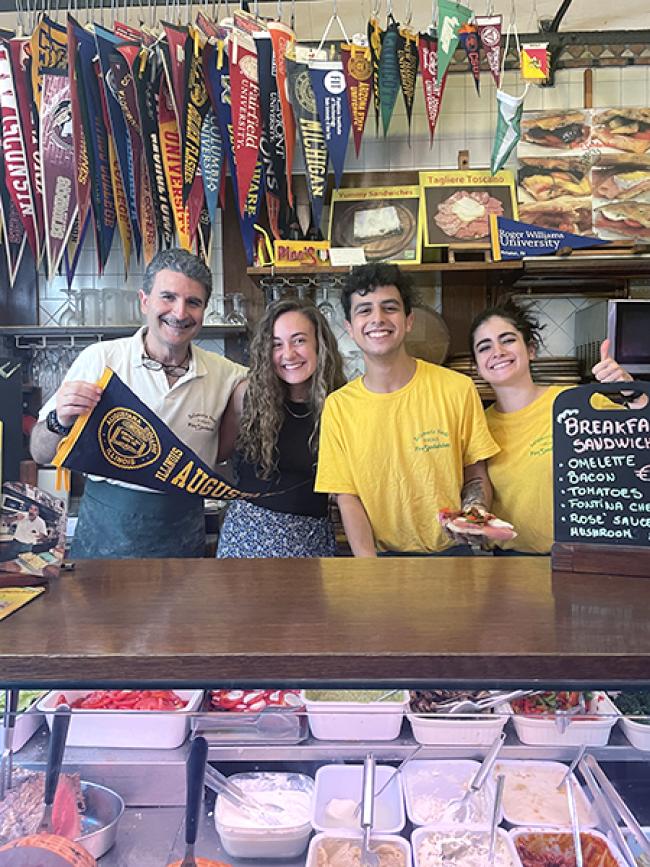 Kylie Radz – Experiencing community in Italy
Kylie Radz '23, a communication studies and sociology/anthropology major from Orland Park, Ill., traveled to Florence, Italy, with an external study abroad program called CAPA. 
As the only Augustana student on her trip, Radz made the most of her experience by connecting with others on the trip, forming friendships to last a lifetime.
With new friendships come new discoveries. For Radz, this meant witnessing Calcio Storico, a combination of soccer, rugby and wrestling that originated in the 16th century and is often played today in historical costume. The participating four teams represent Florence's four neighborhoods. 
"My neighborhood made it to the finals," she said. "We were part of the big parade, and it was such an amazing event to witness and be a part of." 
With assistance from Augustana's Office of International and Off-Campus Programs, Radz was able to make her study abroad dream happen. She says she will forever cherish the memories she made this past summer. 
Augustana's Office of International and Off-Campus Programs provides Augustana students with high-impact learning experiences in the United States and abroad. For more information, contact Pedro Bidegaray, director.
By Hannah Knuth, a senior majoring in art history and communication studies