Augustana College offers a major in French (32 credits), a minor in French (20 credits), and a major for teaching French in the secondary schools (34 credits).
The department offers beginning-level language courses through advanced, composition and cultural studies, and advanced literature courses taught in French.
Careers and internships
Knowledge of French culture, language, and literature is useful and marketable for people pursuing many careers — from education to medicine to business in the global marketplace.
At Augustana, many students of French choose to double-major; recent combinations have included art history, economics, international business, mathematics, pre-medicine and philosophy.
Recent graduates
Here's a sampling of what recent graduates are doing:
Rachel Kammerzelt '18 is a language assistant at Lille Academy (Académie de Lille)
John N. Hallmark '18 is a student at Tulane University School of Medicine
Davis C. Baxter '18 is assistant manager at GameOn LLC, Colorado Springs.
Brisa M. Almanza '18 is an admissions counselor at St. Ambrose University, Davenport, Iowa
Brady M. Welvaert '17 is a business operations coordinator for Open Systems Inc., Honolulu
Layne P. Porembski '17 is a tax associate with RSM US in Davenport, Iowa
Harald Olsson '16 is a global graduate trainee with ABB electronic manufacturing, Zurich, Switzerland
Jenny Vanderpool '15 is a neurosurgery physician assistant at Ascension in Milwaukee.
Rukmini Girish '15 is an audience outreach associate with the Steppenwolf Theatre Company, Chicago.
Emily N. Pavlik '15 is an account manager with Niven marketing in Barlett, Ill.
Distinctions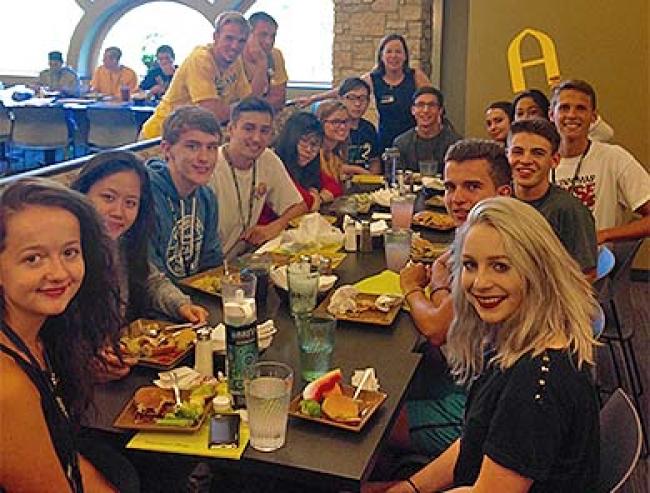 Augustana's French program is based in a rigorous and flexible language and literature curriculum that is a great benefit to students. The department is relatively large for a college of Augustana's size.
Students have plenty of opportunity to practice their skills outside class, at French Club, the Table Française discussion group, and by attending the Francophone Film Festival. At the Soirée Française at the end of every term, students of French practice their public speaking and perform a reading, monologue, or short dialogue for an audience.
Many students of French use their Augie Choice $2,000 to study abroad in one of the college's programs in France or Francophone countries, with options available every year.
During a six-week summer program with université de Bourgogne in Dijon, students focus on intensive study of French language and culture with other international students. All classes are taught by native French speakers, and students also have the possibility of a home-stay with a French family.
Graduate studies
Because of our students' strong preparation in French and Francophone literature, those who decide to pursue graduate study in French have been admitted to prestigious graduate programs — and most have a variety of options.
Others have found that their French studies provided them an extra edge for graduate or professional school in fields such as library science, the health sciences, speech pathology, statistics, and more.
What students say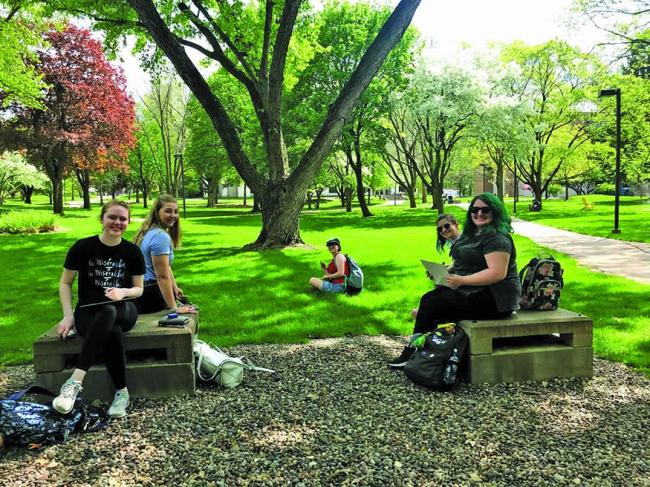 Jaime Schultz '17, French; English language assistant, Teaching Assistant Program in France (TAPIF), la Réunion (a French island in the Indian Ocean) and Guadeloupe
"The French major at Augustana is so much more than the French language. It is an enlightening juxtaposition of modern day culture and the wisdom of the past. It has challenged me to look beyond myself while opening more doors than I ever thought possible — to different countries, cultures and experiences. I have my wonderful and inspiring mentor, Taddy Kalas, to thank for my journey here as a French major."
Lizeth Tamayo '16, French, biochemistry and biology/pre-medicine; Ph.D. candidate at the University of Illinois at Chicago
"I've changed a lot, especially career-wise. I've become a lot more open-minded, a lot more informed about different events in the U.S. and around the world…
"What I want to do with my combination of majors is to work with Doctors Without Borders eventually. This way I won't need a translator. I'll have that real patient-to-patient contact."
Rachel Buenaobra '18, French and biology; English language assistant, Teaching Assistant Program in France (TAPIF), Mulhouse, France
"Because I've kept an open mind, I pursued a major in French, a language completely new to me before coming to Augie, minored in public health and have quite a few psychology classes under my belt in addition to the original biology major. This combination of studies in addition to pursuing passions through leadership positions and student activities that piqued my interest rounded out my Augie experience."
Natalie Spahn '19, French, multimedia journalism and mass communication; news reporter for WVIK Public Radio
"I spent six weeks living in Dijon, France, with about 20 other Augie students. I went to the south of France for a weekend, met students from all over the world, explored Dijon with my Augie classmates, and was there when they won the World Cup and was able to celebrate there. And all that happened within just the first two weeks of the trip."
Megan Bystol '14, French, anthropology and international business; credit analyst with John Deere Financial
"When I came to Augustana, I didn't know I wanted to be a French major. So I figured I'd take a couple of classes because I didn't know what I wanted to be. I fell in love with the department and how everyone is so engaged in what they do, and you can tell that the professors really love what they are teaching. And all the literature and poetry are about love, sex and death, so you won't get bored!"
Sandrine Chomereau-Lamotte '13, French-secondary education; now a French teacher at Shepard Middle School, Deerfield, Ill.
"Attending Augustana College as a French education major prepared me for a competitive and tough job market. Having an island heritage certainly gives me an edge in the French field, but my additional studies in the French department enhanced my knowledge and ability to relate material within several different cultural contexts. With my background in grammar and French literature, poetry and even folklore, I have been able to provide enriching experiences for my students.
"I always looked forward to my French classes during the day, and that reinforced it as my passion in life. The more I learned at Augustana, the more I shared with others. At my current position at Lake Forest High School, I look forward to seeing my class every day, and I know I am where I have wanted to be. French truly makes me happy."