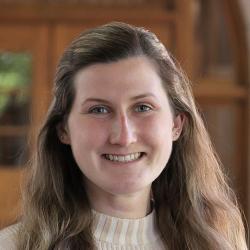 More Than I Imagined
Seniors reflect on accomplishments and look ahead
Morgan Lynch
Graduation year: 2021
High school: Southeast Polk High School
Hometown: Altoona, Iowa
Majors: Political science, French
Activities: Zeta Phi Kappa sorority, Young Life, American Model United Nations
Internships: Vote Smart (2019), Iowa International Center (2021)
Post-grad plans: Internship at Iowa International Center; Teaching Assistantship Program in France (TAPIF) in the fall
Why Augustana?
When I was doing college visits as a senior in high school, I visited Augustana many times. I wanted to keep coming back to visit mostly because the campus was so beautiful. But what helped me decide on Augustana was how welcoming and friendly Augustana admissions, professors and students were and how they made me feel like I was already going to school there. It was very evident that everyone I met on my visits loved being at Augustana.
Are you where you thought you'd be when you first came to campus?
Yes and no. Coming in as a freshman, I planned on majoring in political science and minoring in French, but I had no idea what I wanted to do after college. I am graduating as a political science and French double major, and am excited to take the next steps post graduation and teach English in France.
Who helped you get to where you are now?
So many people at Augustana shaped me into who I am today, and I am grateful for all of the lessons they taught me and advice they gave me.
I am very thankful for Dr. Kosnick, for being the first professor I ever had at Augustana, for their fun and engaging classes, assisting me with getting internships, and helping me realize studying abroad in Pau, France, was possible and for guiding and encouraging me through it.
For Dr. Kalas, for challenging me in the classroom and helping me to improve my French so much, as well as helping me get accepted for teaching English in France.
And for Pastor Priggie, for taking me and other students to Taizé, which was a life-changing and truly special experience.
Peak experience?
Junior year I studied abroad in Pau for spring semester. By living in France, I learned so much about the language, culture and myself. It was very rewarding to have studied French and then finally get to apply it and use it every day while living there. I made great friends that I still keep in touch with today.
I am excited to be able to use what I've learned from this experience when I go teach English in France after graduation.
What surprised you?
How much everyone is willing to help you. At a big state school where there are so many students, it can be easy to get lost in the crowd. At Augustana, every professor and staff member truly wants to help you succeed and do what they can to get you where you want to go. By going to a small school, I have been able to make great connections with professors and students.
How did you use your Augie Choice?
I used my Augie Choice to study abroad in Pau, France, spring semester of my junior year. I am so grateful that Augustana offers it, because it made studying abroad so much easier and affordable.
What will you miss the most?
I will miss the community at Augustana and having a lot of my friends in one place. I will miss seeing one of my friends on campus and running across the Quad to go talk to them. I will also miss all of the great professors I've met while being here.
Advice for the Class of 2025?
Go to professors' office hours and to CORE. Professors want you to succeed and get you the extra help you need, and it's a great way to get to know them more personally. CORE has helped me so much with getting an internship and helping me with my résumé.
"It has been a joy to watch Morgan grow and develop over the last four years. She has continued to build on the intellectual and personal strengths she brought to campus, and it has been wonderful to direct her thorough, thoughtful, insightful senior paper in French."