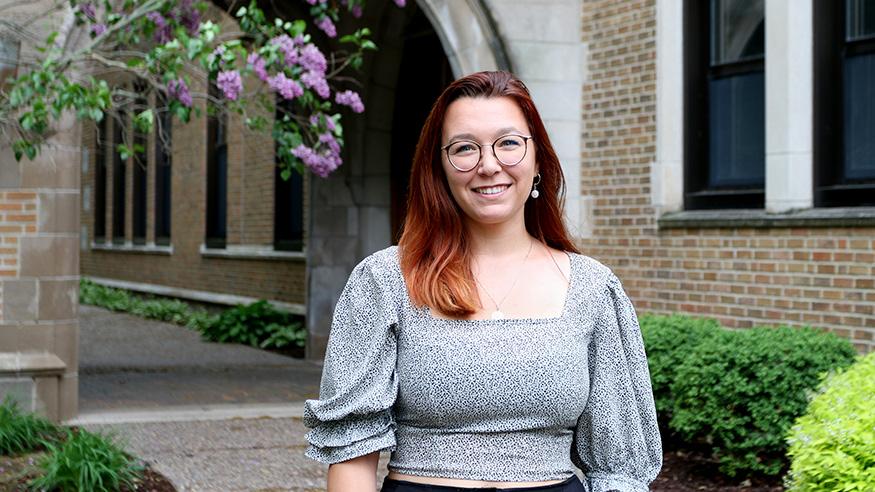 News
Making a difference 4,400 miles from home
A graduate student from France's University of Pau interned with Augustana's French program this past semester. It was the first time, but likely won't be the last. 
Meet Clémence Doumengès. Fluent in French, English and Spanish. World traveler. 
"She's a great role model for our students," said Dr. Kiki Kosnick, assistant professor of French who team-taught with Doumengès. "As a graduate student, she's not much older than our seniors. They can connect with her and imagine possibilities for their own futures."
"Being at Augustana has always felt welcoming, safe and a good environment to grow as a student and a teacher."
Doumengès, who grew up in southwest France, is completing a master's to teach French as a second language outside the French educational system.
"She and I have lived in different French-speaking places and have different linguistic contexts so this has added lots of dynamism to conversations in class and outside of class," Dr. Kosnick noted.
Doumengès says most of the French heard online is what's spoken in northern France/Paris, so her accent and word choices are different from what most Augustana students have heard. "And they teach me slang words, so it's a win-win situation," she said.
Compared to her university, Doumengès was surprised by the number of co-curricular activities for language students at Augustana — but she jumped right in.
She organized the Speak Dating special event, plus practiced pronunciation and discussed current events one-on-one with students at the weekly French Table. Then there was the Francophone Film Festival as well as the escape rooms she planned for English-, German- and French-speaking students.
"She brought a lot of energy and enthusiasm to our French program and the World Languages, Literatures, and Cultures department," Dr. Kosnick said. 
How Doumengès found her way to Rock Island was partly intuition.
She was searching for a U.S. school to fulfill the internship requirement for her master's. While traveling through the Midwest last summer, she stopped in Rock Island to visit Augustana's campus. She knew of the college because Augustana students take classes at her university in Pau during their study-abroad programs.
"I walked around campus and really liked it, and started emailing the French department," Doumengès said. "As soon as I met them [Dr. Kiki Kosnick and Dr. Taddy Kalas], I knew I could be here, and I would be respected for what I could bring. Being at Augustana has always felt welcoming, safe and a good environment to grow as a student and a teacher."
This summer, back home in Pau, she will work at the university while completing her master's thesis. Since arriving at Augustana, Doumengès changed her thesis subject to teaching gender-inclusive French as a result of working with Dr. Kosnick, whose research focuses on gender-just French and whose pedagogy centers these approaches.
"Gender-just language education is an emerging field, and it's exciting that Clémence will be going forward to help grow this sorely needed work and become a resource on her campus," Dr. Kosnick said.
After completing her thesis, Doumengès is off to Spain for a one-year teaching program and possibly the beginning of a PhD program.
"I'm looking forward to seeing my family and friends, but I'm very grateful for my experience here at Augustana," Doumengès said. "I never felt alone. I felt supported every day, even before I arrived.
"I'm also grateful for the students. My Augustana students will always be my first students."