Update: For health and safety reasons, this year's Hispanic Film Festival has been canceled. The World Languages, Literatures and Cultures department plans resume the festival next year. 
♦ ♦ ♦ 
The Augustana Spanish department offers a major and minor in Spanish, a major in teaching Spanish, a major in Spanish for professional use, and an interdisciplinary minor in Latin American Studies.
Careers and internships
The strength of the Augustana Spanish program comes from the diversity of teaching methods, faculty, students, international opportunities and numerous cultural events.
Students are provided not only with a greatly enriched view of the world, but their language skills open their way into many professional occupations. The program's three majors, with an emphasis on research, writing and analytical thought, prepare students for work in professions where knowledge of a foreign language is a fundamental asset, such as medicine, communication, law, education, international business, management, and more.
All Augustana students of Spanish are encouraged to travel, to explore new cultures and to use their language skills to engage with people through international study. Faculty envision international study as a vital tool toward cultural comprehension and linguistic proficiency for any student of world languages.
What graduates do
Raven Hoffman '17 is teaching English language and U.S. culture in Extremadura, Spain.
Grace Koleczek '13 is working for the FrancisCorps organization in Costa Rica.
Dean Burrier Sanchis '12 is teaching world languages at Elk Grove (Ill.) High School.
Distinctions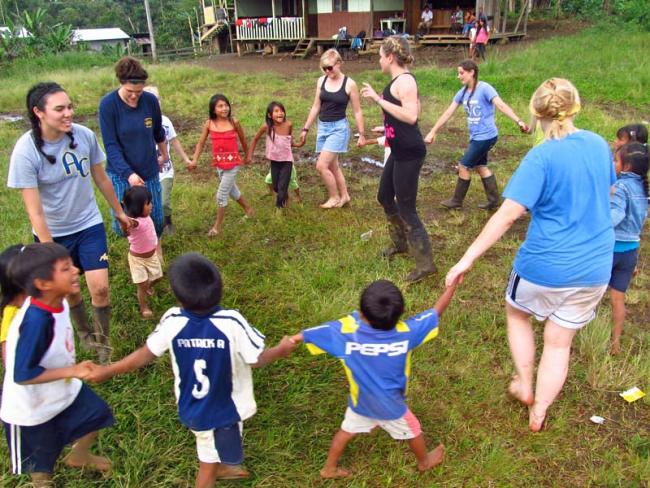 The Augustana Spanish department offers a major and minor in Spanish, a major in teaching Spanish, a major in Spanish for professional use, and an inter-disciplinary minor in Latin American Studies. Flexible scheduling, electives and specialized advanced courses allow students to combine their study in Spanish with other majors or minors, such as business, communication sciences and disorders, medicine, education or the arts.
The Spanish major and minor both include a cultural studies emphasis, in which students can enroll in up to four courses with a focus on the history, culture and arts of Latin America or Spain.
The department includes six full-time and three part-time faculty who have lived or studied in or who are natives of Brazil, Ecuador, Mexico, Paraguay, Spain, The United States, and Venezuela.
The college's proximity to Hispanic neighborhoods in Rock Island and Moline offers many opportunities to volunteer and to practice speaking Spanish, including conversation sessions (called tertulias) led by Augustana students who are native Spanish speakers.
What students say
Hilary Blain '12, Spanish for professional use major
"The Spanish department at Augustana is full of professors who are not only good at what they do, but who also love what they do. Their passion for the language and cultures is evident, and helps make their classes more informative and interesting. While the faculty definitely work hard to challenge their students, they strive to make the classroom a place where students can feel comfortable using the language in a welcoming and nurturing environment. They also do a great job of making themselves available outside of class and encourage students to use their office hours to ask questions, make clarifications, or even get some extra practice."
Matt Ball '12, Spanish for business and international business majors
During my time at Augustana the Spanish Department professors became not only mentors, but also friends. They helped me become fluent in Spanish, expanded my knowledge of other cultures, molded me into a globally minded individual, and when I wanted to begin studying Portuguese they provided me the resources to do so. It is because of these four things that I was hired for a job before I even graduated and now, less than two years out of college, am working in International Sales and traveling the world.
Jessica Leff '12, communication sciences & disorders and Spanish majors, psychology and Latin American studies minors
"Although I was unsure of pursuing Spanish in college when I first started at Augie, I was a declared major by the end of my freshman year. The challenging courses, dedicated staff, and my study abroad experience in Ecuador all allowed me to grow as a Spanish speaker and writer. These experiences confirmed my love for the culture and language, and Augustana allowed me to pursue Spanish in both my personal and professional goals. I know I will stay in touch with my Augie professors in the future, and look forward to opportunities to come."