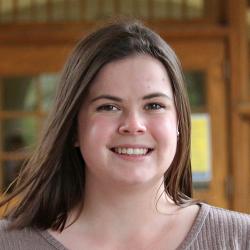 More Than I Imagined
Seniors reflect on accomplishments and look ahead
Carstyn Joiner
Graduation year: 2021
High school: Glenbard East High School
Hometown: Lombard, Ill.
Majors: Biology, Spanish for professional use
Activities: Sigma Pi Delta sorority, Augustana Symphony Orchestra, peer mentor
Internship: Research assistant in the Barefield Lab at Loyola University Chicago
Post-grad plans: Research assistant with the Fanning Lab in the Department of Cancer Biology at Loyola University Chicago
Why Augustana?
I chose Augustana because I could keep pursuing what was important to me. Having the SPPU [Spanish for professional use] major meant I could still continue my Spanish education while preparing for my career in biology.
I also fell in love with Augustana because of the small class sizes. I have been able to make personal connections with lots of my professors, and I never feel like I am just another face in the classroom.
Are you where you thought you'd be when you first came to campus?
Not really! When I came to Augustana, I was focused on preparing myself to become a veterinarian, and I was very shy and terrified to try new things. My advisor Dr. Murphy really helped me find what I was truly passionate about by giving me the reassurance that you do not have to know everything right away.
I also would have never imagined taking leadership roles as a freshman. My time at Augie has given me confidence, and now I am a peer mentor and the treasurer of my sorority.
Who helped you get to where you are now?
My mom and dad! I was super scared to come to campus in the fall of my freshman year, and they pushed me to come, and I am glad they did! They are my biggest source of love and support, and I know I would not be the person I am today without them. They always know when to push me and when to tell me that it is okay to take a step back.
My professors! My advisor Dr. Murphy has been an amazing resource for me. She has helped me work through my class schedules and navigate changing my career path. She is always so understanding and willing to help me with anything. Also Dr. Wegman-Geedey, who has helped me discover and fall in love with microbiology and immunology.
My friends! I have had the same roommate for all four years, Nora Brown. I am very thankful to the Class of 2021 Facebook page for allowing me to meet her. Also my best friend Lizzy Cook, who I also was so lucky to meet freshman year. Both of them have been my biggest on-campus support system and helped me succeed.
Peak experience?
My peak experience was my internship at the Barefield Lab at Loyola University Chicago. I had the opportunity to work in a cell and molecular physiology lab under Dr. David Barefield, who is an Augie grad himself! I was able to apply and learn so many benchwork skills while working in a professional research lab setting. I also gained an excellent mentor in Dr. Barefield, and I am so grateful for the experience. It really has helped me prepare for my future.
What surprised you?
The relationships I have been able to have with all my professors. Being at a small school has helped me feel more confident because I do not feel like just another face. I have been really engaged in my classes and have no reservations about talking to my professors. All of them have been very approachable and accessible. They really just want students to succeed.
How did you use your Augie Choice?
I used my Augie Choice for my internship at the Barefield Lab.
What will you miss the most?
I will miss the people the most. The friendships I have made have given me so much support and memories, and it will definitely be hard not getting to live so close to all of my friends next year.
I will also miss my professors. They have given me so much, and it will be hard not to see them in their class, office or in the hallway. But I look forward to keeping in contact with them post-graduation. I will also miss Augustana in the fall. I love to watch the leaves change, and the Slough in fall can't be beat.
Advice for the Class of 2025?
My advice to the Class of 2025 would be once you find your support system, do not be afraid to lean on them. These four years can be scary, but your experience will be more than you can imagine if you have people in your corner. Mine comforted me when I was nervous and helped me celebrate the big moments!
"It has been an absolute joy to watch Carstyn develop as a student and as a person over these past few years. I thank Carstyn for always pushing herself. She is an amazing young scholar with a heart of gold. Carstyn has a lot of success ahead of her."