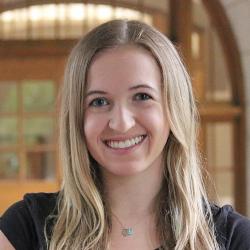 More Than I Imagined
Seniors reflect on accomplishments and look ahead
Tabitha Hoey
Graduation year: 2021
High school: Hononegah Community High School
Hometown: Rockton, Ill.
Major: Neuroscience
Minors: Public Health and Spanish
Activities: Title IX Student Advisory Committee Board member, Augustana Dance Company, Chi Alpha Pi sorority, Epsilon Sigma Alpha service sorority, Sigma Xi Scientific Research Honor Society, Psi Chi Honor Society, Mortar Board Honor Society, Omicron Delta Kappa Honor Society
Internships: Research with Dr. Rupa Gordon at Augustana (junior year); research with Dr. Shara Stough at Augustana (senior year)
Post-grad plans: Attending the University of Florida in pursuit of my Master of Public Health with a concentration in social and behavioral sciences
Why Augustana?
When I began looking at colleges, I knew that I wanted to attend a smaller school with a close-knit campus community, and Augustana was exactly that. Growing up, I had visited Augustana many times, as my mom is an alumna (class of '94).
So, my senior year of high school I decided to go on a formal visit to campus. The first thing that drew me in was how beautiful campus was, and I instantly knew that this was the place for me.
Are you where you thought you'd be when you first came to campus?
Definitely not, but I am so happy with where I am now. When I first came to Augustana, I planned to major in chemistry and psychology; however, I was then introduced to neuroscience and everything changed. Augie has given me so many opportunities to get involved both on/off campus and develop skills that I can use for the rest of my life.
My four years here have reaffirmed me that I definitely made the right decision, and I am so thankful for everything that Augie has given me.
Who helped you get to where you are now?
There are so many people who have helped me through my journey here at Augustana and in my personal life. However, the main ones are my family, my advisor and my friends.
My parents have always been my biggest supporters and very involved in my life. They have been my rock these past few years and have allowed me to grow into the individual that I am today.
My advisor, Dr. Shara Stough, has been a big part of my journey since I was a first-year. Without her guidance and support, I honestly do not know if I would've been able to accomplish half of what I have.
During my time here I have made so many new friends through my involvement in various organizations. My dance company family and roommates have definitely had the biggest impact, and I am going to miss them so much.
Peak experience?
I can't decide on just one, so some of my peak experiences include traveling to Norway for my J-term study abroad trip, getting the chance to do research on topics that interest me and presenting it at conferences, having the opportunity to keep dancing, and of course meeting some of my best friends.
What surprised you?
The campus community! Everyone on this campus is so welcoming and wants you to get involved/ get to know you. For example, my professors always encouraged me to stop by their office constantly, even if it was just to catch up and chat. To this day, I still pass by professors who I had during my first year, and they still remember my name and pause to catch up with me!
How did you use your Augie Choice?
During the 2020 J-term, I went on a study abroad trip to Norway. We traveled around the country for about 10 days stopping in Tromsø, Oslo and Bergen. Some highlights from this trip include dog sledding, chasing the northern lights, sailing down the fjords!
What will you miss the most?
I do not even know where to start. The campus community is so unique and special, and it will be something that I am forever grateful for. All of my friends that I have met throughout my four years. Dancing every day with my dance company family. Finally, the overall beauty of the campus itself (especially in the fall and spring).
Advice for the Class of 2025?
One of the great things about Augustana is how easy it is to get involved! My first year here I was not heavily involved on campus; however, I began to sign up for more activities, and this was one of the best decisions I could have made as it introduced me to some of my best friends!
"It has been a delight to watch Tabitha discover her path during her four years at Augustana. She combined knowledge and skills from her neuroscience major with passion discovered in her public health classes and involvement in service organizations to design two senior research projects focused on the impact of mask wearing on psychological health. I look forward to all the ways that Tabitha will positively impact the world as she pursues her master's degree in public health and beyond!"