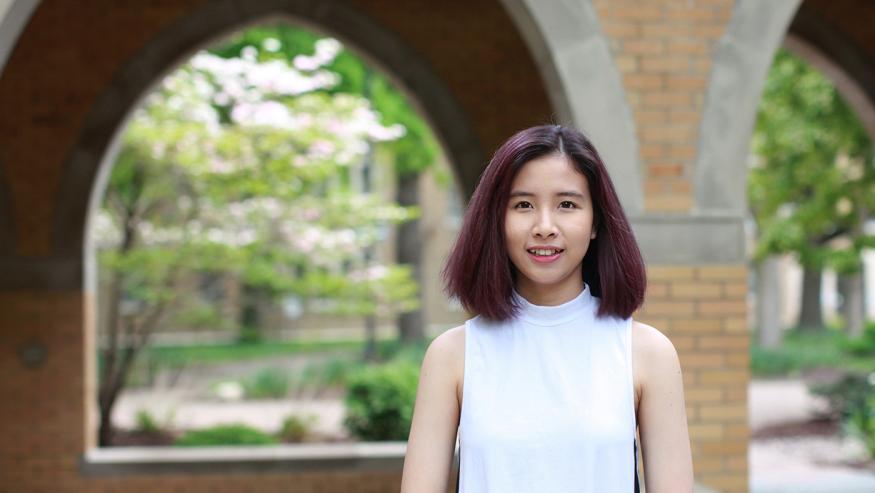 News
Hasselmo Award winner is off to California for the summer
Thao Pham '19 of Hanoi, Vietnam, is the winner of the $5,000 Nils Hasselmo Award for Academic Pursuit for 2018-19. A psychology and communications major with a minor in sociology, Pham is planning to pursue a Ph.D. in social psychology.
Pham has a prestigious research internship through the National Society for Personality and Social Psychology for this summer. The society's summer program for undergraduate research is a competitive and intensive internship for undergraduates selected from underrepresented groups.  
"Even with her outstanding grades, it is very impressive that Kelly was selected from a large competitive pool of candidates!" said Dr. Daniel Corts, Augustana professor of psychology, in his nomination for the Hasselmo Award
The summer program is designed to provide research opportunities for students to experience hands-on lab work in their areas of interest. The program places students in the research labs of well-known social personality psychology scholars who then serve as their mentors.
Pham will be working in the lab of Dr. Shelly Gable at the University of California, Santa Barbara, which has one of the top social psychology graduate programs in the country. She will use her Hasselmo Award for living expenses during her eight weeks in Santa Barbara.
At the UCSB lab, Pham anticipates helping the graduate-level assistants, entering data and operating studies related to Dr. Gable's research on emotion regulation.
From Hanoi to the Quad Cities to Santa Barbara
Pham discovered her interests as a teenager. "When I was in high school, I wanted to study psychology because I was very curious about why we are the way we are," she said.
Even so, when she came to Augustana she wasn't sure exactly what direction to take within the field. Luckily, she had help along the way—from professors as well as others on campus, such as Dr. Salisbury in the Office of Institutional Research and Assessment, where Pham worked as a student assistant.
"He gave me lots of helpful guidance and advice," she said. "My professors, advisors and mentors are just awesome people."
"When I came here I thought I wanted to do counseling, but then after a counseling internship, I found out that I didn't—not at all," she said. "But Dr. Szafran, Dr. Nordling, Dr. Varallo… because of their help and advice I was able to calm myself down and figure out my passion."
That passion lies in the overlap of social psychology and developmental child psychology, with a primary interest in family dynamics. And after taking a communication studies course, she decided a second major in communication studies was a perfect fit.
She chose Augustana for its liberal arts education and location…. 'I also wanted Vietnamese restaurants, in case I missed the food.'
Pham wanted to attend college in the United States because she saw the universities in Vietnam as much more focused on STEM fields, and not as well-rounded as American liberal arts colleges. She chose Augustana for its liberal arts education and location in the Quad Cities.
"It's not rural, and also not such a big city. I also wanted Vietnamese restaurants, in case I missed the food," she pointed out. "I talked to a student who liked it here and felt like Augie is his second home. I thought that if another Vietnamese student felt like it was his home, then it could be home for me, too."
While she should be able to find Vietnamese food during her summer in Santa Barbara, Pham doesn't even mention beaches or surfing. She is most looking forward to her research experience.
"I'm excited the most about experiencing the life of a graduate student, which is something I really want to try, to see if I am a good fit—all the stress, all the work they do, and the balance. And it will give me some insight into the field, so I won't be so surprised or shocked when I go to grad school."
Pham will graduate from Augustana early, partway through her fourth year, and then will use her student VISA to gain a year's work experience as a lab manager or research assistant. After that, she plans on graduate school to focus on the effect of family dynamics on development in children.