News
Merhi earns scholarship, will attend Nobel ceremonies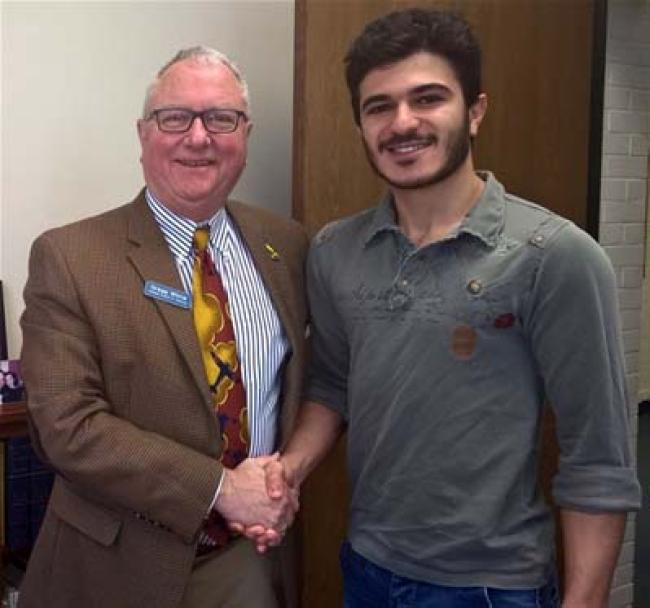 (Editor's note: In 2016, Abdul Rahman Merhi was a mechanical engineering graduate research assistant at Iowa State University.)
Abdul Rahman Merhi '15 of Beruit, Lebanon, has been named the 2015 recipient of the Swedish Council of America's Glenn T. Seaborg Science Scholarship.
The award goes to outstanding undergraduate students in the natural sciences attending one of several American colleges and universities founded by Swedish immigrants.
Merhi graduated magna cum laude with a double major in engineering physics and computer science. Next year he will pursue a Ph.D. in mechanical engineering from Iowa State University of Science and Technology.
He has excelled as a teaching assistant, in the research laboratory, and as leader of the physics club.
His achievements made him a standout for this award, which includes participation in the Stockholm International Youth Science Seminar, a weeklong international symposium presented every December by the Royal Institute of Technology and the Nobel Foundation in Stockholm, Sweden. The conference draws together 25 of the most outstanding young scientists from around the globe.
Merhi said he felt special winning such an elite award. "I look forward to meeting great people who have influenced and made changes to all fields and aspects of life," he said.
In Stockholm, Merhi will interact with Nobel laureates, tour universities and laboratories and visit several renowned Swedish academic and cultural centers with his fellow SIYSS scholars. His week will culminate with participation in the Nobel ceremonies and banquet, hosted by King Carl XVI Gustaf.
Merhi is the ninth Augustana student to receive the Seaborg scholarship; Max Petersen '10 was the last Augustana student to receive the honor.
"Not only does Abdul get good grades..., he shows a genuine desire to learn as much as possible, asking probing questions that go above and beyond what is required," said Augustana Professor of Physics Cecilia Vogel. "He cares deeply about the quality of his work. He has excellent problem-solving skills and an aptitude for understanding difficult concepts."
Dr. Nathan Frank of the physics department described Mehri's high-level research work. "Abdul performed cutting-edge research in nuclear physics associated with the National Superconducting Cyclotron Laboratory at Michigan State University.
"The nuclear physics research explores the properties of exotic atomic nuclei... Abdul successfully led a team to analyze data to characterize a detector array, developed the mechanical design for a new detector system, and produced a 3D printer prototype to verify the soundness of the design," he said.
Mehri's work led to a poster presentation at the Division of Nuclear Physics meeting at Newport News, Va., in fall of 2013.
The SCA Glenn T. Seaborg Science Scholarship has been awarded by the Swedish Council of America every year since 1973. The award is named in honor of the late Dr. Glenn T. Seaborg, a Swedish-American nuclear chemist who won the Nobel Prize in 1951 for his discovery of numerous atomic elements including element #106, Seaborgium.
In addition to the Seaborg award, Merhi is the recipient of the Augustana Physics Service Award and was inducted as a member of the physics honors society, Sigma Pi Sigma.