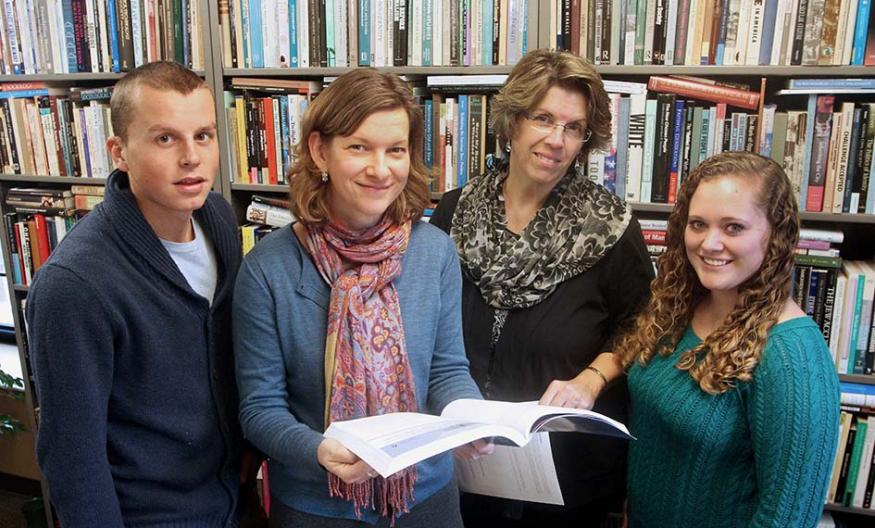 News
New public health major leads to wide-ranging careers
Augustana students looking to make their mark on the world have another entry in the health field, a new major in public health that opens an array of career fields, while drawing on the college's strong tradition in the liberal arts and health sciences.
Public health careers
Attorney
Biostatistician
Bioethicist
Community health specialist
Emergency response coordinator
Engineer
Environmentalist
Epidemiologist
Exercise physiologist
Food scientist
Health communications specialist
Health-care administrator
Management policy advisor
Medical writer
Nutritionist/dietitian
Physician/nurse
Vaccine researcher
The field of public health, as its name implies, encompasses almost every aspect of a person's well-being, from public policy on genetic testing to public safety issues such as seat belts and contagious diseases. As a result, students can approach it from almost any discipline, using traditional paths like health and biology, or blazing new trails through business and law.
The number of public health majors has increased 750 percent during the last 20 years, according Public Health Reports.
And in almost every case, students who pursue public health will find not only a growing job market, but also vocational job satisfaction built around community engagement and impact.
"Public health immediately stuck out to me because of the different disciplines within the field, the everyday problems it encompasses, and the promotion of healthy lifestyles," said Tanner Osing '17, from Havana, Ill.
Osing is now leaning toward a major in public health and a career in nutritional epidemiology, in which he can study the links between nutrition and disease prevention. "To me, it would be more meaningful to conduct research and educate people on how to prevent disease," he said.
As communities struggle to contain the skyrocketing cost of medical care, Osing's perspective is part of a worldwide movement to rethink health care in terms of prevention and well-being. As a discipline, public health is built around prevention rather than treatment, and deals with populations of people rather than individuals.
Put into context, every dollar spent on prevention returns at least $5 in health-care savings, and that estimate may be too low, according to the U.S. Centers for Disease Control and Prevention. No surprise, then, that there is a rising interest in diet and exercise, smoking, obesity, health education, water and air quality, public policy and ethics — all in some way related to public health.
This fall Augustana began offering a 31-credit major and an 18-credit minor in public health. As an interdisciplinary program, it allows students to approach public health in conjunction with a number of related programs, including anthropology, psychology, philosophy, religion, environmental studies, business, pre-law, communication and women's and gender studies, as well as health sciences such as biology, pre-medicine and pre-nursing.
"It's a great example of Augustana's core strength in the liberal arts," said Dr. Pareena Lawrence, Augustana's provost. "Students are learning how to approach public health from different perspectives that cut across traditional boundaries, and then implement comprehensive, far-reaching solutions."
Dr. Carolyn Hough, chair of the new public health program, is an associate professor of anthropology. She looks at public health through a cultural lens. For example, in her research, she has found that the business community sometimes imposes cultural and structural barriers to breastfeeding, a contributor to both infant and maternal health.
"Women who encounter those barriers may be especially likely to stop nursing," Dr. Hough said. She is looking for solutions that could change the culture and promote new policies in the workplace.
Interest in the field also is coming from pre-med students, some of whom realize halfway through college that a physician's life is not exactly what they expected.
As a pre-med major, Emily Trenkamp '15 of Waterloo, Iowa, became discouraged with how much time and energy many doctors pour into treatment, sometimes at the expense of prevention. She was introduced to public health through one of Augustana's off-campus programs, working in a health clinic in Nicaragua that pointed her in a new direction.
"I learned about the work that some doctors and public-health workers are doing in preventative care and became passionate about that," said Trenkamp, who now plans to incorporate public health into her medical degree.
Augustana graduates have always stood out in master's programs in public health, with a 100 percent acceptance rate to these master's programs since 1997. What's different today are the growing number of dual-degree graduate programs that combine public health with one of the following: medicine, law, social work, business, physical therapy, theology, etc.
"Public health is no longer seen as something separate from other careers," said Dr. Dara Wegman-Geedey, a biology professor who has seen some of her students transition to public health careers in health care administration and law. "We've seen a shift in public awareness and understanding that public health should be a goal for all of us. All undergraduates would benefit from having at least one class in public health, regardless of their major and eventual career."
Occupations and industries related to health care are projected to add the most new jobs in the United States, more than 10 million through 2022, according to the U.S. Bureau of Labor Statistics. Whether students are attracted to public health through law, medicine, the environment or community outreach, they are likely to find a strong employment outlook.
"Augustana is a natural fit," said Dr. Lawrence. "The public health program will prepare our students to pursue a career in the broad field of health and human welfare — whether it is working for government agencies, non-governmental organizations, health-care corporations, community-based organizations, health care facilities, or as a gateway to medical school."