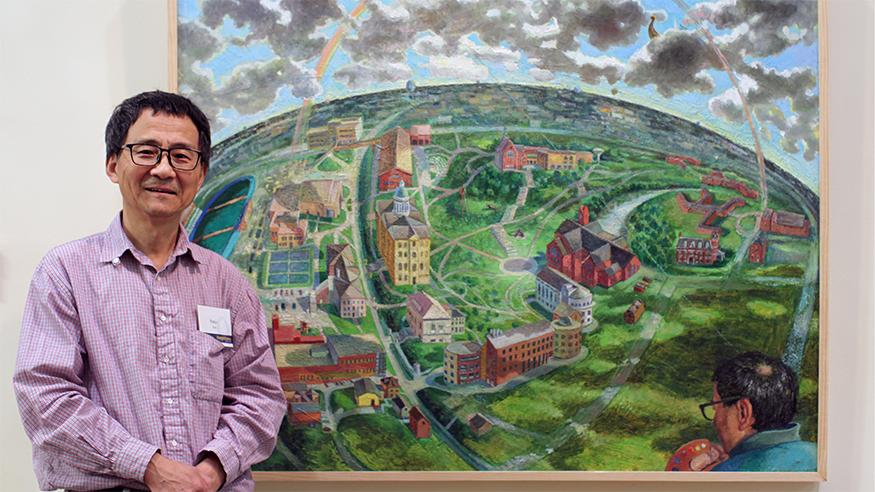 News
Professor celebrates first solo art show on campus
Augustana Professor Peter Xiao credits an initial push by former Provost Wendy Hilton-Morrow '94 "to fill the hall with art" and the "tireless work" of Art Chair Vickie Phipps as the catalysts for the first faculty solo art show on campus in decades.
More than 30 of Xiao's paintings are featured in his "Sighting at Augie" exhibition in Wallenberg Hall, inside Denkmann Memorial Building. On display through March 2024, it is the longest-running show in Xiao's career. 
"My works are selected from the last 15 years to days ago because showing in the old Denkmann library catty-corner from where I've taught over three decades must be a retrospective for my life and my time here," Xiao said. "I'm on clouds right now. I'm very grateful to have a solo show on campus."
Sponsored by Augustana's Center for Visual Culture, a public reception for Xiao's show begins at 5:15 p.m. Thursday, Nov. 9. Violist Dr. Deborah Dakin and vocalist Dr. Zhang Xiaowen will perform; food and non-alcoholic beverages will be served. 
Originally from Beijing, Xiao grew up during Chairman Mao's Cultural Revolution. He came to the United States in 1980 to study at Coe College in Cedar Rapids, Iowa. After graduating with a bachelor's in fine arts and English from Coe, he earned an MFA in painting from Temple University, Philadelphia.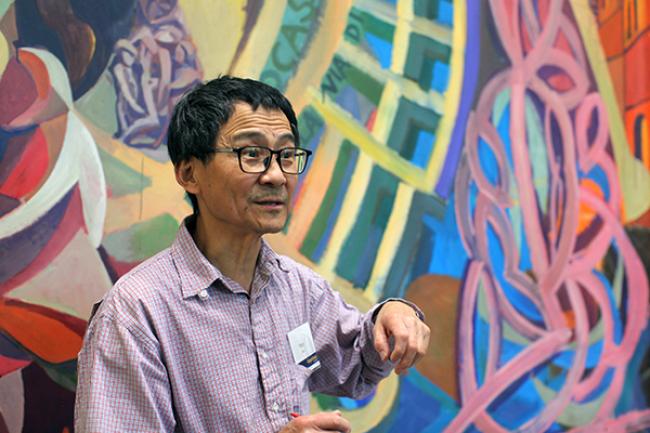 One of the largest paintings in his show, "Casato di Sotto" (2021), illustrates time Xiao spent in Siena, Italy, which he visited as a junior at Coe College and then again years later as a professor with Augustana students. 
Not one to take himself too seriously, in "Sighting Augie (the Bald Spot)" (2023), Xiao painted himself into a corner and hid a Viking vessel in the clouds. 
More somber works include "Proletarian Dictatorship" (2012), depicting an execution he witnessed as a young man in China. A painted prow of a ship sculpture called "Fanfare Dictator Ship" makes a statement important to Xiao about former president Donald Trump: it is "our many thumbs-ups plus little red Mao books that prop up dictators, present or wish-to-be. Because I've been there, seen that and done it, may some ears be gently tweaked: not to bring back the last tenant to the White House."
All of his paintings speak to him personally, but Xiao firmly believes that the viewer owns the meaning of a piece of art. Xiao says he would love it if people simply enjoyed his works like book covers, and came up with their own meanings and not trust the works' labels. 
In looking back on his 33-year teaching career, Xiao acknowledges how working with students has helped him stay grounded and allowed him to learn about himself and others. "My society is young people," he explained.
"Events and challenges large and small in our daily lives, local and global, fellow beings' responses to them, especially the young with their fresh energy and mindset ahead of our great unknown future, inspire me and keep me in the game," Xiao said.
Although he usually prefers to stay behind the scenes, Xiao is looking forward to welcoming friends, colleagues and students to his exhibition's reception and thanking them for "spending the evening with my paint on the wall."
Note: Not one but two solo shows. On Dec. 14, Peter Xiao opens "A room that one is in (and all things in it)," his first one-person show at the Figge Art Museum in Davenport, Iowa. He describes this exhibition on his life and career as more "weighty" than his Augustana show. More details to come.