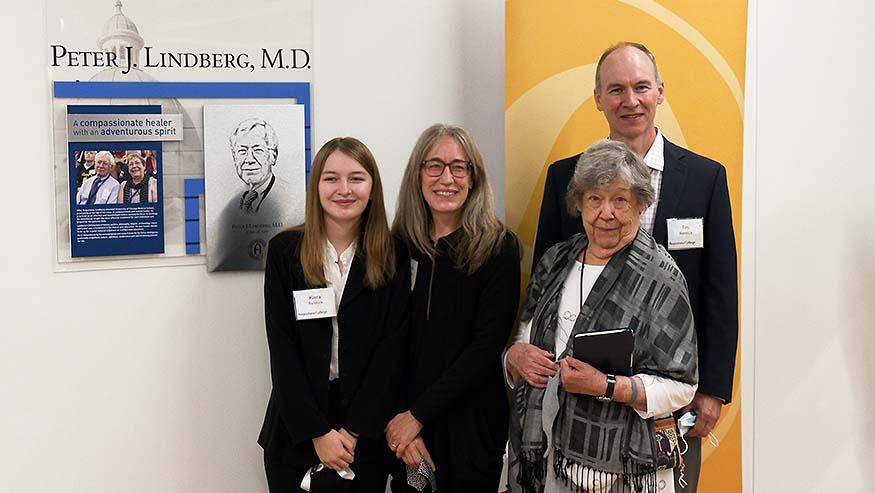 News
'Remarkable' Lindberg Center open for classes and competition
In March 2020, Augustana closed the campus and moved to long-distance learning as the number of COVID-19 infections escalated in the Quad Cities, the country and the world.
Construction of an academic/ athletics building on campus, one that would set Augustana apart from its peers, was scheduled to begin that same month.
Despite the uncertainty of what lay ahead, college leaders moved forward with the new facility and continued to announce new programs across campus.
Nineteen months later, in October 2021, Augustana dedicated the Peter J. Lindberg, M.D., Center for Health and Human Performance — a symbol of the college's vision and strength in tough times, and its commitment to new thinking that answers to the future.
Dr. Peter J. Lindberg '61 would have been pleased.
"It's really a remarkable space, and it clearly encompasses the important principles that my dad lived his life by," said Dr. Kirstin Lindberg, Peter Lindberg's daughter. "My dad would have been absolutely thrilled. But then his first response would be to duck his head, avert his eyes — not at the idea of the center — but at the name of the center because he was really a humble guy.
"He was always a man of science, education, spirituality and sport. He practiced medicine from his 20s really right up until his death at the age of 76. We really can see the reflection of his life here."
Augustana staff and local alumni in health care careers recently joined college leaders, trustees and the Lindberg family to officially dedicate the Peter J. Lindberg, M.D., Center for Health and Human Performance.
"This marvelous building embodies the vision and values of Augustana College and Dr. Peter J. Lindberg," said President Steve Bahls. "How appropriate it is to integrate a building with academic programs focused on health and wellness with athletic facilities and a meditation room that keep our students fit and well. This building symbolizes Augustana's commitment to growth in mind, body and spirit no matter what religion you are."
Dr. Lindberg devoted his life to serving others as a medical oncologist. After Augustana, he graduated from the University of Chicago Medical School. He served in the U.S. Air Force in the mid-1960s. In 1972 Dr. Lindberg began practice at Los Alamos Medical Center and served there until 2014, when he joined the New Mexico Cancer Center in Albuquerque.
President Bahls noted Dr. Lindberg's deep interest in holistic health and his contribution to the health of his community and nation through advocacy.
"Just as Dr. Lindberg touched so many lives, this building will touch generations of students who will be inspired by his legacy to view health holistically and to view health as part of their growth during their college years," President Bahls said.
Dr. Kimberly Murphy, professor of biology, is the inaugural director of Augustana's new Center for the Advancement of Community Health and Wellness.
"In this space we can support and strengthen the programs we have that really help our students to become problem-solvers," she said. "We want problem- solvers who have more than just specialized skills but also have durable skills and are ready to go out into
the world to tackle the problems of today, as well as problems of the future."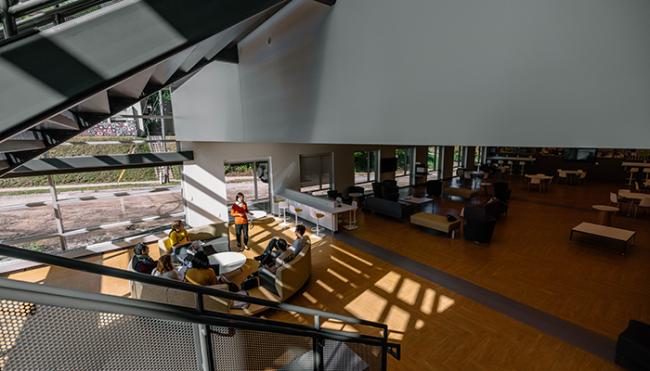 Inside the Lindberg Center
The new 52,000-square-foot Lindberg Center connects academics and athletics in one physical space — an uncommon combination. It will serve as home to the college's new kinesiology program and growing public health program, as well as the men's and women's swimming/diving and new water polo teams.
The main level features an open commons area, as well as labs and equipment that support the study of human movement. The Ed and Nancy Hamming Human Performance Lab houses treadmills, bikes and other equipment.
Next door, a functional training lab offers free weights, variable resistance cable machines and a small running track, as well as BOD POD (analyzes body composition) and DEXA (measures bone mineral density) machines. The lab is named in honor of Aben Emile Cooper '93, Augustana's first Black student- athlete to be named an Academic All-American.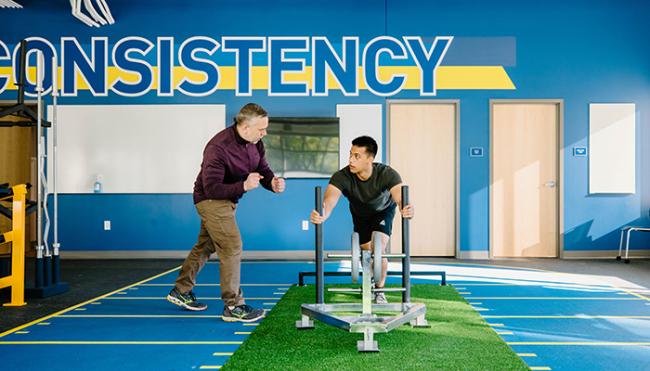 "The kinesiology labs and equipment allow students to study everything from range of motion and force on joints to body composition and bone mineral density," said Dr. Shaun Edmonds, assistant professor of kinesiology.
The upper floor also has a commons space that looks out onto 7th Avenue. At night, passers-by can see the large Augustana "A" through the glass curtain wall on the front of the building. The upper level houses classrooms, conference rooms and offices for the kinesiology and public health departments, as well as an elliptical meditation room.
On the north end of the Lindberg Center is the Anne Greve Lund Natatorium, named in honor of the 1926 graduate who stayed at Augustana to pioneer women's athletics. The aquatic center features a state-of-the-art 10-lane, 25-yard, 7-foot depth pool; two diving boards (one meter and three meters); a movable bulkhead that provides the flexibility for different uses; and retractable bleachers that can accommodate up to 250 spectators.
It also features a Swim Performance Lab with a SwimEx pool system for sports physical therapy, training and swimming stroke analysis.
The most stunning feature of the natatorium may be the expansive windows, which provide natural light for student-athletes during training and competition — complementing the Lindberg Center's focus on health and wellness.
"This is the best facility in our conference by far and one of the best dual-purpose facilities in the Midwest for swimming and water polo," said Dan Lloyd, head swimming/diving coach. "No other CCIW school has the swim performance lab with the SwimEx pool system."
About the Knowlton Foundation
The Austin E. Knowlton Foundation announced the $9 million grant for the Lindberg Center in early 2019.
Dr. Peter Lindberg's brother, Charles Lindberg '50, served as a trustee and chairman of the board at Augustana for 29 years. Charles Lindberg created the Austin E. Knowlton Foundation with his friend and business partner Austin E. Knowlton in 1981 to support and improve institutions of higher education in the Midwest.
Charles Lindberg's son John Lindberg is the president of the Knowlton Foundation, and his son Eric Lindberg is the chief investment officer and a trustee. Both attended the dedication of the building named in honor of their uncle.