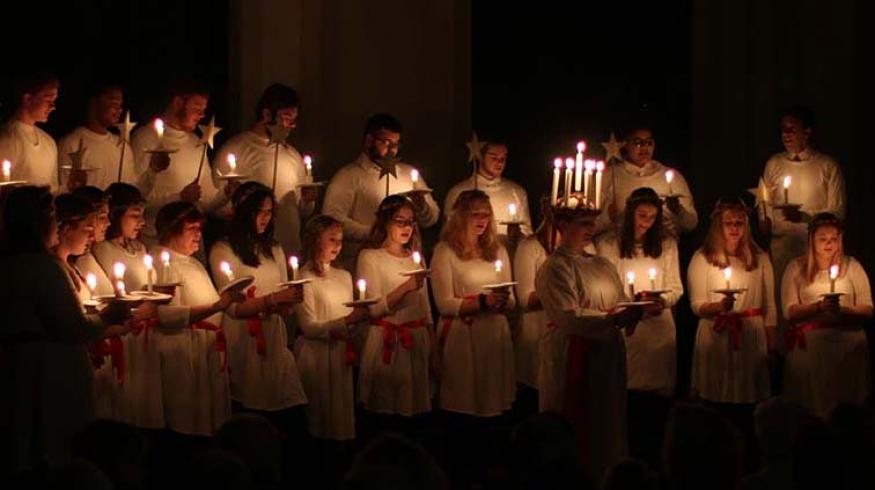 News
Sankta Lucia lights up the holiday despite pandemic
The annual Sankta Lucia Festival at Augustana College will premiere on video beginning at 6 a.m. Dec. 13.
The online program will be available on the YouTube channel of the Swenson Swedish Immigration Research Center at Augustana.
Scandinavian Christmas music will be led by Swedish language students, recorded in Ascension Chapel.
"The Swedish students were very excited to make this Augie holiday tradition happen again this year, despite the pandemic," said Dr. Mark Safstrom of Scandinavian studies.
"It was quite poignant to conclude our time together on campus by singing Christmas music in our beautiful candle-lit chapel, before everyone went home for the holidays. We hope the Augustana community will enjoy watching this program on St. Lucia day, December 13!"
The Sankta Lucia Festival is a cherished tradition of the Advent season in all the Nordic countries. A candlelight procession of singers is led by a young woman robed in white with a crown of candles on her head, to commemorate the martyred St. Lucy (d. 302 AD), whose feast day is Dec. 13. 
Over the centuries, this Sicilian saint from the early Catholic Middle Ages has become a fixture in Lutheran Sweden, where she came to represent the return of light to the dark, cold winter season and point toward the hope of Christmas.
For the festival, a senior student majoring in Scandinavian studies is chosen to play the role of Lucia. This year two students shared the role: Abby Berry, a psychology major from Normal, Ill., and Alex Hart, a Scandinavian studies and anthropology major from Pekin, Ill.
Music in the program is drawn from the Advent and Christmas traditions of the historic Augustana Lutheran Church and the other Swedish-American denominations in the United States.
The singing is led by the Swedish language students and campus organist, Chris Nelson.
The celebration is hosted by Augustana's Scandinavian Studies Program, together with the Swenson Swedish Immigration Research Center and the American Scandinavian Association at Augustana.
Contact: