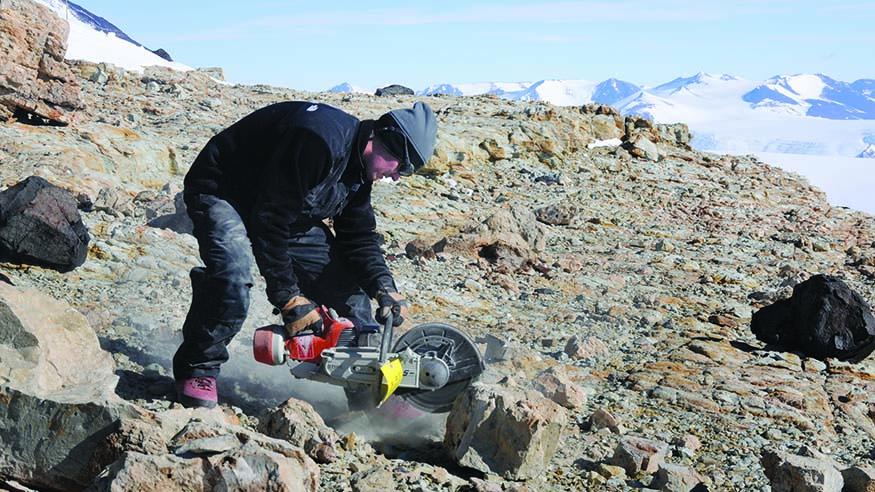 News
Smith '02 to succeed Hammer in Arctic hunt for dinosaurs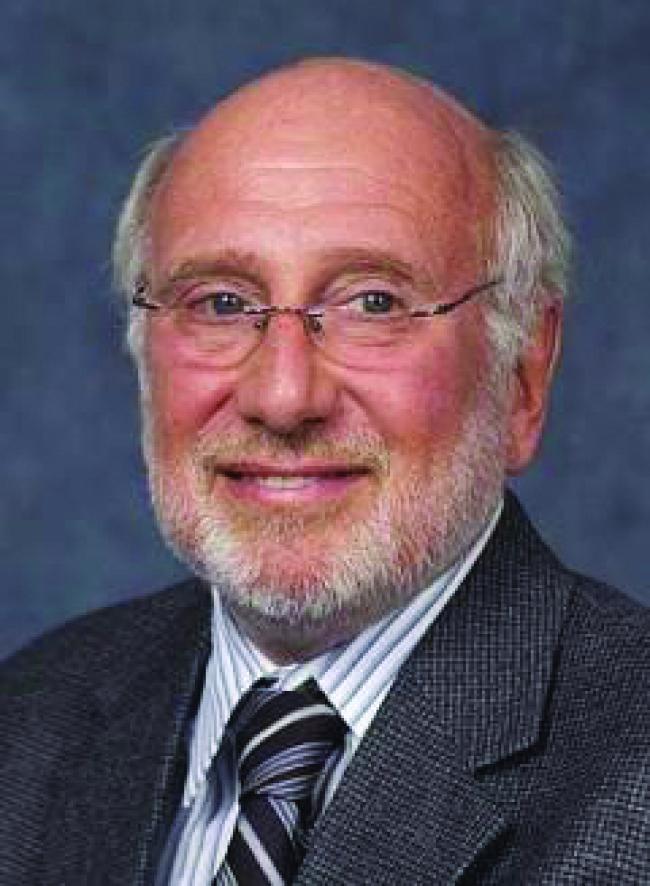 For a while, Nate Smith '02 wasn't sure where college would lead him. Certainly not to Antarctica on a dinosaur hunt. He came to Augustana as a chemistry major, thinking he would go back to teach and coach at his old high school in Crystal Lake outside Chicago.
Then, the summer after his first year at Augustana, he signed up for a paleontological field trip because of a certain geology professor, Dr. William R. Hammer. Smith had taken Hammer's honors course Great Geological Controversies, which awakened an interest in dinosaurs that Smith had harbored since his boyhood. He couldn't wait to join Hammer's field trip to the White River Badlands of Nebraska, an area famous for old bones.
He ran around the craggy hillsides and ancient riverbeds with Hammer's group, digging in the soft rock and revealing fossils of prehistoric creatures that lay hidden for 30 million years. "You start lifting and working them out, and you're the first person who's ever seen them," he said. "That's a pretty incredible experience when you think about it."
Smith loved it. Dr. Hammer, of course, knew the feeling well. His discovery of Cryolophosaurus ellioti, a theropod like Tyrannosaurus rex, already had won international acclaim as the first meat-eating dinosaur unearthed in Antarctica. For Smith, this sense of discovery was becoming contagious, especially with Hammer as a mentor.
"I can say without reservation, looking at where my career is now, Augustana was really the linchpin," said Smith. "My life would have unfolded in a much different way if I hadn't met Bill."
Taking the lead
Dr. William "Bill" Hammer and Dr. Nathan Smith are now colleagues, collaborators and friends. Smith has become a recognized paleontologist in his own right, and holds the position as associate curator of the Dinosaur Institute at the world-class Natural History Museum of Los Angeles County, and is also an adjunct associate professor in the Department of Earth Sciences at the University of Southern California. As Hammer looks at retirement next year, perhaps nothing is more satisfying than knowing that Smith has agreed to take over the Antarctic paleontology project that Hammer has led for 40 years. The two had discussed the plan on their expeditions together.
"I originally was given the PI job [principal investigator or leadership of the project] by my Ph.D. advisor," Hammer said, "so it was very appropriate for me to give it to Nate."
Hammer's Ph.D. advisor was the late Dr. John Cosgriff Jr., of Wayne State University, a globe-trekking paleontologist who led Hammer to Antarctica on his inaugural expedition in 1977. Access to the Southern Continent is limited under international treaties and by extreme weather. The polar summer is brief and still relatively cold, even with its 24-hour daylight. Scientists who are admitted for research are part of a select international group, and they are given only a limited window of time.         
"It's pretty rough by design," said Smith, "and a lot of us like it that way." They hit the ground, set up a spartan camp, break out their gear and get to work.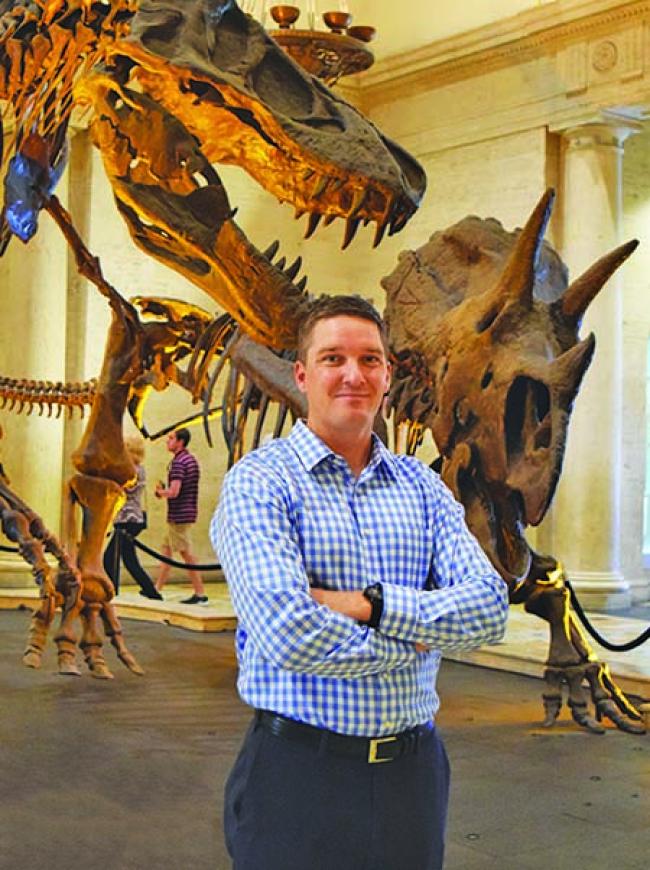 Hammer and his team have discovered two new dinosaurs, and altered people's understanding of continental drift and the evolution of big carnivorous dinosaurs. A 9,000-foot peak in Antarctica was christened Mount Augustana in his honor, and Hammer Col, a ice-covered pass between two large peaks in the Ellsworth Mountains of Antarctica, was named for him.
As Smith prepares to lead the next expedition a year from now, much of the work, he says, involves taking responsibility for a whole community that Hammer built to sustain the project. "It's about leading the charge for vertebrate paleontology in the central Transantarctic Mountains," Smith said. "It's helping coordinate all these people who are working down there, helping with the advocacy and setting up the workshops, and trying to get future camps off the ground."
It's a lot of work, but looking back, Smith says Hammer was a great example for finding the right balance in life. "Bill's very much a work hard, play hard kind of guy," Smith said. "You get your butt out in the morning early—he's up at 6 a.m. every day, running five or eight miles before he comes into work—and you put your back into it when you're out in the field, and then you kick back around the fire and tell stories and have a good time. He's a blast to hang around with in that social setting, as well.
"He's always been the kind of guy who keeps things in perspective when it comes to work and family and friendship. That's an ideal quality to see in a mentor."
Unearthing new dinosaurs
Since the Nebraska badlands, Smith has never lost sight of Hammer. He accompanied him to Antarctica twice, incorporating Hammer's dinosaurs into the subject matter of his graduate research, including his M.S. thesis at the University of Iowa and his later Ph.D. work at the University of Chicago. He went on to make his own groundbreaking discoveries, unearthing a new pre-dinosaur, Dromomeron romeri, that landed on the cover of the journal Science. His work appeared on CNN and even an IMAX movie, "Dinosaurs Alive!" Hammer will tell you it's no exaggeration that Smith's position as dinosaur curator at the Natural History Museum in Los Angeles is one of the best jobs on the planet for a dinosaur hunter.
"He turned out to be one of the best students I have ever had in the field," Hammer recalled. "I am very proud of his accomplishments."
In addition to his work at the museum, Smith has continued teaching, joining the faculty at the University of Southern California. In the summer, he leads students on expeditions to Ghost Ranch in New Mexico. The stark landscape of ancient buttes and bluffs is where his team discovered the pre-dinosaur Dromomeron romeri, and the new carnivorous dinosaur Tawa hallae. The ground crumbles easily, and hides remarkable fossil beds, not unlike the Nebraska badlands.
"One of the really fun things I get to do, as I've moved up in my career, is that now I'm the guy who brings students out to the field," Smith said, "and I can watch them have that first experience, digging up fossil bones, having that sense of discovery. That's still what it's all about."
Some of them will come back like he did, like Hammer did.
Smith already is getting his group ready for Antarctica next year, looking at logistics. This time they'll make their way south to Shackleton Glacier by the central Transantarctic Mountains. Hammer has been there several times, and he'll be joining the team for one last Antarctic adventure. They'll be a little closer to the South Pole, where it's a bit colder under that midnight sun. Instead of little picks and brushes, they'll need jackhammers to break through the ancient stone. But Smith has no doubt the dinosaurs are there, hiding beneath the surface, waiting for the first light of day.
By Jeff Moore, freelance writer and videographer