Careers and internships
Geology is the science of materials that form the Earth and the processes of Earth formation and evolution. This includes sub-disciplines, such as the study of environmental problems and remedial solutions, geologic hazards and hazard mitigation, life and evolution as preserved in the rock record, and the resources upon which industrial society is based.
Geology is interdisciplinary and incorporates the fundamental principles of physics, chemistry, biology and mathematics to understand the geological systems of the Earth.
Geology majors are well-prepared for graduate school in earth and environmental sciences or law, and many majors pursue careers in earth sciences, education or business. Many geology majors also choose to minor in environmental studies or biology.
Paid internships
During recent summers, geology majors held paid internships and jobs in:
Paleontological research internship at the Judith River Dinosaur Institute, Billings, Montana.
Internship with the geotechnical branch of the U.S. Army Corp of Engineers, Rock Island, Illinois..
Research using drones to map beach morphology at the University of Delaware.
Research using diamond anvils to conduct ultra-high pressure mineral geophysics experiments at the Carnegie's Energy Frontier Research in Extreme Environments Center.
Internship with the Illinois State Geological Survey to study the paleoclimate and paleoenvironment of southwest Illinois.
Research on sea-level change of the east coast of North America at Columbia University's Lamont-Doherty Earth Observatory, New York.
Research of stream profiles using Terrestrial LiDAR data at Western Illinois University. 
Internship to study the health and slope stability of urban watersheds, Upper Mississippi Center, Augustana College.
Research on the heat-treatment of gemstones, Chanthaburi, Thailand.
Research on mercury contamination of Arctic birds, Thule, Greenland.
Internship at the Carnegie Institution, Washington, D.C on the biogeochemistry of ancient Earth.
Internship in the paleontology lab of the Field Museum, Chicago
Teaching assistantship for a geology field course, Wyoming.
Dinosaur tooth histology research in the paleo labs at Augustana College.
Northern Rockies Paleontology Assistantship through GeoCorps and the National Park Service.
Recent graduates and where they are
A sampling of what recent graduates in geology are doing:
Caitlin Lebel '18 completed an internship with the Illinois State Geological Survey and is now pursuing a master's degree in paleoecology at University of Florida-Gainesville.
Sarah Oswald '18 is a staff scientist with BBJ Group, Chicago, Illinois.
Jack Malone '18 was a mining geologist with Unimin Inc. and is pursuing a master's degree at University of Wisconsin-Milwaukee.
Allison Pease '18 is pursuing a Ph.D. in experimental petrology at the University of Michigan.
Joey Teresi '18 is a environmental technician at Terracon Inc., Bettendorf, Iowa.
Mark Lundine '18 is pursuing a graduate degree in oceanography with the University of Delaware.
Robert Martin '17 is an environmental geologist with Trinity Environmental in Sugar Land, Texas.
Jessa Rizzo '17 is pursuing a graduate degree with the Gemological Institute of America, Carlsbad, Calif.
Jacob Piske '17 is completing a master's in hydrogeology at Illinois State University.
Laura Behymer '16 is a staff geologist with Tri-State Asphalt in Morris, Ill.
Kati Ponder '16 is a geologist with the Bureau of Land Management in Carlsbad, N.M.
Laura Ames '16 is an environmental lab technician for Sanders Laboratories, Fort Meyers, Fla.
Evan Blodgett '15 is a staff geologist for the geotechnical engineering firm Chosen Valley Testing in Rochester, Minn.
Cody Johnson '15 is a restoration technician for Applied Ecological Services in Milwaukee, Wis.
Kevin Gosiewski '15 is a field technician for the environmental consulting firm Mostardi Platt in Elmhurst, Ill.
Ryan Plath '15 is an environmental consultant with ERM: Environmental Resources Management.
Joey Romero '15 is pursuing a Ph.D. in biogeoscience at Arizona State University.
Brian Trausch '15 is a field technician for Schmidt Land Surveying, Inc. in Silverthrone, Colo.
Diana Boudreau '14 is a wilderness fellow at Society for Wilderness Stewardship in Cedar City, Utah.
Jordan Carey '14 is pursuing a master's degree in fluvial geomorphology at University of California, Davis.
Lauren Kirik '14 is a geologist with the independent energy company Apache Corporation in San Antonio, Texas.
Brian Konecke '14 is pursuing a Ph.D. in geochemistry/economic geology at University of Michigan, Ann Arbor.
Alexis McAdams '14 is an environmental technician at Southeastern Wisconsin Regional Planning Commission in Pewaukee, Wis.
Matt Osman '14 is a Fulbright Award winner pursuing a Ph.D. in glaciology/climatology at the MIT's Woods Hole Oceanographic Institute Joint Program, Mass.
Elizabeth Fisher '13 is a geologist at Ecology and Environment, Inc., Chicago.
Randy Lightfoot '13 is a diamond grader for the Gemological Institute of America.
Carl Peters '13 is a staff scientist and project manager at the environmental services company BBJ Group, Chicago.
Maren Mathisen '12 received a master's degree in geology at the Jackson School of Geosciences, University of Texas at Austin, and is working for Statoil, Houston, Texas.
The program and its distinctions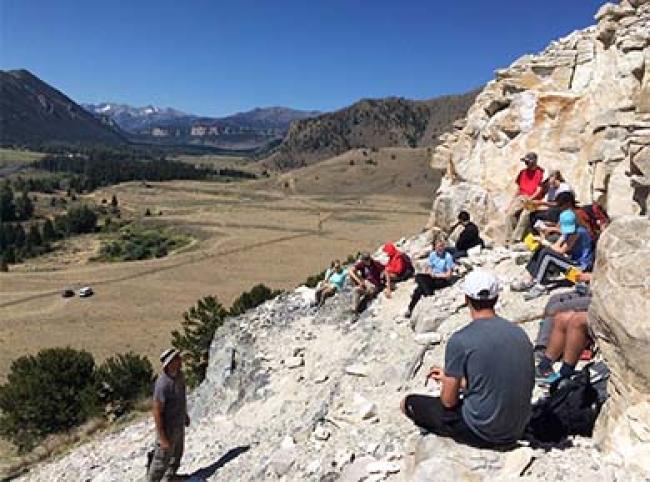 Augustana offers a major and minor in geology. The department emphasizes field experiences, offering numerous local and distant field trips every year and providing opportunities for student research during the summer and the school year.
Students can earn a departmental distinction upon successful completion of both a superior senior research thesis, and the geology degree with a GPA of at least 3.5.
The geology faculty all are engaged in active research, much of which is funded by the National Science Foundation (NSF), including Research Experiences for Undergraduates funded projects. Research projects may vary with student interest and funding. Recent projects have included experimental petrology, paleontology, geomorphology, hydrology and glacial geology.
Many students participate in NSF-funded programs during the summer between junior and senior year. Students have traveled to Alaska, Mongolia, Iceland, Maine, Kamchatka, and the Caribbean Islands with such programs. The geology department also supports research and field trip experiences with additional funding.
What students say
Allison Pease '18, geology and physics major:
"I visited Augustana during my senior year of high school. I always knew I wanted to major in geology so during my visit I spent most of my time at the Swenson Geoscience building. When I visited the department I met current geology majors and the geology faculty. These initial interactions allowed me to know instantly that I wanted to be a part of the department. I participated in the summer GEOL-105 course through the Rocky Mountains and I have been hooked on geology ever since. I have traveled with the department to China, Japan, Hong Kong, Taiwan, Hawaii, California, Pennsylvania, and Arizona. Each trip brings the department closer together and creates unforgettable memories. The department not only provides amazing trips, they also provide students with relevant academic knowledge and prepare students to conduct various research projects. For example, I have conducted research at Lamont-Doherty Earth Observatory, Carnegie Geophysical Lab, Argonne National Lab, and Augustana's experimental petrology lab. As my senior year comes to an end I look forward to starting graduate school at the University of Michigan and participating in a volcanology field camp in Iceland. I truly believe that without the Augustana geology department I would not be where I am today."
Matt Osman '14, geology major, mathematics and environmental studies minor:

"I came stumbling into Geology 101 fall term of freshman year after spooking myself out of taking calculus. Now, as a graduate researcher at the Massachusetts Institute of Technology (MIT), it seems indisputable that few other decisions in my life have been quite as formative or fortuitous. The rigorous-yet-supportive structure of the geology major endowed me with the tools and confidence necessary for high-caliber research at MIT. The myriad opportunities for intellectual growth, travel, and hands-on research at Augustana may be as vast as the study of the Earth itself! From early on, my own unique passion for polar climates and the cryosphere(ice) was fully fostered by my geology professors, who promoted my participation in two distinct Arctic expeditions and research projects, respectively. Whether you have an insatiable curiosity for the natural world, or simply wonder what it feels like to morph rocks out of smoldering lava, Augustana geology will have something for you."
Elizabeth Fisher '13, geology and biology major:

"I was originally attracted to Augustana because of its excellent geology program and the many opportunities to go out in the field, the smaller class size-giving me a greater likelihood to know my professors personally-and the overall liberal arts experience. But it was the friendliness and enthusiasm of students and teachers that really made me feel like I was wanted on campus and would do well at Augustana. I had many opportunities to travel around the U.S. with the help of money donated from alumni. I went to the Nebraska Badlands, Hawaii, the Grand Canyon,Wyoming, and the Tucson Gem and Mineral Show. I also was part of the Transantarctic Vertebrate Paleontology Project, thanks to Dr. Hammer. Through this project, I was given the opportunity to intern at the Field Museum in Chicago and travel to a dinosaur quarry near Hanksville, Utah with the Burpee Museum (Rockford, Ill.). I also did work for the Transantarctic Vertebrate Paleontology Project through my Senior Inquiry."