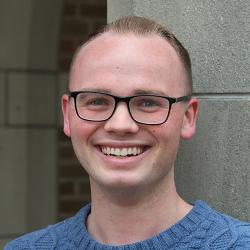 More Than I Imagined
Seniors reflect on accomplishments and look ahead
 Joel Padgett
Graduation year: 2021
High school: North Central High School
Hometown: Indianapolis, Ind.
Majors: Geology, music composition
Activities: Symphonic Band, Symphony Orchestra, Chamber Orchestra, Udden Geology Club, Philosophy Club, Reading/Writing Center (RWC) peer tutor, Phi Beta Kappa academic honor society
Post-grad plans: I will be going to graduate school at the University of Calgary to pursue a Ph.D. in geology.
Why Augustana?
I came to college looking to study both music and geology, and at Augustana, I found the faculty and students to be so supportive of students double majoring. By happenstance, I ended up meeting another geology and music double major during a visit, which really helped me see that it was not just possible but encouraged and supported.
Are you where you thought you'd be when you first came to campus?
While I will be graduating with the two majors I expected, there have been so many surprises and unexpected opportunities that arose during my time at Augustana that I never could have seen coming. And it's these surprises that have made my college experience so rewarding and memorable.
Who helped you get to where you are now?
Without a doubt, the faculty and staff have been instrumental to my success in college. I am truly grateful to Dr. Jenny Arkle, my senior thesis advisor, for her patience, kindness and for sharing her expertise with me.
I'll be forever grateful to Dr. Strasser, Dr. Wolf, Dr. Kelsey Arkle, Susan Wolf and Jen Milner in the geology department for their academic and emotional support.
The faculty in the music department too have been instrumental in my college success. Dr. Bancks, Mrs. Schwaegler, Dr. Elfline, Dr. Ehrlich, Dr. Hall, Chris Nelson, Dr. Lambrecht and Dr. Chetel have all helped me navigate these past four years, sharing insights and wisdom along the way.
So many people have gone above and beyond to help me succeed and a simple "thank you" doesn't even begin to give these people the thanks they deserve.
Peak experience?
The opportunities I have had to travel have been some of the highlights of my time in college. Traveling and performing in California with the Symphonic Band my first year was an incredible musical experience.
I also cherish the memories I made in Vienna, getting to work with scholars at the Arnold Schoenberg Center on a research project that I designed. And my trip to Bonaire really made me fall in love with doing geologic field work, which I will take with me into graduate school next year.
What surprised you?
I never thought that I'd be a certified SCUBA diver or recreational drone pilot, that I'd travel to Europe and the Caribbean. I never thought that I'd have a job that pays me to talk about writing, and I never thought I'd get to make music with some of the most incredible musicians I have ever met. And yet, in four short years, I did all that and so much more.
How did you use your Augie Choice?
I used my Augie Choice to go on the geology department's field course in Bonaire, in the south Caribbean. Hiking on ancient coral reefs exposed on land and then SCUBA diving modern coral reefs just a short distance away was a truly magical and educational experience that I will never forget.
What will you miss the most?
I'll miss the beauty of campus changing with the seasons. I'll miss working in the RWC. I'll miss playing in band and orchestra. I'll miss the hustle and bustle of the Brew and the tranquility of the library. But mostly I'll miss the people who have made my time at Augustana so wonderful: my classmates, my professors, my mentors and my friends.
Advice for the Class of 2025?
Never be afraid to ask for help. The faculty want to help you as best as they can, but you have to ask. If something confused you in class or in a reading, ask about it. Answer and ask questions in class. Take advantage of the college's tutoring services. And most importantly, go to professors' office hours!
"Joel embodies Augustana's liberal arts spirit — broad interests and a now talented scholar in several fields. Joel is an inquisitive scientist of geology, a masterful musician and captivating writer. He shared his literary talents as a Reading/Writing Center tutor and wove that passion into writing geologic stories encoded in landscapes he studied in geology. He is equally accomplished at composing complex GIS maps as he is at composing classical musical works or performing on multiple instruments at formal concerts or for morale-boosting sing-a-longs at Udden Geology Club! Always the most polite, pleasant and helpful student to peers and faculty alike, we will miss Joel's winning personality and intellect!"