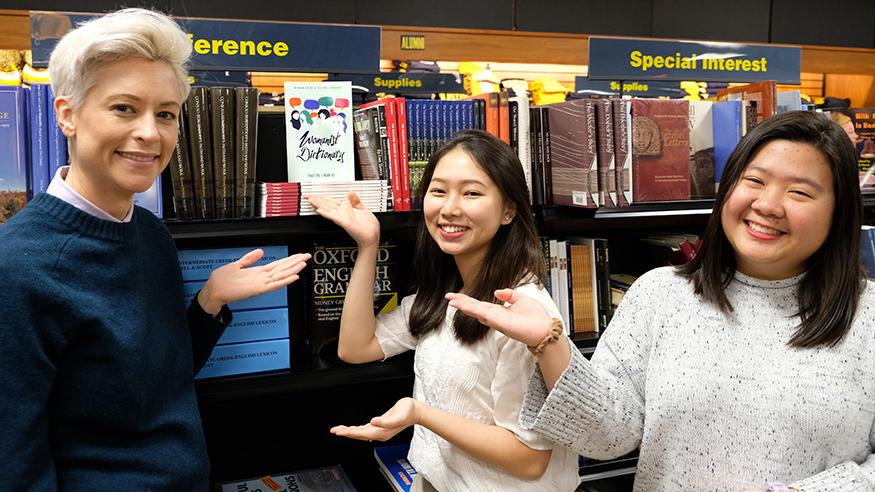 News
They wanted a Womanist dictionary. So they wrote it.
When Thao Chu '19 and Ngan (CeCe) Vu '20 enrolled in Dr. Michelle Wolff's Christian Ethics class, they never dreamed they would finish as published authors. But they did, and their Womanist Dictionary: Womanism as a Second Language is now available at Amazon, Barnes and Noble, and of course the Augustana Bookstore. 
Dr. Wolff explained that in Christian Ethics students are encouraged to take on creative projects about Womanism, a social theory expanding on feminism to focus on the voices, writings and experiences of Black women. Examples of past projects include Instagram pages and videos, with Dr. Wolff providing hands-off support when needed.
Vu and Chu are both from Vietnam. When it came time to study the complex topic of Womanism, they discovered language and cultural barriers standing in their way.
"It's hard to understand all the terminology and vocab, especially in Womanism, this subject we've never learned or been exposed to in Vietnam," Vu said. The goal of their project was to "break the terms down into simple English" and make them more accessible to a wider audience.
To achieve this, they set about creating a dictionary complete with definitions of Womanist terms in simple language, plus a look at Womanist scholars and other reference materials.
Every teacher's dream is to watch their students make something that didn't exist in the world.
"It was so great because they were thinking about their particularity as international students," Dr. Wolff said. "But to approach it as learning a language, like it's a whole culture that they're stepping inside of, was really remarkable."
Impressed with Vu and Chu's project, Dr. Wolff brought it to publishers at the American Academy of Religion Conference. The publishers at Wipf and Stock liked what they saw and expressed an interest in expanding the pocket dictionary into a full-fledged publication. 
Next came hundreds of hours of writing, editing, and researching citations.
"You need permission for everything," Vu said. "I really appreciate and admire those who publish a book… it's a lot of work. We're only a small dictionary, but it's still a lot."
Whenever the students were unsure on definitions, they would consult Dr. Wolff. However, Vu said, "they always told me what matters is your opinion." She began the process by sticking only to what she felt the majority would agree on, but Dr. Wolff encouraged the two to stay true to their own interpretations. 
According to Vu, "after the process I would say I value my own opinion and voice more." 
A biology major, she plans to pursue medical school after a couple of years doing research in a liver tissue engineering lab at University of California, San Francisco, where she had an internship.
"Reflecting on my journey, everything happened because I was really curious," Vu said. She advises other students to hold onto and foster that curiosity and follow to wherever it leads.
Chu agrees. "I would never expect to have a published work before coming to Augie, especially when my majors did not have a lot of room for publishing works." Chu majored in accounting and international business, and now works as an accountant in the Quad Cities.
According to Dr. Wolff, this was a "true liberal arts moment." Two students from different disciplines and another part of the world thoroughly engaged the course content and worked together to contribute something new.
Dr. Wolff could not be more proud. "Every teacher's dream is to watch their students make something that didn't exist in the world." 
– By Jack Harris '20, Augustana Writers Bureau