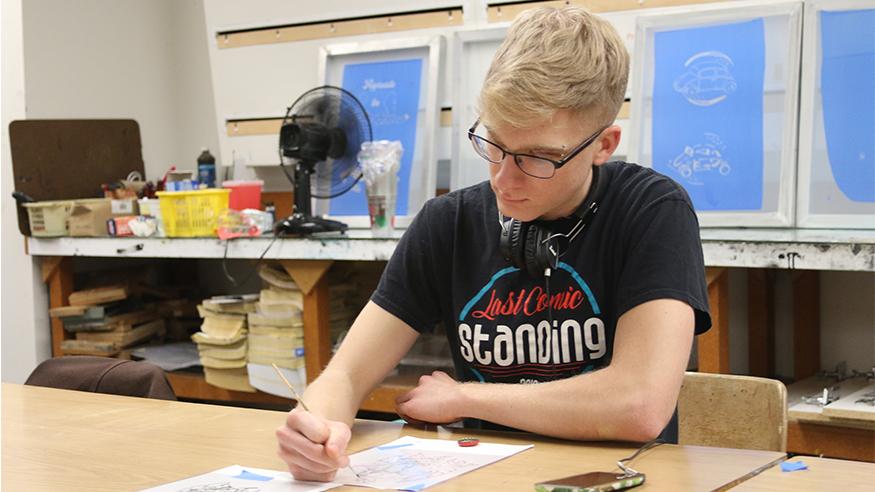 News
Three-and-a-half peaceful weeks during J-term
By Jack Harris '20, Augustana Writers Bureau
This J-term I signed up for Screen Printing, basically pressing a silk screen onto various materials and dragging ink across to create a print—sort of like a wetter version of spray painting. Though our professor has bestowed upon us the intimidatingly named guide "Screen Printing in 82 Steps," the process really doesn't take that long, and most of our time is spent cleaning ink off screens, cleaning ink off tables, and cleaning ink off our clothes, hands, fingernails and hair.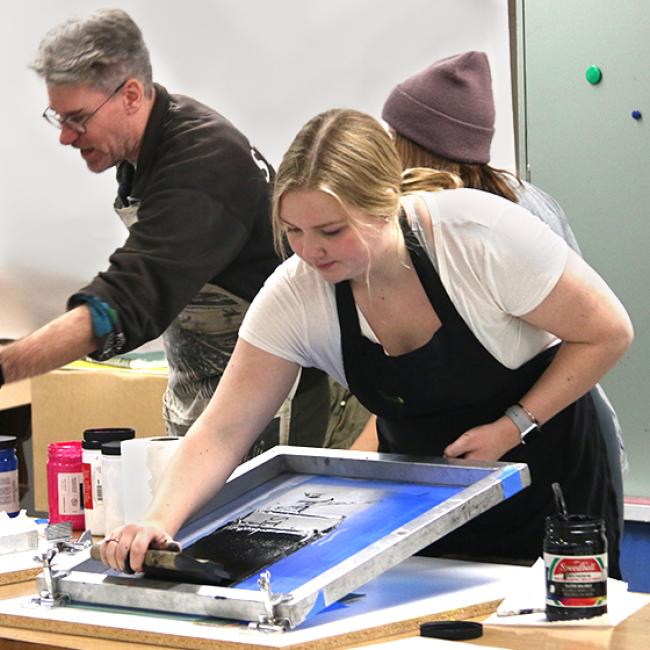 Over winter break I had feared death by 3-hour lecture from J-term. But Screen Printing has turned out to be something charmingly different, and emblematic of what J-term as a whole can be: peaceful. 
Most classes begin with a run-through of our current project, a few questions about chemicals, and then open studio time. There are no written assignments and no final exam. We're not rushed, because we're the only class in this room and are welcome to work any time before or after class, any day of the week.
My homework is usually sketching out ideas for prints or sitting in the art studios with a cup of tea on the light table and inking while listening to podcasts.
It's a rhythm that fits well with the spirit of J-term. Most clubs I'm in are taking the month off, and the campus is quieter due to the students who chose not to take a course or who are on abroad adventures. Spaces feel less crowded; I'm not jockeying for tables and wall plugs in the Brew.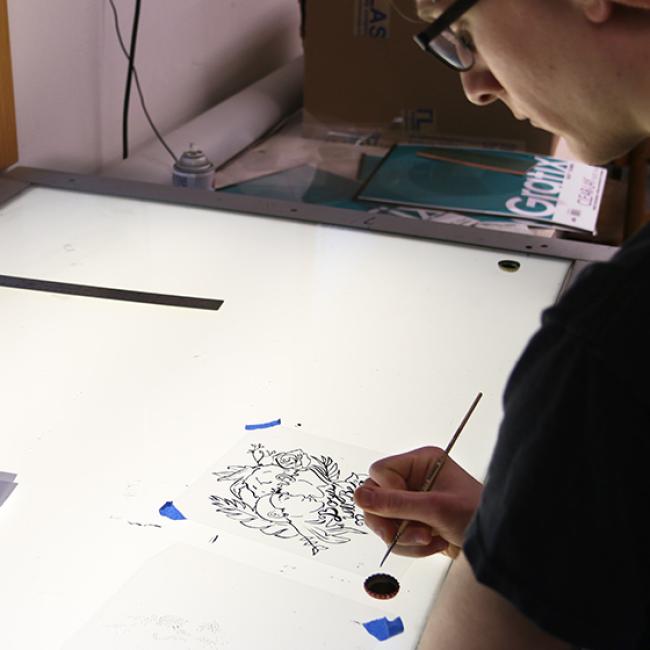 Of course, I wouldn't want Augustana to be this sparsely populated permanently—it's nice only because I know that friends and hubbub will return in a couple weeks. But for the time being, it's a much-needed change of pace from the usual million-mile-a-minute speed we double-majoring Augie students are famously used to. 
For a graphic design (and creative writing) major who usually works in digital spaces, Screen Printing presents an enormously refreshing chance to stretch my muscles, roll up my sleeves, and get messy with raw materials.
Come spring term, there will be all manner of pledging, clubs, events, and five courses and graduation to worry about. There will be schedules to fill to bursting, people to see one last time before moving on in May, and graduate program admissions to go through.
But for now I am taking a quiet breath as I look ahead to my last term at Augustana. J-term is like the moment before a race begins: serene, exciting, full of anticipation. The best and busiest times are yet to come, but at the moment, it is enough to simply exist.