Augustana offers a major and minor in English, a major in teaching English, a major in English with a writing emphasis, and a creative writing major and minor.
The 12 full-time and four part-time faculty serve as leaders in interdisciplinary studies and are involved in areas such as the honors program, women's and gender studies, international terms, environmental studies and creative writing.
Careers and internships
English majors possess skills that are in high demand in the professional, academic and not-for-profit spheres. Organizations value graduates who combine clear thinking with effective communication and creative problem-solving, and look for leaders who can approach issues using more than one perspective — all skills built through the English program at Augustana.
The English major provides a strong background for careers in teaching, law, the ministry, business, publishing and even medicine.
Augustana graduates in English have found their life's work in such roles as professor, teacher, TV news commentator and anchor, foreign correspondent, children's book editor, producer, grant consultant, pastor, museum curator, film crew writer, attorney, judge, entrepreneur, librarian and many more.
Many English majors gain experience by working as paid tutors in the college's Reading/Writing Center. Others gain experience in publishing by taking Augustana's Book Publishing class and working at Augustana's East Hall Press.
Those interested in journalism or creative writing can build their portfolios by working on Augustana's newspaper, The Observer, and literary magazine, SAGA. Still others gain hands-on experience and develop professional connections by working internships at local businesses in marketing, public relations, journalism, and arts management.
A series of workshops on "Resume Writing for English majors" also prepares students by teaching them how to communicate the value of their Augustana English major to prospective employers.
For more information, contact Dr. Meg Gillette, department chair.
Recent graduates:
Eliza Wells '15, is a freelance private writing consultant in Camarillo, Calif.
Jessica Allen '14 is a freelance writer for Pretzl in Chicago.
Rebecca Black '13 is an assistant professor of chemistry at New College of Florida in Sarasota, Fla.
Rachel Bruce '13 is a planner at Bi-State Regional Commission in Davenport.
Lauren Gephart '13 is a communication coordinator for the March of Dimes.
Distinctions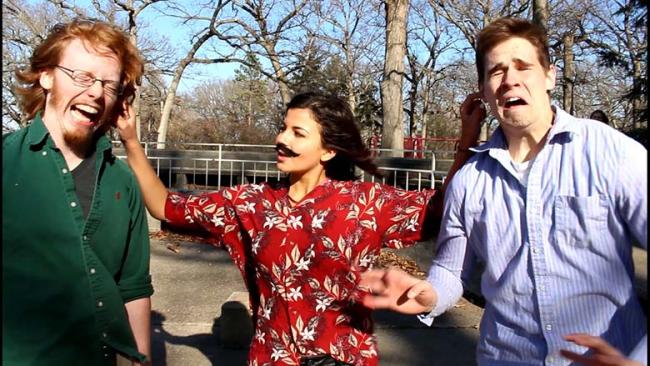 First-year writing classes enroll no more than 20 students; writing classes close at 15. Literature classes range from eight to 25 students. Almost all courses use discussion as a teaching tool. All courses are writing-intensive. Students learn to write thoughtful, fluent, well-informed and fundamentally persuasive essays.
English students have many opportunities to study abroad. Professors take students to in Ireland, Norway, Paris, Vietnam, Ghana, India and more. The annual field trip series called On the Road brings English majors to places of literary interest. 
A creative writing capstone takes students up the Mississippi River in an Augustana vessel.
A literary series, River Readings, brings nationally prominent writers to campus three times a year. (See this year's schedule)
SAGA, a student-run art and literary magazine, publishes student fiction, non-fiction, poetry and visual art.
Unabridged, Augustana's English club, meets regularly for English major coffee hours, Yoga for Writers, a book vs. movie club, and end-of-the-term Write-Ins.
East Hall Press, Augustana's own publishing house gives students interested in editing or publishing a hands-on career experience.
Black Squirrel Productions is an interdisciplinary film society that provides an opportunity for students to make movies and develop multi-media portfolios.
What students say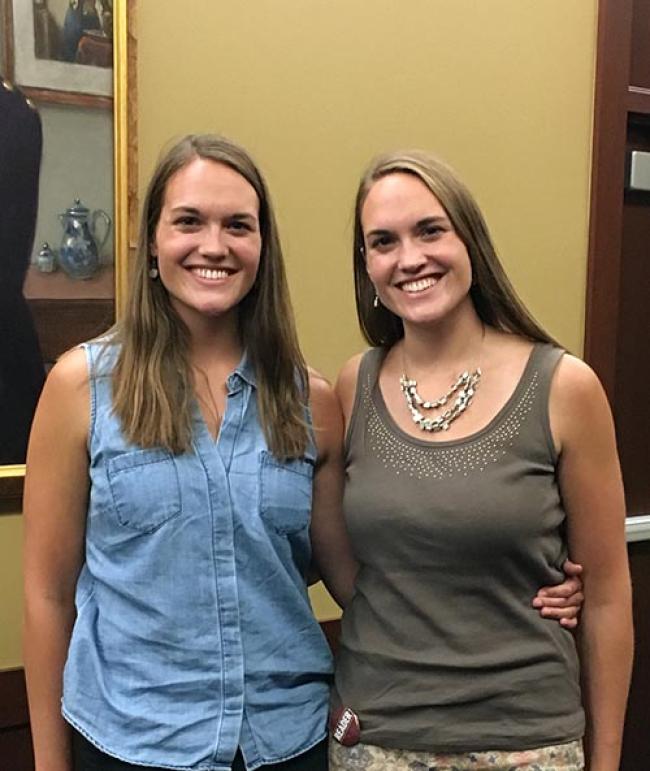 Danielle Anderson '14, English and religion, minor in classics; master's of religion and literature, Yale Divinity School; currently teaching at Pacifica Christian High School, Santa Monica, Calif.
"The English department teaches you to see that texts are alive. Literature speaks: to other texts, to our world, and, most importantly, to you. In this way, studying English helps you to connect ideas and develop your own thoughts. These skills allow you to enter into an on-going conversation of ideologies, beliefs, world views, etc. that are present everywhere around you. The English department allowed me to pursue my interest in understanding the complex dynamic between religion and literature. This study has made me a more knowledgeable and happy person."
Isaac Lauritsen '14, English and philosophy
"I came to Augustana with a seemingly unending list of courses I wanted to take and majors I wanted to pursue. My interests were in cultural studies, philosophy, art, religion, history, psychology, environmental studies, and, of course, literature. What I didn't know during my high school years was that all of my interests could be found in English Literature. From the gateway course in Early British Literature through upper level courses in Contemporary Literature, these topics have been discussed extensively and my knowledge on each topic has expanded tremendously. Perhaps more importantly, the faculty in the English department have taught me how to be a decent human. Knowing how to act in the world, form an opinion and create meaning are the foundation to leading a fulfilling life."
Kimberly Hedlin '11, English major, religion and New Testament Greek minors; graduate student in English at ULCA
"I cannot speak highly enough of my Augustana experience. I am currently working on my Ph.D. in English at UCLA, where I research 16th-century religious writings and teach English classes. I know that Augie's emphasis on interdisciplinary work helped me develop my research interests, which incorporate elements of theology, literary study, and religious history. I also credit Augustana's generous and encouraging faculty with making me love teaching and modeling thought-provoking and memorable class discussions. I sometimes go back to my notes from English classes at Augie when I'm planning my own lessons!"
Eryn Maccabee '14, English and Scandinavian studies
"Upon entering Augustana I knew I wanted to major in English. I decided to follow my instincts and have never regretted it. I enjoyed every English class I took and the professors were extremely helpful and open to discussion outside the classroom. I have learned to think more critically and change the way I look at certain genres and even specific works of literature. The creative writing department is fantastic and the courses I took in that field improved my writing a great deal. I think the greatest strength of this department is the faculty. They are genuinely interested in helping students learn and inviting critical discussions and helping in any way they can."
Kirsten Mathisen '14, English and history
"The English department has a great deal to give to majors. It could be an enlightening lecture or an exciting conversation based class. It could be a professor who you talk to about literature and life or one who influenced you from afar. My passionate professors encouraged me to think both creatively and critically. I learned not only how to be an English student, but how to apply these skills to other fields and my everyday life."
Shannon Leyva '15, English and Spanish, minor in creative writing
"English at Augustana nurtures a sense of confidence in the areas of writing, reading, speech, and comprehension. When students commit to studying English, they commit to learning about themselves and their surroundings in the deepest and most critical manner. A degree in English can be utilized in pursuing numerous careers, be that media journalism, writing, publishing or even politics. Students can acquire the basic skills required of a degree, but also build beneficial relationships with professors. During my time here, the English staff has facilitated my quest for knowledge; they encouraged all my talents and helped me find ones I never knew I possessed. I've grown into a well-rounded person because of my studies in English at Augustana."