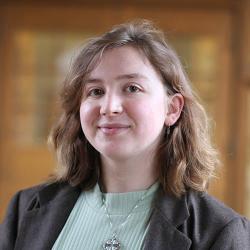 More Than I Imagined
Seniors reflect on accomplishments and look ahead
Carly Davis
Graduation year: 2023
High school: Milton High School
Hometown: Milton, Wis.
Majors: English, art, creative writing
Minor: Spanish
Activities: Augustana Observer, theatre costume shop, Augustana's SAGA Art and Literary Magazine
Internship: SAGA
Post-grad plans: I will be taking a gap year to work and put aside money. I will be pursuing my MA in English with a concentration in creative writing at the University of Wisconsin-Milwaukee in 2024.
Why Augustana?
Frankly, I googled "best value English degree" when I was in high school, and Augustana was on a couple of lists. Like a lot of people, I visited the campus and knew it was a fit. The trees and hills felt like home to me, and there's something poetic about living along the Mississippi.
I also love Thai food, and there are a lot of options for it in the Quad Cities. Then I went to the Figge Art Museum during my honors interview and art portfolio review, and that sealed the deal for me.
Are you where you thought you'd be when you first came to campus?
Nope. I came here planning to get a double major in English and Spanish with minors in art and honors. I loved the first art class I took my first semester with Peter Xiao, and it swapped places with Spanish and became my second major. Sophomore year, I fell in love with creative writing after taking a class with Brett Biebel. I quickly asked him to be my major advisor, and I dropped honors. So it goes.
Who helped you get to where you are now?
My mom has been an English teacher my whole life, working some evenings with a tutoring agency when I was a kid, substituting in my school district, and teaching preschool before working with at-risk students in Beloit, Wis., where she is now. She used to make my siblings and I sit at the kitchen table and do worksheets before we could play outside or watch TV during vacations.
Education was the most important thing in my household growing up, and I spent the most memorable parts of my childhood reading when I wasn't messing around in the woods or teaming up with my brother to bully our younger sister. My parents certainly shaped my aspirations, and my siblings have done well to carve interesting, creative lives for themselves as well.
And it's strange to get romantic in these, but my partner has certainly helped me become the person I wanted to be when we met. I've sharpened the parts of myself I'm proudest of and discovered so much more within myself and the world.
Peak experience?
It's hard to narrow down a single peak experience; I've had a lot of little adventures. If I could combine every late-night walk or drive, I would. Throw in the memorable midnight phone calls or long conversations over text that ended at four in the morning, and that would be it.
What surprised you?
I've kept a plant alive for three years (and counting), which is a new record for me.
How did you use your Augie Choice?
I went to Paris to study American expatriate writers with Dr. Meg Gillette, who had been my first professor at Augustana and became a fantastic person to talk to about life and work.
What will you miss the most?
Living close to my friends, the mighty Mississippi, the Brewed Book over in Davenport, going to the Figge alone, and student discounts for Spotify.
Advice for the Class of 2027?
Go places alone. Go to the library alone. The grocery store. The bar or the coffee shop. Take walks and just be present with yourself. Within a month of my first semester here, I walked to Davenport and went to the Figge on my own. It still is one of the highlights of my time at Augustana.
"What a gift Carly has been to the English Department! A triple major in English, creative writing and art, Carly has more talent than you can shake a stick at and a go-getter attitude to match. Curious, high-spirited and quick to draw connections, Carly is the kind of student who makes you excited to come to class just to see what new ideas she might share that day."