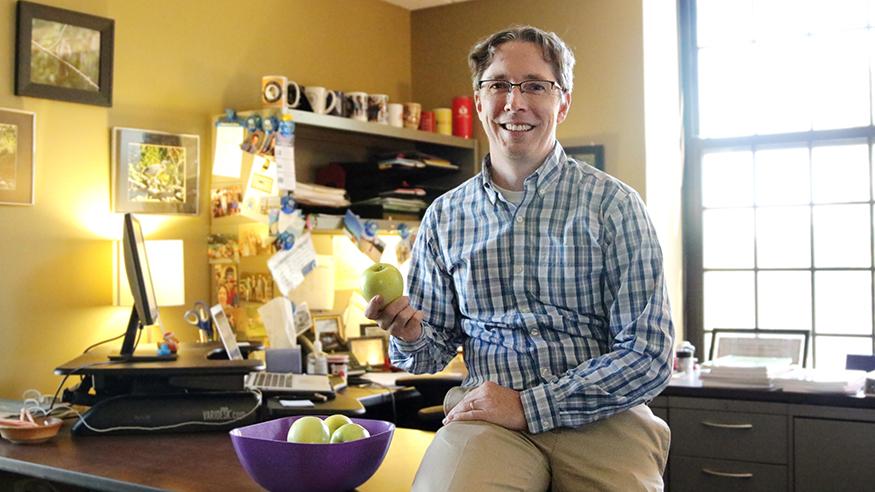 News
Golden Apple Scholars shine at Augustana
These education majors receive extra funding, training and support as they prepare to be teachers.
Dr. Michael Scarlett keeps a bowl of apples at his desk in his office in Augustana's education department. Students stop by to get an apple (or mini candy bar), and those who are Golden Apple Scholars may also get the joke.
"Golden Apple Scholars get additional experience working in schools during the summer institutes — and get paid to do that."
Awarded a scholarship up to $23,000 for their college education, Golden Apple Scholars are Illinois residents who commit to teach five years in an Illinois school-of-need once they graduate. Formerly a combination of academic and economic factors, "need" is now determined by the percentage of students on free or reduced lunch.
To prepare future teachers, the Golden Apple Foundation provides training and teaching experience during summer institutes; mentoring; academic and social support; and job placement assistance. Augustana is one of the program's 50+ Illinois college and university partners. 
Dr. Scarlett, associate professor of education, has been Augustana's Golden Apple liaison for three years. He aims for "identity and cohesion" among the group through meetings and social events such as bonfires and movie nights. 
"It's one more layer of support that Golden Apple Scholars get," Dr. Scarlett said. 
The number of scholars at Augustana has risen in recent years, up to 16-18 at a time. Dr. Scarlett says these students tend to be leaders on campus, especially in Club Ed, the student group for education majors. He attributes this to the professional development they receive beyond what other education majors have experienced to that point.
Augustana education majors get 100+ hours of hands-on experience in the classroom. "Golden Apple Scholars get additional experience working in schools during the summer institutes — and get paid to do that," he added.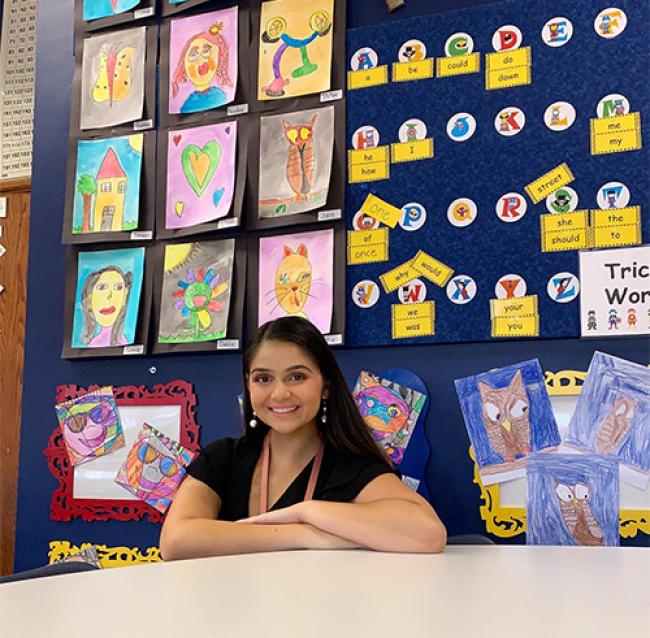 Vanessa Silva '22, from Wood Dale, Ill., found her best friends in the summer institutes and Augustana's cohort of Golden Apple Scholars. She also found her first job in her career, teaching first grade at Holden Elementary in Chicago, before she even graduated from Augustana. 
"When you have that Golden Apple stamp, you're really quick to get a job," she said. "I felt like I was ready, because I had so much practice. With Golden Apple, and Augustana, too, I was good to go."
"Practice" began very early for Silva. In her high school sophomore-year geometry class, the teacher had to be on health-related leave for two weeks and Silva was asked to lead the classroom. 
"I knew from then on that I wanted to be a teacher," she said. "I set myself up every summer, for the rest of my high school career and college, to do only things related to education and teaching." 
That included being a camp counselor, a tutor and a paraprofessional volunteer at her school. With her high school counselor's recommendation, Silva applied for the Golden Apple Scholars program as a senior.
Generally, students apply as high school seniors, but some apply as first-year college students. The application is competitive, and itself a big commitment.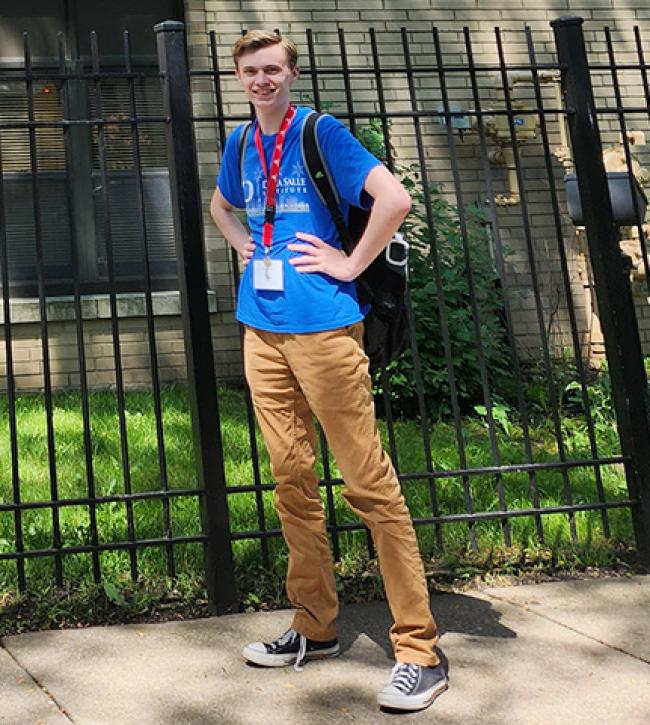 Andrew Doughty '26, a Golden Apple Scholar from Sterling, Ill., applied in his first year at Augustana. He had considered applying as a Sterling High School senior, but wondered, "Do I really want to be a teacher? Do I really want to go down that path?" He let it pass. 
Then during a Club Ed meeting he met Dr. Scarlett, who encouraged him to go for it. He still wasn't convinced it was the right path for him, but took the steps to find out. 
After he was accepted, Doughty attended the induction ceremony in early June. In July, having missed the first Golden Apple Scholars summer institute the previous year, he spent an intensive three weeks at that year's institute, based at DePaul University. In the mornings, the students in his group traveled to De La Salle Institute on Chicago's south side and taught students taking summer school classes there. 
His first day in that classroom, Doughty said, "It finally clicked. I thought, 'I'm in the right place.'"
Next steps
Majoring in English education with a creative writing minor, Doughty will become certified to teach 5th-12th grades. He was inspired by his high school librarian, Heather Johnson, a former English teacher and a 2005 Augustana graduate. The teachers of his AP literature and AP language classes, Jordan Johnson '16 and Jennifer Drew '02, also inspired him toward both Augustana and teaching — specifically English.
"I love it so much, and I want to show people it can be a fun subject," Doughty said. "I want to pass on my passion."
In Vanessa Silva's future, she would like to be a Golden Apple mentor and support new teachers.
Both the foundation and Augustana have shown her what that support can look like. She thinks Augustana's education department is where students have some of the deepest connections with their professors. While Augustana is known for strong relationships between students and faculty, maybe this is especially true when your teachers are teaching you to teach.