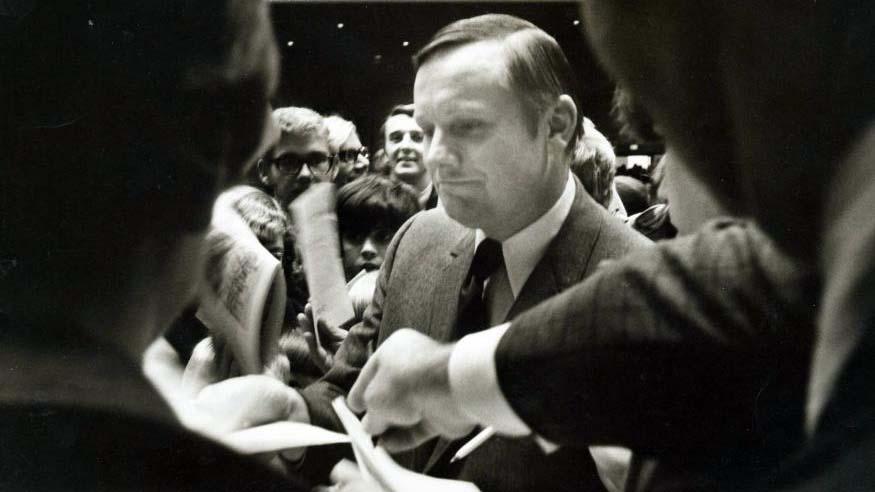 News
When Neil Armstrong landed at Augustana
(Editor's note: This article originally was published August 28, 2012, just  days after Neil Armstrong died at age 82.)
"Mr. Armstrong, why would you come to a place like Augustana?" asked a reporter.
"When I saw the program that was planned and the speakers who were scheduled to appear, and thought about all the effort that had gone into this program to involve the students, faculty and surrounding community, I just wanted to be a part of it," said Neil Alden Armstrong in February 1972.
Less than three years earlier, Armstrong had become the first human being to set foot on the moon. (The Apollo 11 commander died last week at the age of 82.)
He was the foremost among several noted figures who were a part of the Seminar on Space Exploration held at Augustana in February 1972. In 1969, the same year that a Saturn V rocket thrust Apollo 11 towards the moon, Augustana threw open the doors to its new John Deere Planetarium and Carl Gamble Observatory. The late Dr. Harry Nelson,  planetarium director, thought a seminar on space exploration would be a good way to celebrate the new facility. Dr. Roald Fryxell '56, one of the first scientists to examine the rock samples brought back by Apollo 11, helped organize the event.
Nelson's widow, Lillian, remembered the event this week in an interview with The Dispatch and Rock Island Argus. An article written for an Augustana publication after the event gives a hint at the inspiration Armstrong offered to students:
"There was an element of tension expressed everywhere; students, staff, townspeople and visitors from long distances filled the auditorium to overflowing...  spontaneous applause erupted and all eyes focused on one man seated before them on stage — Neil Armstrong. The ovation continued for some minutes before Chaplain Sorensen finally stepped to the podium to introduce the honored guest. His introduction ... triggered a standing ovation." (See full text)