Careers and internships
Augustana graduates in mathematics pursue careers in fields including statistics, operations research, actuarial, biological and physical sciences and teaching. All of Augustana secondary education majors in math have found high school teaching jobs after graduation.
Students can receive up to nine credits in mathematics internships. Besides internships, they gain hands-on experience in the field through summer research and student teaching.
Recent mathematics majors have completed internships at AVG Automation Corp, Deere & Company, Land of Lincoln Legal Assistance, Olympic Steel, and ii-A—a finance and insurance firm in Sydney, Australia.
What graduates do
Here's a sampling of what mathematics graduates do:
Stefan (Long) Nguyen '16 is a graduate assistant at Miami University, working toward an M.S. in statistics.
Samantha Tyner '12 majored in mathematics, economics and French; she is now a postdoctoral research associate at Iowa State University.
Adam DeSimone '12 majored in economics and mathematics, and is now a forecasting analyst at Dart Container in Traverse City, Mich. Adam's decision to be a math major surprised him, but he "took a couple of math classes as a freshman and just never stopped."
Melissa Dalen '11 majored in mathematics and a teaching mathematics. Today she is a math teacher at Delavan Junior/Senior High School in Delavan, Ill.
Daniel Tsui '61 majored in mathematics. In 1998, he won the Nobel Prize in Physics. He is an Emeritus Senior Scholar at Princeton University.
Distinctions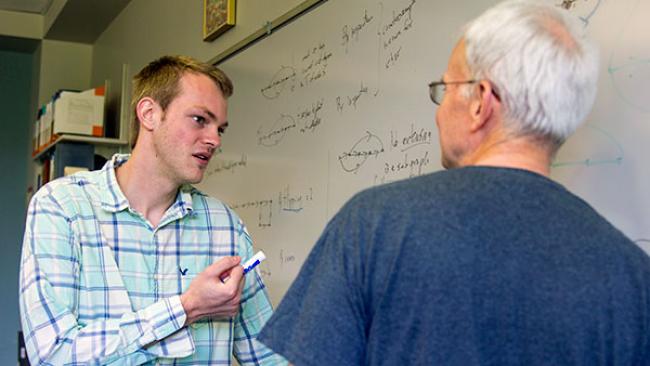 Augustana offers a major and minor in mathematics, a mathematics teaching major, and a major in applied mathematics. Popular second majors or minors include computer science, chemistry, physics or music.
Courses are sequenced according to students' individual progress. Classes begin with solving well formulated problems; then work toward building examples and techniques; and advance to problems, models, structures and abstractions.
Students of actuarial science take a two-course sequence that covers all material found on the first actuarial exam.
Facts
The five full-time mathematics faculty all hold the Ph.D. The department holds the endowed Earl H. Beling Chair in Mathematics.
The Beling Scholar program funds students' independent study or research projects in computer science or mathematics.
Every year, mathematics students and faculty travel to professional meetings such as the section meeting of the Mathematical Association of America (MAA) and MathFest, the annual summer meeting of MAA.
Augustana has had a chapter of Pi Mu Epsilon, the national mathematics honor society, since 1979. The college also has a mathematics and computer science club, which started as the mathematics club in 1952.
The Math Student Resource Room (a.k.a. Ratiocination or "Rat" Room) in the Olin Center for Educational Technology is a walk-in help center staffed by experienced mathematics student tutors.
What students say
Marty Resner '13, mathematics and secondary education; Mathematics teacher and assistant varsity football coach, Bettendorf High School, Bettendorf, Iowa
"The math classes I took helped me in several ways to be a teacher. During the higher level classes I learned what it was like to be one of those struggling students so it gave a perspective as a student I never really faced. The higher level classes helped me see and learn why we do some of the things we do in math and how they all relate. This helps me have a better grasp, understanding, and appreciation for the math that I teach in the high school."
Peter Draznik '14, mathematics and physics majors
"This summer (2013), I'm studying the topic of tournaments in graph theory. My research is looking into underlying patterns of round-robin tournaments and developing methods to count the many types of tournaments. It is always difficult to tell where a project will lead, but if any of my work gets published, I will be very contented."
Mary O'Malley '11, mathematics and secondary education majors
"Hands-down, my math and education professors helped me to get where I am today. Because Augustana is a small liberal arts school I was fortunate enough to work with the same faculty throughout my four years here; not only was I able to form relationships with them, but they were able to help steer me on the path that I needed to be on."
Erik Westerberg '14, mathematics and secondary education; Mathematics teacher and assistant football coach, York Community High School, Elmhurst, Illinois
"I have learned that the quote "It's all about relationships" truly applies in life and certainly applies in college. Taking the time to talk, interact and learn about the lives of the people who go to school here and work here will be some of the most beneficial learning experiences you will have at Augustana. The people in this community will be your best friends after you graduate, potential co-workers and resources for you later in life"
Rebecca Post '15, mathematics and psychology; Pursuing Ph.D. in biostatistics at the University of Wisconsin-Madison
"[As a first-year student], I had not even heard of biostatistics and honestly had no idea what I wanted to do with my life. I discovered biostatistics during my junior year and fell in love with the research being done in the field. I do not think I would have found this field without Augustana and being able to explore many different majors.
I used my Augie Choice to travel to Greece.... This is one of the reasons why Augustana is so great: I was able to take a Classics class, completely unrelated to both of my majors, and travel to Greece, an experience I will never forget."