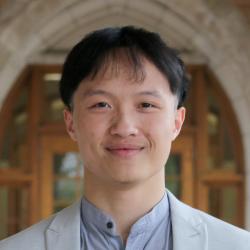 More Than I Imagined
Seniors reflect on accomplishments and look ahead
Huy (Henry) Nghiem
Graduation year: 2022
High school: Foreign Language Specialized School
Hometown: Thai Nguyen, Vietnam
Major: Applied mathematics
Minor: Accounting
Activities: CFA Research Challenge, Vietnamese Student Association, Global Engagement Team, Office of Student Life, Student Government Association
Internships: Valuation advisory at Ernst & Young; Investment banking at SSI (Saigon Securities Inc); Finance at The World Bank Treasury
Post-grad plans: Consulting at BCG (Boston Consulting Group)
Why Augustana?
I don't recall specifically why, but after four years here, I believe it's because of the dedicated professors, meaningful friendships built throughout time, supportive managers from my on-campus jobs, and the taste of home from Mrs. Son (Sunny) Vu's cooking!
Are you where you thought you'd be when you first came to campus?
Honestly no. There have been a lot of changes — from my choice of majors and classes to enroll in every 5 a.m. registration to my career trajectory. But I'm happy and excited for what awaits me post-graduation!
Who helped you get to where you are now?
My greatest gratitude is for my parents and my elder brother as they have been working hard to let me have the opportunity to study abroad and see the world!
I'm also very grateful for the professors from the math and accounting/business departments who have been there, listening to my thoughts while letting me craft my own Augie experience. Professors Rodman, Sward, Mueller, Clauss, Zhou, Phan, Delaney and Marmé — thank you to all of you!
I wouldn't have fully grown up without Christine from the library; Don from PepsiCo; Jill, Malhar and Kristen from the Business Office; and Danny, Sony, Juanita and Liz for their unwavering support for international students!
Props to all my Vietnamese and international friends, too! My stomach hurt a lot from our laughing and joking sessions :)
Peak experience?
No doubt it will always be the CFA Research Challenge. I never thought I'd dare to persuade Dr. Zhou to let me join that competition at the start of my sophomore year. In retrospect, I'm glad that I stepped outside my comfort zone to learn so much more about equity research, financial modeling, company and industry analysis, and so on.
All five team members had such a great time pitching in Chicago, and we got second place for the regional round! My special thanks to them as well as Dr. Zhou!
What surprised you?
I'm amazed by how supportive everyone is even though you may not know them well yet, and how fast four years have gone by (thanks COVID)!
How did you use your Augie Choice?
I used my Augie Choice for a tax internship.
What will you miss the most?
I will really miss the whole Augie community and all those days frantically running around to organize events! Not those nights cramming for exams though, but for sure those wild nights not staying in. :)
Advice for the Class of 2026?
Be yourself, and you will eventually find your own community at Augie. Make use of your time to try different things — you never know what is awaiting you! And enjoy your four years while it lasts (before adulthood)!
"Being an incredible team leader and team member, Huy has made great contributions and achieved so much from his time at Augustana: a silver medal in the CFA Research Challenge; multiple amazing internships; and job offers from World Bank and Boston Consulting Group, among many others. I am astonished by his intellectual capacity, wonderful creativity, strong determination, incredible organizational skills, and eagerness to contribute to Augustana and to society in general. He has been and will continue to be a big source of pride for Augustana. I cannot wait to see what the future holds for him. I wish him the best of luck."