Philosophy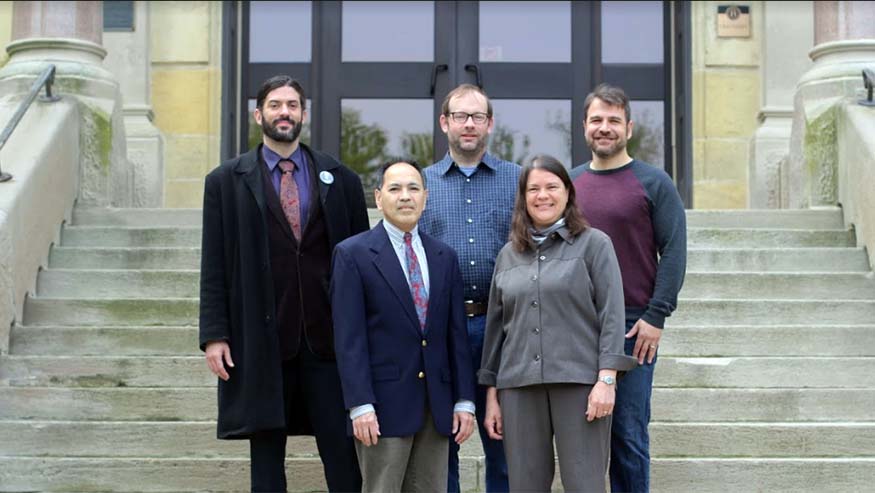 Augustana College offers a major and minor in philosophy, with courses ranging from a variety of introductions to different areas of philosophy to more specific topical and historical subjects. The department offers expertise and course topics throughout the full spectrum of philosophical interests, from the history of science, to aesthetics, to phenomenology and existentialism.
About the program
Five full-time faculty teach in the rapidly growing department, and all hold the Ph.D. — three from universities considered to be among the nation's top ten graduate programs in philosophy. As philosophical subjects are essential to a strong liberal arts foundation, the faculty also tend to teach courses within the college's general education studies program.
Augustana's program approaches the study of philosophy in three ways: by topics, texts and tools. Each of these ways provides philosophy students with a starting point for deeper investigation of the central aspects of philosophy -- the nature of reality, thought, experience and value -- and also promotes a broader and deeper perspective for any student of the liberal arts. All students, whether they are philosophy majors/minors or exploring philosophy to enhance their education, can become familiar with critical texts and develop their techniques of reasoning to serve them well in their liberal arts undergraduate studies, post-graduate work or professional programs.
Many of the philosophy students at Augustana have double majors, combining their interests in the bigger and more abstract questions of human life with specialized studies in other disciplines such as the sciences, mathematics, studio arts or literature.
Outside the classroom
Augustana College offers more than 150 various extra-curricular organizations and clubs, including the active Socratic Society of Augustana, for students to continue developing their interests outside of class.
One of the faculty members has helped establish and directs Augustana's participation in the prestigious summer internship program with the Texas Medical Center, including placements at Baylor College of Medicine and M.D.Anderson Cancer Research Center. Students in any field who are interested in any aspect of health care may apply for the internships; these can be established in many areas including clinical or research medicine, any area of allied health, human resources, pastoral care or clinical ethics.
Future goals
Students of philosophy often pursue graduate studies in philosophy or use their background as good preparation for careers in law, journalism, the ministry or education. Augustana's philosophy alumni have gone on to advanced study in some of the best institutions in the country, including Yale Law School, Harvard Law School, Notre Dame, the University of Wisconsin-Madison, Indiana University and Princeton Theological Seminary.
What students say
Ebony Allen '15, Philosophy, Ethics, Political Science and Women and Gender Studies:
"When I first entered college, philosophy was not on my list of classes to take. However, sophomore year that all turned around. My first philosophy course was Social Ethics and from there I fell in love with the discipline. Growing up, I questioned everything around me, always wanting to know "why" or "how" things are the way they are and questioning whether everything I knew was for certain. Philosophy has helped me explore those same questions I had as a child and that I still have today. Philosophy has nurtured my understanding of life and above all has taught me to not only question everything, but to support all of my claims. For those reasons, I cannot be happier with what I have gained from Philosophy." 

Mason Broxham '14, Philosophy, Economics, and Chinese:
"Upon arrival at Augustana, I had many interests in different academic fields-so naturally, I pursued none of them. More accurately, I discovered that my familiarity with a field of knowledge was not directly related to my satisfaction in studying that particular field. I had virtually no knowledge of-and consequently very little interest in-philosophy at the start of my four-year Augustana career. However, I can say with confidence that the rigor of coursework and the broad perspectives that came from my study of philosophy helped make my time at Augustana a quality-rich experience. "
 
Benedict Fischer '13 Philosophy, Computer Science, Math:
"If you find a discipline that you love, hard work becomes a more natural habit and you'll be inspired by your own academic progress. The philosophy department at Augustana definitely fertilized my enthusiasm for the subject, but just like any other discipline you need to pursue material outside course offerings if you want to develop a deep understanding of the field."
 
Andrew Heidtke '13, philosophy, political science and economics; Advocacy and Membership Coordinator at American Council of Engineering Companies of Wisconsin.
"Triple-majoring helped me gain a lot of perspective and helped with cross-disciplinary research. My senior project in political science was about political theory, which is a marriage of philosophy and political science. I used my Augie Choice money for a three-week trip to Berlin through a couple classes I took during the spring of my junior year. The classes for this trip were a learning community, which examines one issue from an interdisciplinary perspective. Essentially this meant looking at German history and the role philosophy played in it, and the trip to Berlin helped us experience and visualize the places and ideas we had only been reading about in class."