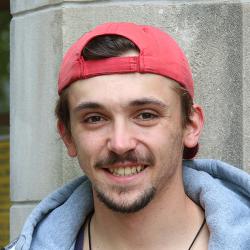 More Than I Imagined
Seniors reflect on accomplishments and look ahead
Josh Teets
Graduation year: 2021
High school: Burlington Central High School
Hometown: Virgil, Ill.
Majors: Economics, philosophy
Minors: Data analytics, ethics
Activities: Varsity track & field (USTFCCCA All-Academic), varsity cross country, Student Government Association
Internship: Financial analyst intern at Teets Decorating
Post-grad plans: Get a job
Why Augustana?
As a senior in high school, when I told my parents my post-graduation plans were either to start my own business or to enlist, they where none too thrilled. They pushed me to pursue the third option of a college education.
My fondest memories at that point were running on the track team, and a recent alum of both Burlington and Augie recommended I come visit and check out the track program. Then I met Ols' and learned about the incredible philosophy surrounding our program and applied here and only here.
Are you where you thought you'd be when you first came to campus?
Not at all. When I came to Augie, I was pretty turned off by the education I had received thus far. I had no idea what liberal arts meant, and I had planned on picking one major, coasting by and focusing on seeing how fast I could run.
Pretty quickly I was exposed to philosophy and fields it applied to, such as economics and ethics. It blew my mind how much more exciting these subjects were than the dull trig problems and five-paragraph essays of primary school. Exposure to new ideas works wonders.
Who helped you get to where you are now?
I won't dare try to accredit all who have helped me along the way but my family, friends, coaches and professors have all been very supportive and deserving of my thanks.
My family, for supporting me financially and in making the hard decisions. My professors, particularly in the economics and philosophy departments, for providing stimulating ideas and theories to pursue both in and out of the classroom.
My friends, for getting me out of the introverted shell I arrived in and sticking with me through thick and thin. And my coaches for keeping my head in the game and pushing me in the right direction.
During this past year, the cancellations and limits on my capacity to compete has been a tough pill to swallow, as I am sure is the case for many senior athletes who will never get this chance again. But there were always people there to steer me in the right direction when my emotions about it all got the better of me. If you were one of those people, thank you.
Peak experience?
A lot of times when asked this type of question I try to think of specific events that stand out, but I've come to look at life differently. In track a couple of our sayings have gone a long way in my mind. These are: 'A Celebration of Life' and 'The Journey is the Goal.'
Whether it is celebrating a victory with my team, having a moment of enlightenment in the classroom or experiencing the ups and downs of relationships, the lessons and joys of this journey are worth more than any one peak.
What surprised you?
Pretty much everything. I didn't have a great idea what college was going to be like or how the people here would act. I also lived just outside of a town with about 300 people, so for me the Quad Cities is pretty large and unique compared to my childhood experiences.
How did you use your Augie Choice?
I used it as a stipend for an unpaid internship.
What will you miss the most?
As I am sure most others will also answer, I will miss the people the most. From the day I came on my first visit to weeks from graduation, I am still amazed at how friendly and welcoming people are at Augie.
I am not sure where my life will lead, but when I look back and think of the friends I made here and my experiences with them — that will undoubtedly be the part of my journey that I will wish I could hold on to the most.
Advice for the Class of 2025?
Enjoy the experience and focus on the journey but don't forget about that next stage once you graduate. I waited a bit too long to figure out my next steps, and the speed it is all coming at me now is quite overwhelming. Find people who can help you consider your future goals early on.
"Modern economics started with a book called the Wealth of Nations. Its author, Adam Smith, had written a book titled The Theory of Moral Sentiments 17 years before that. I mentioned the latter in a conversation with Josh. I was very pleased but not surprised when he said that he had read a large part of it — on his own initiative. Some people go into economics because they can handle the more technical end of the subject, others because they do well in our classes, and others because they see economics as a valuable of understanding the world around them. Josh clearly falls into that last camp, and it has been a privilege and an honor to have been his professor."