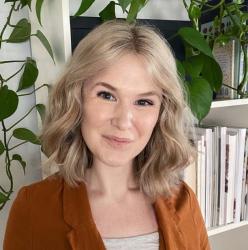 Alexandra (Allie) Barringer
Assistant Professor, Psychology and Neuroscience
Alexandra (Allie) Barringer is returning to Augustana after earning a Ph.D. in human development and family studies from the University of Wisconsin-Madison.
After graduating from Augustana in 2012, she worked closely with youth and their families in health promotion and violence reduction in the Chicagoland area. Recently, Barringer's research interests have centered around factors that influence undergraduate student health and well-being on college campuses. She is interested in students' daily experiences navigating higher education, college student identity development, student-faculty relationships, and student belonging on campus.
Additionally, she has been active in community-based research, collaborating with local schools and non-profit organizations to produce research on youth development.
Barringer has moved back to the Quad Cities with her partner, Lucas, and rescue dog, Penny. In her spare time, she enjoys hiking, live music and traveling.
Education
B.A., psychology, Augustana College
M.S., human development and family studies, University of Wisconsin-Madison
Ph.D., human development and family studies, University of Wisconsin-Madison