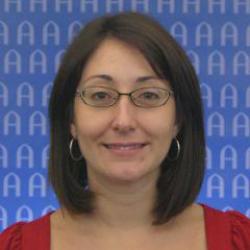 Ana M. Borderia-Garcia
Associate Professor of Spanish
Since I finished my PH.D. in Foreign Language Education, at the University of Iowa, I have been working as a Spanish Professor at Augustana College. In this position I have taught a great variety of courses: almost everything in the 100 and 200 levels, and a few upper-level Spanish courses: 301 (composition), 314 (advanced-intensive grammar), 310 (conversation), and 390 (senior inquiry).
Because of my background in Foreign Language Education I also teach a course for the education department; EDUC383: Foreign Language Teaching Methods. Teaching this class allows me to teach, review, and catch up with current theories and practices in foreign language acquisition and pedagogy.
In addition to teaching, my research interests are also in second language acquisition and theoretical linguistics, mostly the acquisition and analysis of sociopragmatic aspects of language and how these affect intercultural communication. 
Specializations: Second language acquisition, Foreign language pedagogy, Teaching Spanish, Spanish pragmatics
Education
B.A., Valencia
M.A., Ph.D., Iowa