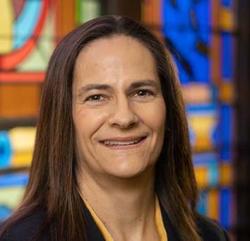 Andrea Talentino
President of the College, Professor of Political Science
Andrea Talentino is the ninth president of Augustana College.
Prior to joining Augustana, Talentino was the provost of Nazareth College in Rochester, N.Y. She also served as the dean of the College of Liberal Arts at Norwich University in Vermont. She was an associate dean at Drew University in New Jersey, held a faculty position at Tulane University and a postdoctoral position at Princeton University.
Talentino earned a bachelor's degree in political science at Yale University, then completed a master's and doctorate in political science from UCLA. While serving as dean at Norwich, she earned an MBA with a concentration in organizational leadership.
Education
B.A., political science, Yale University
M.A., political science, University of California, Los Angeles
Ph.D., political science, University of California, Los Angeles
M.B.A., Norwich University, concentration in organizational leadership