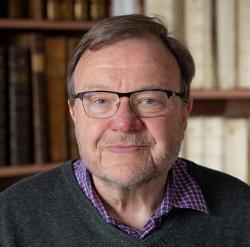 Dag Blanck
Director, Swenson Swedish Immigration Research Center; Honorary Professor of Swedish-American Studies
(Dag Blanck also may be contacted at Dag.Blanck@engelska.uu.se.)
Since 1985, I have shared my time between Augustana College and Uppsala University in Sweden. At Augustana, I serve as Director of the Swenson Swedish Immigration Research Center and Augustana Honorary Professor of Swedish-American Studies. In Sweden, I am Professor of North American Studies and the director of the Swedish Institute for North American Studies at Uppsala University. 
My research interests include American immigration and ethnic history, with special emphasis on Swedish migration to North America, Swedish-American relations, and the nature and dynamics of multicultural societies. I have written and/or edited a dozen books and written over 50 articles. 
I teach American history and American studies in Sweden, and was for over 30 years the co-director of the Augustana Summer School in Sweden. In recent years, I have become a frequent commentator on American society and politics in Swedish media. 
 
Specializations: Immigration--Swedish, Ethnic history, Swedish-American relations
Education
B.A., Augustana College
Fil. kand., Stockholm University
Fil. dr & docent, Uppsala University