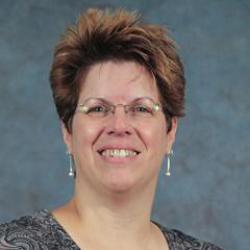 Dara L. Wegman-Geedey
Professor of Biology
I joined the Augustana faculty in 1995 and my teaching responsibilities include microbiology, immunology and cell biology as well as specialty courses from time to time in virology, public health and related areas. I advise students headed toward graduate programs in immunology, epidemiology, microbiology, and am the academic advisor for pre-optometry, pre-nursing, and pre-public health students.
Unlike most faculty members, I did not go to graduate school immediately following completion of my bachelor's degree. I worked for four years at Case Western Reserve University and University Hospitals in Cleveland, beginning in pulmonary physiology as a junior research technician and moving on to clinical pediatric infectious disease as a research assistant. Given my experience in biomedical research, I enjoy helping senior biology majors who are not going directly to graduate or professional school to find entry-level research and technical jobs. 
Campus and community service is a critical part of my scholarly and vocational work. I am a member of the Council of Advisors for the Augustana Freistat Center for Studies in World Peace, am the Vice Chair of the Board of Directors for Trinity College of Nursing & Health Sciences in Rock Island, and am a member of the Rock Island County Medical Reserve Corps, a public health response team for disaster preparedness. I have taught courses on the biology of bioterrorism, genetic intervention in today's society, and the human immune system for CommUniversity, an adult education program in the Quad-Cities. I am also the faculty advisor for Augustana Community Health Outreach Organization (ACHOO) and the director of the Augustana Nicaragua Joining Education Through Service (JETS) medical service-learning study abroad program. 
Specializations: Microbial ecology, Infectious disease epidemiology
Education
B.S., Mount Union
Ph.D., Delaware