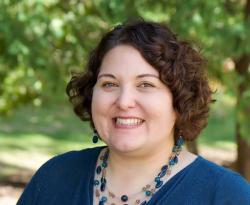 Dawn Farmer
Associate Professor, Music Education, Coordinator of Music Education
Dawn Farmer is an assistant professor of music education at Augustana College and is the instrumental music and secondary music specialist.
Previously, she has held positions at Saint Mary's College, the University of Oklahoma and Boise State University.
A native of Phoenix, Arizona, Dr. Farmer has taught public school music in Tucson, Ariz., and the Los Angeles and Washington, D.C. areas.
Having experience in three diverse school systems, Dr. Farmer has taught band, orchestra, and general music in grades 3-12, and also undergraduate and graduate coursework in music, education, and music education. She currently serves on the Board of Trustees of Tau Beta Sigma, the National Band Sorority.
Dr. Farmer's bands and orchestras have amassed many achievements in performance and sportsmanship, and her Tri-M clubs have received local recognition within the school and community.
She is the founding director of the Manhattan Beach Elementary Schools Honor Band and Honor Orchestra. Her groups commissioned the work "Enchanted Village" by Sean O'Loughlin and have been recipients of "Esprit de Corps" awards and Superior ratings at festivals.
Her secondary school teaching experience includes working with the outstanding Mira Costa High School Band Program in Manhattan Beach, Calif., and middle school band and orchestra programs in Prince George's County, Md. Her CNAfME chapter at Saint Mary's College has been recognized on the NAfME national website and Facebook.
Research interests of Dr. Farmer include urban music education, teacher preparation, women in music and band, discourse analysis, and social justice. She has presented multiple papers and posters at research conferences across the country and also hosts workshops for college students on myriad of topics including peer leadership and effective communication.
A past editor for the Maryland Music Educator, Dr. Farmer has been involved with research and publications on multiple levels. She is a member of several professional affiliations such as NAfME and WBDI, and when she finds the time enjoys reading, golf, and board games. Dr. Farmer volunteers with rescue dog organizations and holds membership in Mensa. 
 
Education
B.M.E, University of Arizona
M.A., University of Maryland
Ph.D, Arizona State University