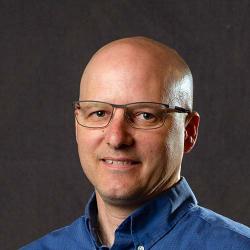 Eric Stewart
Associate Professor of Religion
My research focuses on understanding various early Christian groups within the ancient Mediterranean world. My first book, Gathered Around Jesus: An Alternative Spatial Practice in the Gospel of Mark, uses models and methods from cultural geography and postcolonial theory in order to consider how Mark's understanding of the spaces in which Jesus traveled, lived, and worked relate to other types of literary presentations of geography in antiquity. My second book, Peter: First Generation Member of the Jesus Movement, describes the various ways in which Peter was characterized by New Testament authors. These various rhetorical presentations of Peter show how Peter's reputation changed in different times and places through the first hundred years of the Jesus Movement. 
My recent work focuses on masculinity in early Christianity, ritual failure in early Christian literature, and further work on spatiality in early Christianity. I had the opportunity to present a paper on Jesus' masculinity in the Infancy Gospel of Thomas at the University of Stellenbosch in South Africa in July 2014 and on Jesus' trial as ritual failure in the Paradosis Pilatou at the University of Gloucestershire at Cheltenham in England. I have also presented papers at the University of Pretoria and in Finland. 
I teach primarily in the fields of Christian origins and Second Temple Judaism. My classes include Jewish and Christian Scriptures, Christian Origins, Early Church Controversies, Jesus of Nazareth, and Key Moments in Church History. Apart from these courses, I also teach Theorizing Religion. 
In addition, I am the Co-Director of Augustana's Honors Program, in which I teach Seeking Logos: Theology and Science, and I teach Masculinity in American Culture for the Women's and Gender Studies program. 
Apart from my academic interests, I served as an assistant soccer coach for the men's team at Augustana College for five years. I have coached soccer for most of my adult life, having been a high school coach at Trinity School at Greenlawn for which I was named the Northern Indiana High School Boys Coach of the Year in 2003, an Olympic Development Program coach in Indiana, a member of Idiana Soccer's Coaching Education staff, and the Director of Coaching for Michiana Echo Soccer Club. 
I talked about gender in the ancient world as a guest on the ROI Relevant or Irrelevant radio show in April 2016.
Specializations: Christian origins, New Testament, Gospels, Second Temple Judaism, Space/spatiality, Jesus, Masculinity in early Christianity, Theory of religion
Education
Ph.D., University of Notre Dame